Home
›
Main Category
›
General Firearms
New Gun - To Have Good Friends...Be a Good Friend
Zee
Senior Member
Posts: 18,963
Senior Member
My rancher friend, who has done so much for me and my family the past few years found out 2 weeks ago that his wife of 43 years had Stage 4 Terminal Cancer. The night he found out, he immediately called me and asked if I could come over. Without a second thought.......I ran out the door. I spent the night with him in his barn.........being a friend.
He took her to the city to get initial treatment. I've been caring for his ranch the past two weeks. Feeding the livestock/deer/pets and tending to daily chores twice a day on top of my normal job. He didn't ask me to do this. The second I knew he was taking her away for care.........I told him his ranch and home were taken care of.
Well, they were supposed to come home today after two weeks of testing and chemo. But, something came up and they needed to do another procedure today. So, he called me to tell me. I said his ranch would be cared for as long as he needed. We were friends and that's what friends do.
A few minutes later.........he texted me and said to go by the LGS and pick up something they were holding for me.
I did and this was waiting for me.
We had talked in the past about guns, as we oft did. I'd mentioned that I wanted to get one of these for "critter gett'n". Apparently, he had listened.
I have not helped him for gain or reward. I helped him because we are friends. But, in the midst of staring down the potential loss of his beloved wife...........he expressed his gratitude. I told him I was going to kick his butt when he returned. He said, "Ok."
Anyway............I dolled it up and headed to the range this afternoon.
Keep in mind. This ain't "Fer look'n at." It's a purposeful gun. It's for putting food in the pot when I'm out and about on extended forays. It's for critter dispatch at night in a quiet sort of way. It's to be called upon as a "Not Dead Yet" gun. And it'll do it all very well.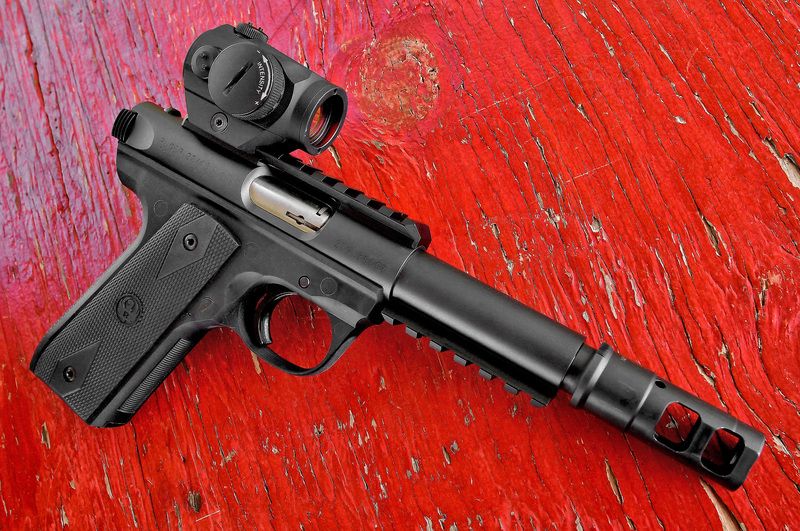 I mounted an Aimpoint Micro on top and a Surefire Brake/Attachment on the front. This will be the basic set-up.
When needed, I have a light that will fit on the rail for night time escapades.
There is also that thing that goes on the front when needed.
Anyway.
At the range, I quickly realized that the trigger basically sucks. It's crisp. But heavy.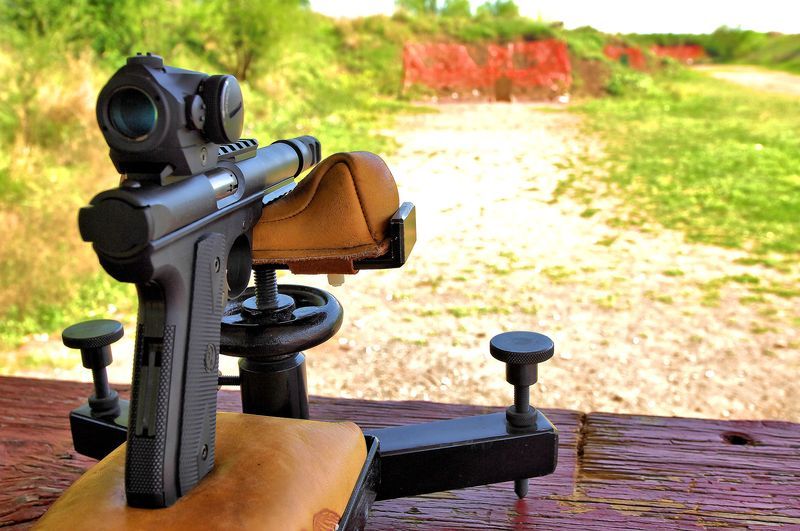 Sighted it in with Remington SV 40gr RN bullets. Not exactly match grade stuff, but it's what I have lifetime supply of. It did pretty good at 25 yards for bulk ammo and a red dot that basically covered the paster. When I did my part, at least. The good news is that it has the same POI with that thing on the front as well.
Being the first time I've ever fired a .22lr with a brake attached, I was surprised at how LOUD it was. I mean.........it takes the standard .22lr from acceptable levels to...........you don't want to shoot it without hearing protection. Conversely.........that thing on the front takes it to a level of............hehehehehehehehehehehe.
This is going to be a right handy little gun.
I am torn with what emotions I should be feeling about this. I am excited about the gun. But, I am not excited about how and why I got it. I received it from a friend who is expressing his gratitude towards me. I get that. But, I received it from a friend who is expressing his gratitude towards me for taking care of his ranch while his wife dies.
It's going to take me awhile to sort that one out in my head and really accept this gun. I am grateful for it. I am NOT grateful for the circumstances under which I received it.
Gotta figure that one out on my own, I guess.
"To Hell with efficiency, it's performance we want!" - Elmer Keith

Leave a Comment