Home
›
Main Category
›
General Firearms
I shot a .270 Winchester today!!!!
Zee
Senior Member
Posts: 18,961
Senior Member
At 700 yards!!!!
My rancher friend made it home this weekend after 2 weeks gone. He needed a break to take his mind off all the crud he's been dealing with. So, he called me and said he'd pulled his .270 Winchester "Coyote Gun" out of the safe and wanted to shoot it.
Seriously........it's what he called his "Coyote Gun"!!! Turns out it started life as a Winchester Model 70 Featherweight many years ago. He had the barrel cut down to 16" so it would fit in the cab of his truck and be put into use quickly to shoot the occasional yote without getting out of the cab. Later, he threw it in a Hogue stock. But, he hadn't shot it in years and wanted to try it out on a whim.
Arriving at his range, we noticed two ground squirrels hanging out by the bench. Well, that just won't do!!!
First kills with the Ruger 22/45.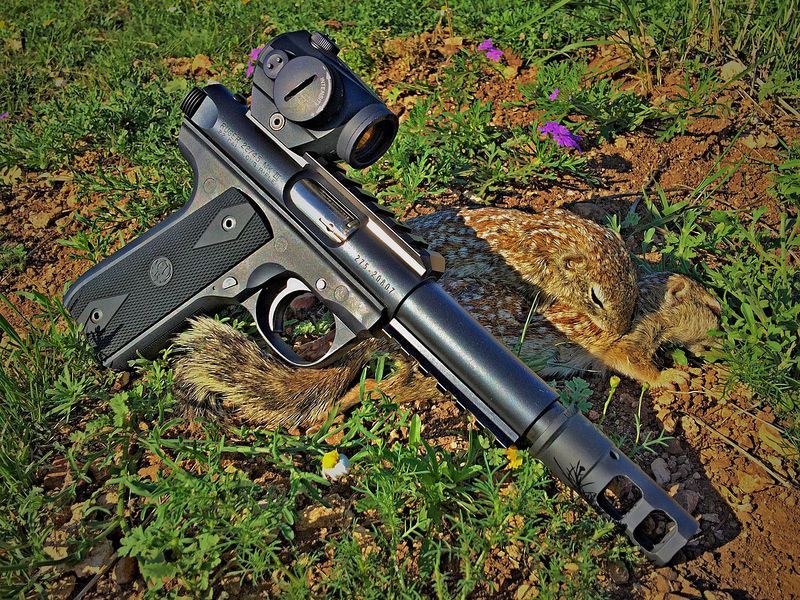 Now we saddle up to the bench and I ask him what he is going to shoot at. He says, "How about the 300 yard steel?"
"Screw that!", I say. "It's 700 or nothing!"
"I don't have enough mils in the scope", he says.
"Sure you do. How many Mils do you have?"
"Five."
"How many mils does your program say you should hold?"
"Eight."
"Put your 5th mil on the target and count 3 mils up. See where that 3rd mil is located on the hillside. Then, put your 5th mil on that terrain reference and let me know when you're ready."
He does and I call his wind for him.
http://vid26.photobucket.com/albums/c106/lovinmycaitlynn/Shooting/IMG_2789_zpsgphhwmub.mp4
1st round hit on the head of the steel target at 700 yards with factory Remington 130gr PSP-CL from a 16" .270 Winchester and cheap Nikon scope.
Like I always say.........if you can see it..........you can hit it. If you can't..........get a bigger gun.
He proceeds to put 2 more rounds in the head and then we switched out. I corrected on the elevation and he called my wind. Striking the target in the chest.
That's the first .270 Winchester I've fired in about 10-15 years.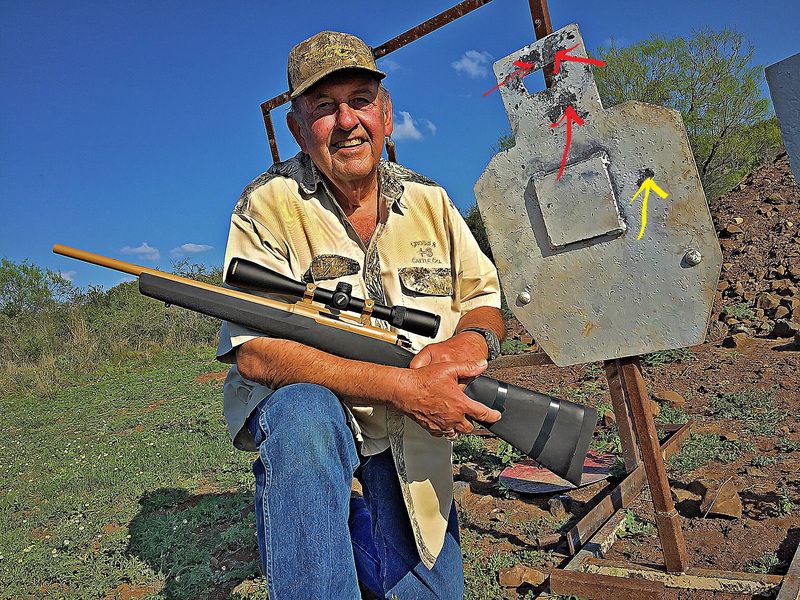 The red arrows are his shots and the yellow is mine.
We then moved to his 750 yard target, used the same method of counting up from the 5th mil and finding a point of reference in the brushy hillside to aim at. I called his wind and..............
E
Eh, I was a little off.
He was a happy camper. He'd never fired that gun that far before. Now, he knows he can.
I feel dirty. I need to go bath in bleach.
"To Hell with efficiency, it's performance we want!" - Elmer Keith

Leave a Comment