Home
›
Main Category
›
Hunting
First blood for new bow
Jeff in TX
Senior Member
Posts: 1,170
Senior Member
Got back from my business trip this evening with enough time to play with the dogs a bit and head out for the evening hunt. I set up 35 yards from the feeder in my one man pop up tent. Its big enough for me to get in and use my Primos tripod to support my new Excalibur crossbow. About 10 min before I was going to call it quits for the evening four hogs came in. The one I dropped was the biggest of the four probably around 140 to 150 lbs. I had a steady rest and I ranged him at 35 yards. I split the difference on my scope and held halfway between the 30 and 40 aiming triangle.
I tripped the trigger and heard a grunt when the arrow hit. The hog ran 20 yards and piled up. I had a broad side shot and was aiming right behind his front shoulder. The arrow hit 5" left of where I was aiming...darn it! A bit farther back than I would have wanted. The arrow passed completely through and exited midway through his upper stomach area. When I got to the feeder where he was standing there was a 6" wide blood trail to where he dropped. The Swacker broadhead was devastating even with my shot placement being a tad off.
I had enough time to cut his tenderloins out before the skeeters carried me off to their queen. Holy cow the skeeters were awful and I soaked myself in skeeter spray berfore going out. I had perfect winds to keep me down wind from the feeders!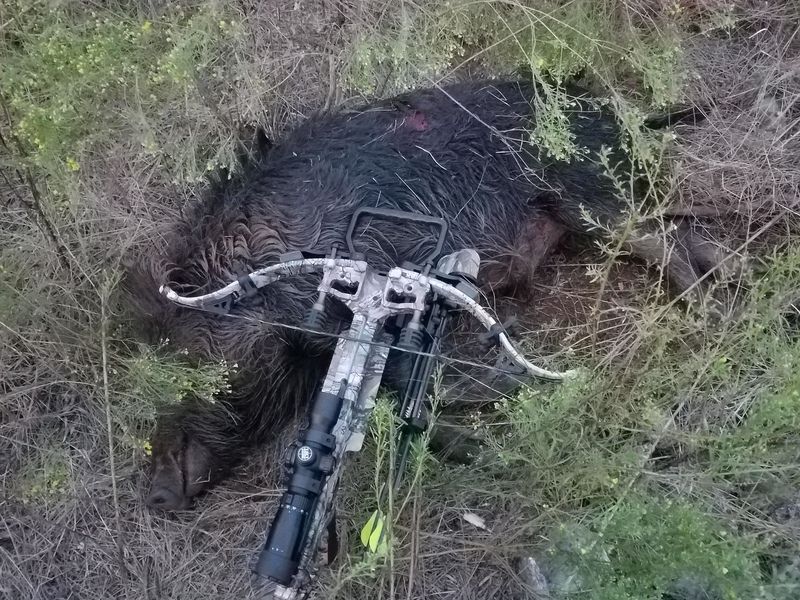 Distance is not an issue, but the wind can make it interesting!

John 3: 1-21
Leave a Comment