Home
›
Main Category
›
General Firearms
Visit to Springfield Armory
shooter
Senior Member
Posts: 1,186
Senior Member
I went to Geneseo, IL with a friend this morning to have them work on our Springfield Armory XDM's and do a trigger job on our pistols. My friend, Jerry, had one done last fall and I was very impressed with what they did. We scheduled a visit for this morning at 9 a.m. and left home early enough to get to Geneseo about that time.
Jerry just wanted a target trigger job for his XDM-9mm , but I wanted the same thing plus adding the Trijicon Night Sights. We were told to be there by 9 a.m. and we left home early enough to do that. After leaving the pistols with them, we traveled back west toward the Quad cities on I-80. We visited several gun shops in the Quad Cities and Gander's store and spent several dollars. After lunch, we journeyed back to Geneseo to see if our guns were done.
Ironically, as we were getting off interstate 80 at the Geneseo exit, Jerry's cell phone went off and Springfield Armory was calling to tell us that our pistols were done. We went back to settle up and collect our pistols. As I was leaving the parking lot, this is what we saw. I wish the sun had been shining brightly and it was not a dreary, rainy day. This is a photo of a truck that was leaving at the same time that we were. This is an awesome rig and I thought I'd share the photo.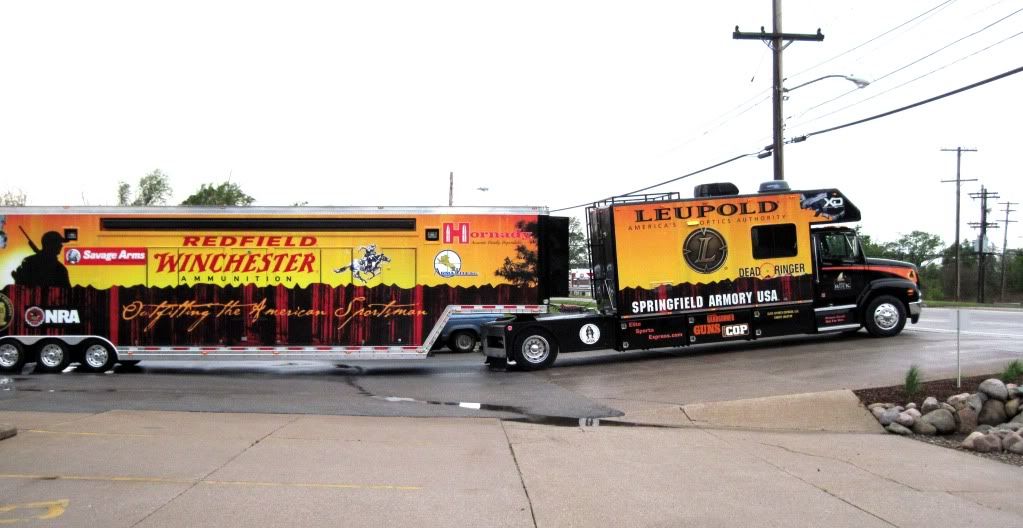 How many "Gun Goodies" do you suppose are in that very large truckload?
Joe
There's no such thing as having too much ammo, unless you're on fire or trying to swim!
Leave a Comment