Home
›
Main Category
›
Hunting
It was a 6.5cal kinda morning. (Caution! Autopsy Photos!)
My friend had an invite from a land owner for us to go out and shoot some deer. This is a small 150 acre piece of land, which is long and narrow. We got there early and split up in the sleeting rain and 30 degree temp to find a spot to sit. He went to one end and I went to the other end of the property. I was using my built XP-100 in .260 Remington and he was using my built 6.5-284 Win on a Remington 700 action.
The sleet and rain fell and the temp dropped as the light rose to reveal a soggy surrounding. Just after first light, I saw a nice 7 point come out of the brush into the sendaro. He was as wide as his ears but not very heavy. No matter, I was after a doe anyways. He bopped in and out of the brush for a few minutes until I stopped seeing him anymore. Then, a doe came out. Now we were talking!
Watched her a few minutes and waited for her to present a broadside shot. I was using a BOG Gear PSR tripod with the pistol, so tracking her was no worries. Finally, she turned sideways and moved her near foreleg forward. BAM! At approximately 100 yards, she took a 130gr Berger Hunting VLD tight in the near shoulder.
At the shot, she jumped straight in the air, gained her feet, and took off. As she was entering the brush, I saw her front end start to sag and knew she was about to plow into the ground. Gave her about 15 minutes and went to look for blood.
At the empact location, there was a huge tuft of hair on the ground and dig marks from her hooves. No blood. I knew the direction she'd gone and with the damp soil, she was easy to track. Got to where she'd entered the brush and still had no blood. 10 yards into the brush, there she was. Not a drop of blood from impact to about 2 feet to her final resting place. There, I found 1 drop.
Now, that kinda perplexed me. No blood. Either way, she only traveled 25 yards and only lived about 3 seconds after the shot. But still........wierd.
Autopsy Photos
Entrance to body: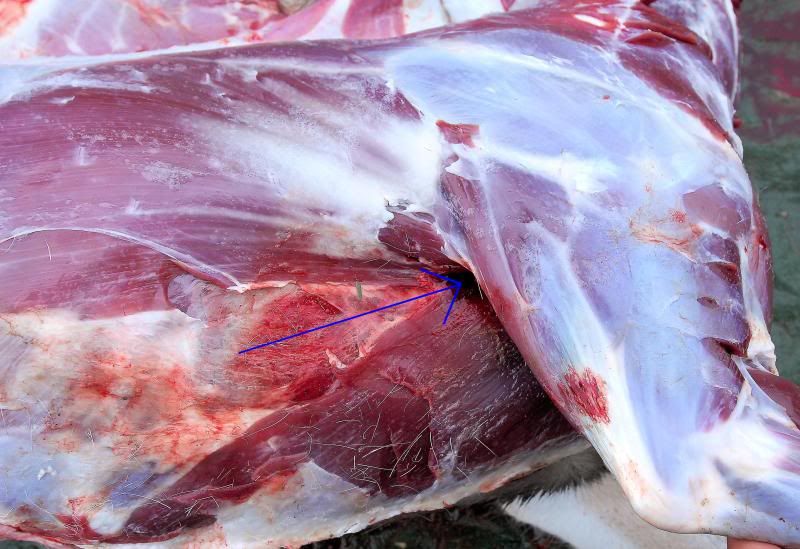 Entrance to front lobe of right lung, just above heart:
Entrance to aorta under front lobe of right lung:
Exit through aorta and left front lobe of lungs:
Nicked 1 rib going in and centered 1 rib going out:
Exit under left shoulder: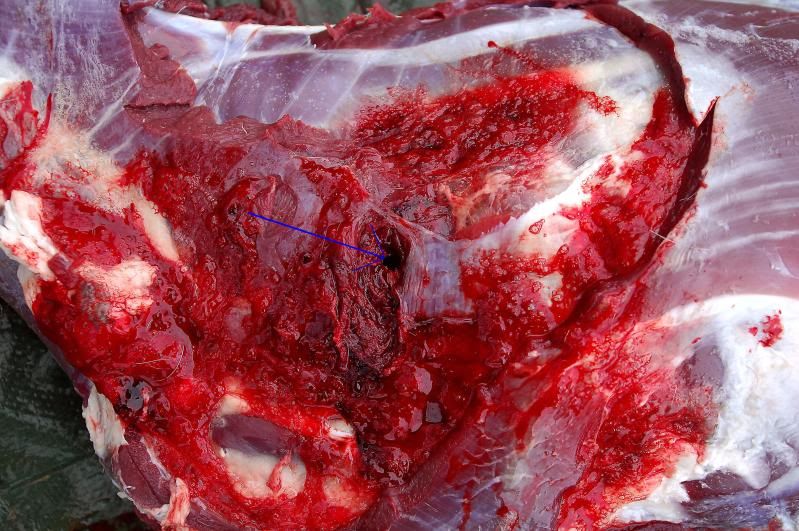 Exit out left shoulder:
You can see that there isn't much damage to the internal organs, but that the bullet really began to open up on the back side of the deer. Maybe she just wasn't wide enough? Maybe the velocity wasn't high enough out of the pistol? The bullet didn't fail because the deer died quickly and in a short distance. But, the lack of trauma has me perplexed.
This is the second time I've seen a Berger 130gr 6.5cal bullet fail to expand a fragment as advertised. Interesting.............
Deer #2 to follow..............
"To Hell with efficiency, it's performance we want!" - Elmer Keith