Home
›
Main Category
›
Hunting
Last day of dove season...and a feral hog tale
I went out west 500 miles with the old 'outlaws' I bird hunt with, last weekend. We went to our super-secret honey hole that never lets us down, but honestly weren't really expecting much. The weather was too cold, we had 3" of snow the first morning, and overcast skies until the last evening. We worked hard in the mesquite brush and managed to get about 60 birds the first two days, between seven of us. We looked hard for blue quail, but found none of them, anywhere.
On the last day, the sun popped out and it warmed into the low '50's, with a light breeze, and we were a little more optimistic about Saturday evening. Still, after riding around all day looking at waterholes, we weren't seeing any birds. Sat. evening, we half-heartedly set up our decoys and Mojos at the spot that had always produced the best results, but we were just going through the motions, expecting little. About 4:30, we started seeing a single here and there, and as time went on, small groups, and then larger groups. These were mourning doves and white-wings, and a lot of ringnecks that don't count against your bag limit. By about 5:00, they started boiling in, and we had non-stop action for about the last 45 minutes of legal shooting time, with everyone getting their limits. It was good enough to put a smile on everyone's face, and make us feel like the trip was worthwhile.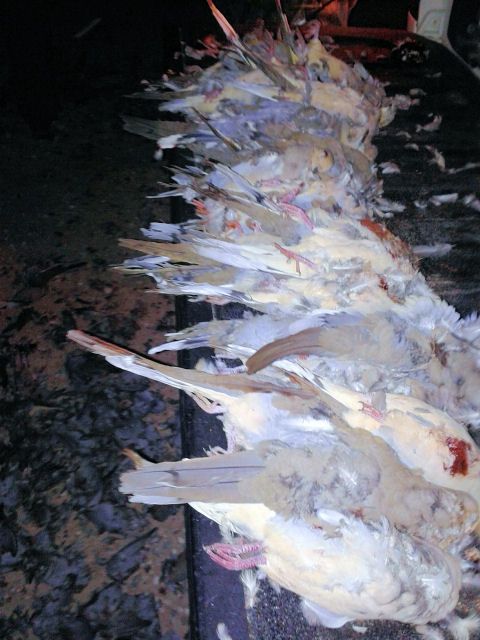 While we were counting birds and getting ready to start cleaning them, two hogs just walked up to the little slough created by the leaky windmill tank and started drinking, about 75 yards away. One of the old farts drug out a .222 rifle and shot at one, apparently missing him. They were confused, and still milling around nearby, so I got out my AR and started trying to get a shot lined up between the bushes. The only shot I had was a neck shot at about 80 yards, quartering away. There were mesquite bushes between us, and with the low light conditions, I couldn't be sure that my line of sight was clear. But, the rancher, who had driven up to collect his bird-hunting fee, was hollering at me to shoot anyway, so I squeezed off the best shot I could get, and the hog jumped and squealed, but ran off.
I knew I was on him, when I fired, if the shot didn't get deflected, so I waited a few minutes, then put up the AR and dug the XD45 Compact out of my travel bag and walked into the brush to look for blood. The light was too bad, by this time, to use a scoped rifle at close range. I found enough blood to get me headed down a cow trail and I followed it till I caught a glimpse of one of the hogs at about 50 yards out. I 'galloped' up on him as fast as my skinny old legs could go in the deep sand, and was able to take one well aimed shot at his chest area, from about 30 yards. He grunted, but ran a little further into the brush. I kept trying to ease up closer, but he kept about 30-35 yards ahead of me.
Just as he was about to escape into the thick stuff where I didn't want to go, I was able to set up well and got a good enough sight picture on him to take a well-aimed shot at his head. He stopped cold, and sat down on his haunches and then fell over, but was still very much alive, so I put a .45 behind his ear, at point blank range, and that switched him off.
Upon further inspection, I determined that this was the hog the first guy shot at, because he was gut-shot down low with a small bullet that did not expand, probably one of the 30 year old .222's. There was no way it could have been my shot, because of the angle. So the hog I shot at with the AR got away. It was way too dark, by this time, to pursue him through the thick sticker bushes, and we had a big pile of doves to clean, so I had to let him go.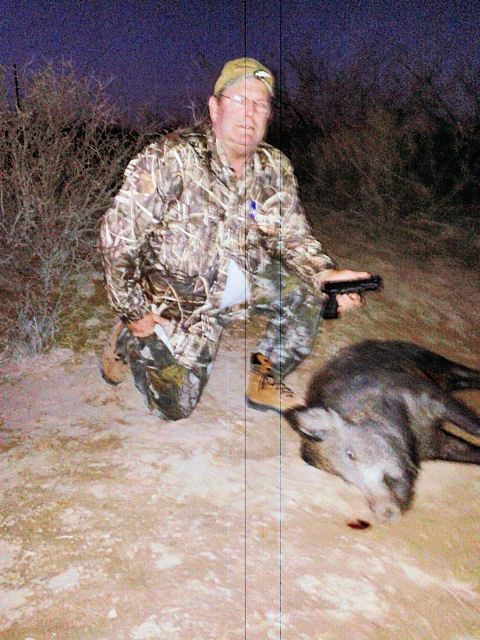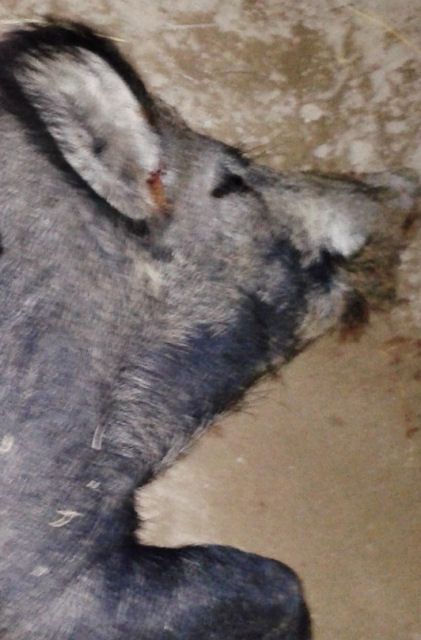 I'm not at all proud of how the unplanned hog hunt turned out. I normally don't take 'bad shots' with a rifle, and had I been alone and had a bit more light, I would have worked myself into a better position and tried to stick one in his ear. Had I been expecting hogs, I would have brought the 10mm and the 7mm-08 AR. But, it just didn't work out that way. I regret not making clean kills, but things just don't always go the way you want.