Home
›
Main Category
›
Hunting
Easter Pig!
Well, last year I took my daughter pig hunting on Easter and we got a 285lb and 120lb pig with the XP-100 in .260 Remington. This Easter, I took BOTH kids out hog hunting.
A rancher friend of mine mentioned that he was having hog problems again. But, the hogs had gone totally nocturnal because of pressure. Hmmmmmmmmm...........I have a solution for things that only come out at night.
We set up on the edge of an oat field right at dusk. The field stretched for 375 yards long and about 75 yards wide. Our position would give us control of the entire field.
The deer came out as the sun set. But, that was all until about 9:30, when a descent size boar walked out into the field.
I had already made a range card of the field as the sun set. The boar walked out at the 250 yard mark. Watched him for a few minutes to see if any other hogs came out with him. Seeing none and not wanting to marry the entire night........I waited until he turned broadside and..................."DINK!"
I heard the impact and saw his front end slump to the ground. His back end plowed him forward for about 20 yards until he came to a stop at the edge of the field.
Looked over at the kids and asked, "Do you guys want to wait and see if more eventually come out?"
"NO!!!!! We want to go see him!!"
So, we packed up and went to retrieve out Easter Pig.
He turned out to be a good eater size boar of about 180-200 pounds.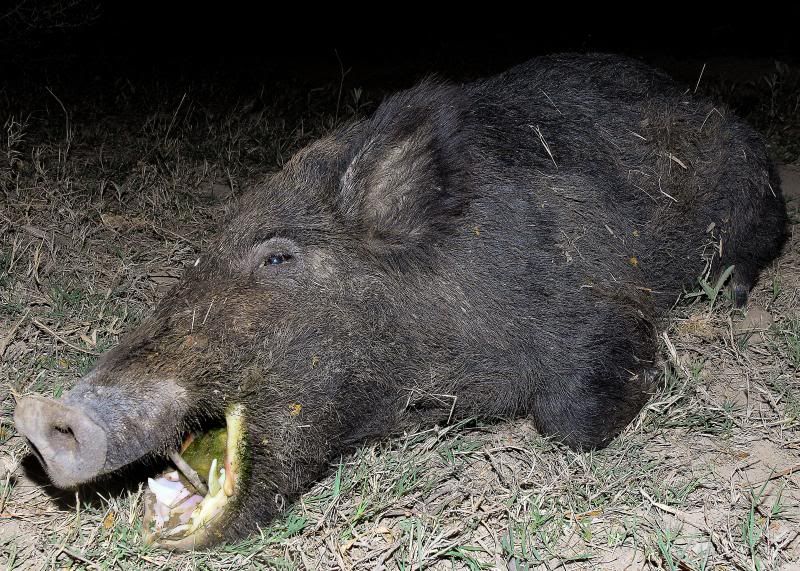 I love hunting with my kids!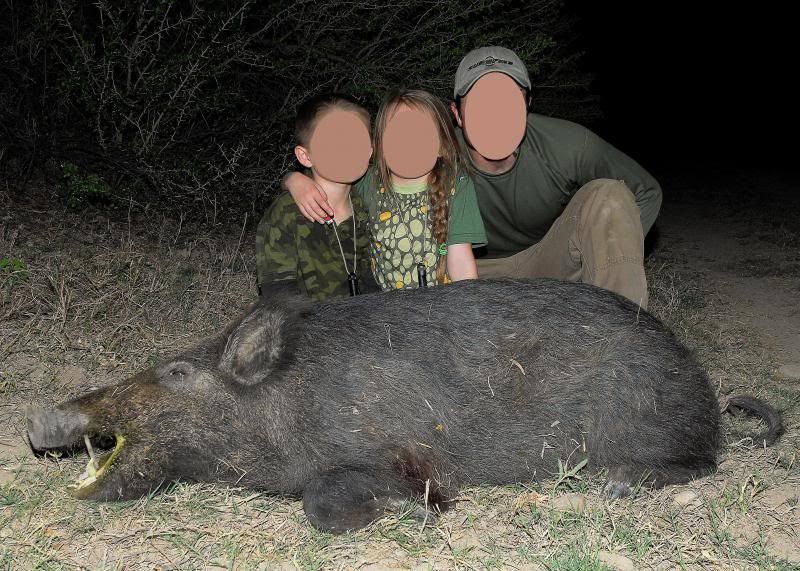 Yes, in case you're wondering.......I cheated a little.
But, it was a chance to test a new piece of kit.
We loaded him up and took him home.
Here's your chance to bail. 'Cause it's about to get graphic.
I was using Hornady TAP .308 Winchester 168gr A-Max. The following is a fair example why I absolutely LOVE A-Max bullets for their terminal performance. For those who think they are only a match round and have no hunting use..............step inside my world.
"To Hell with efficiency, it's performance we want!" - Elmer Keith