Home
›
Main Category
›
General Firearms
Scoped the 375 H&H pre 64 today........................
orchidman
Posts: 8,438
Senior Member
When I was over for the SE I purchased a VX2 2-7X33 Leupold for it, along with a matching set of Leupold bases and rings. ( Bought the Quick Release rings).
Did a charter yesterday and didn't feel like chasing ducks today so I decided to mount the scope to the 375.
Armed with all the necessary tools including the 'Fat' wrench I bought while in the USA I spent a pleasant couple of hours playing 'Gunsmith'............( Not quite as exciting as playing 'Doctor and Nurses but its too bloody cold over here to do anything 'sans' clothing)..........:tooth:
Once I got everything sorted out I found the only problem.....................I bought a set of low rings when I should have got the medium ones.
Here is the rifle with the scope mounted.........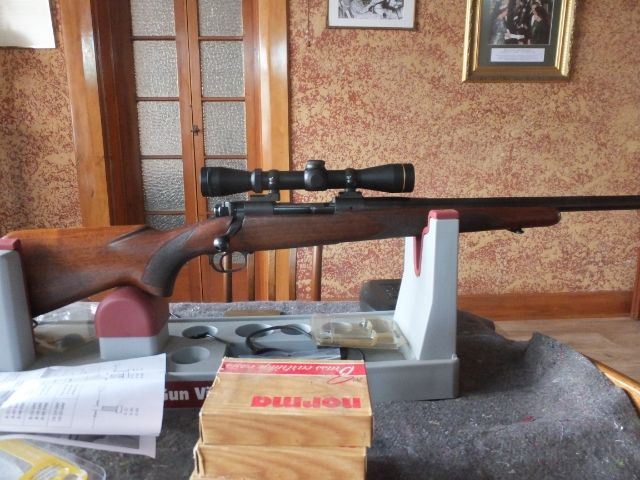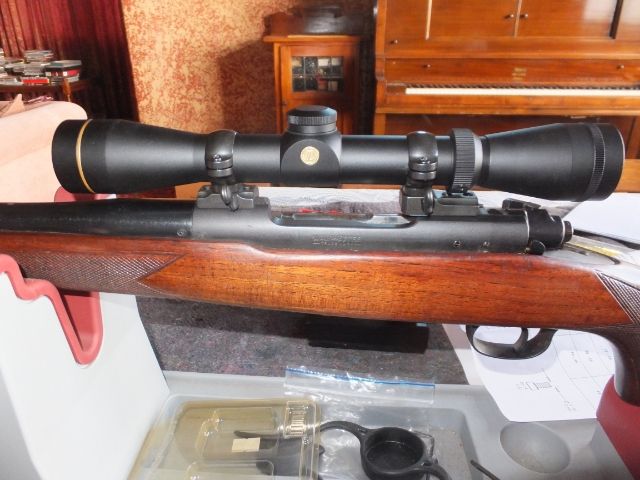 Here are 2 pics of the clearance between the bolt and the scope................
As you can see, there isn't much room between the bolt handle and the scope.........but all is not lost.
When I was at one of the LGS on Friday buying a couple of bricks of .22 Sub's............( Yep, we don't have a shortage over here so eat your hearts out. Cost $89nzd per brick which is the same price I paid 2 yrs ago).........I was talking to the sales guy and told him what I was planning to do with the 375. He said I may have to go to 'medium' rings and said if I have a problem , to come in and he would replace the low ones for the medium rings.
Might have to go visit him again next Friday...........
I took Wambli's advice and bought a 'Past' recoil pad to use when benching the rifle so I am looking forward to remounting the scope and taking the 375 for a trip to the range.
Just spoke to Bloodhound and we have decided to head up to his bush block this afternoon and take a couple of Fallow Doe's as now he has got his smokehouse sorted out we want to make some smoked sausage/Salami's.......
Still enjoying the trip of a lifetime and making the best of what I have.....