Home
›
Main Category
›
Hunting
Review: Hog Heaven Preserve Hog Hunt with pictures
Review: Hog Heaven Preserve Hog Hunt
Hog Heaven Preserve is located east and north of Ft. Myers Florida. The 155 mile ride from my home in Miami took me through the city, then north on route 27 through the Everglades and sugar cane fields, through Clewiston to Florida Route 80, west through Labelle Florida. We stopped and had a sumptuous lunch at the Log Cabin BBQ in LaBelle, loaded up with ice and headed to the hunt.
Hog Heaven Preserve is about 25 miles west of Labelle, at 18981 Old Bayshore Rd, North Ft. Myers FL 33917, which is actually the address of a Shell Station. The Owner, Bob Joyner will meet you there then escort you to the Preserve and camp, about ¾ mile north on the west side of State Road 31.
We arrived about 2 PM and made our way to camp. The compound is about ½ mile inside of State Road 31 and consists of a bunk house made from a 40 ft container and is rather well done. There is water and electricity supplied by generator. In addition there is another trailer and in total they can accommodate 14 sleep overs at $40 a night, including bedding / linens. There is a working bathroom and shower inside the "lodge" and lots of mounted trophies.
There is a crude pavilion in the center of camp and both gas and charcoal grills to cook on. You can either bring your own food like we did, or the staff will cook for $25 a day per person. Our camp master, Bruce always cooks and so we found the facilities to be more than adequate for camp food and camp cooking.
Hog Heaven Preserve charges $125 for a meat hog, $350 for a trophy hog, defined as a boar hog with tusks over 1.5 inches long, $25 to clean your kill and they recommend tips for the guides.
Our guides were Earl, Brandy and "Geza".
The prettiest hog hunt guide and skinner ever, Brandy with one of our group, Jeff Knight.
Jeff claims that since they dragged a hog out of the brush and cleaned it together they are "lavaliered" .
Our group was large, with 12 hunters and two observers and there was an earlier group leaving when we arrived. The guides were still skinning and dressing out animals as we set up. They have a cleaning station setup on the south east section of the camp where they can clean two at a time.
Part of our group: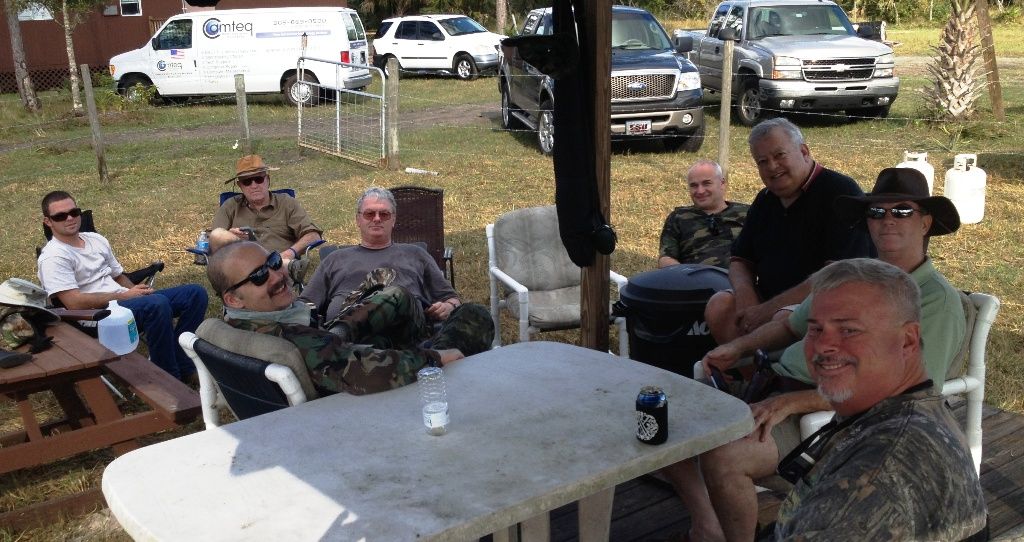 The facility is setup with two hunting locations. I only hunted in the western facility located on a large plot of grazing land for cows. There were lots of tree stands and blinds setup for hunters in a wide variety of locations. The hunting area I entered appeared to be about 15 acres of chicken wire fenced in land surrounded by another 450 acres all around it. Half of our group hunted there, while the other half hunted another property.
The view from my stand: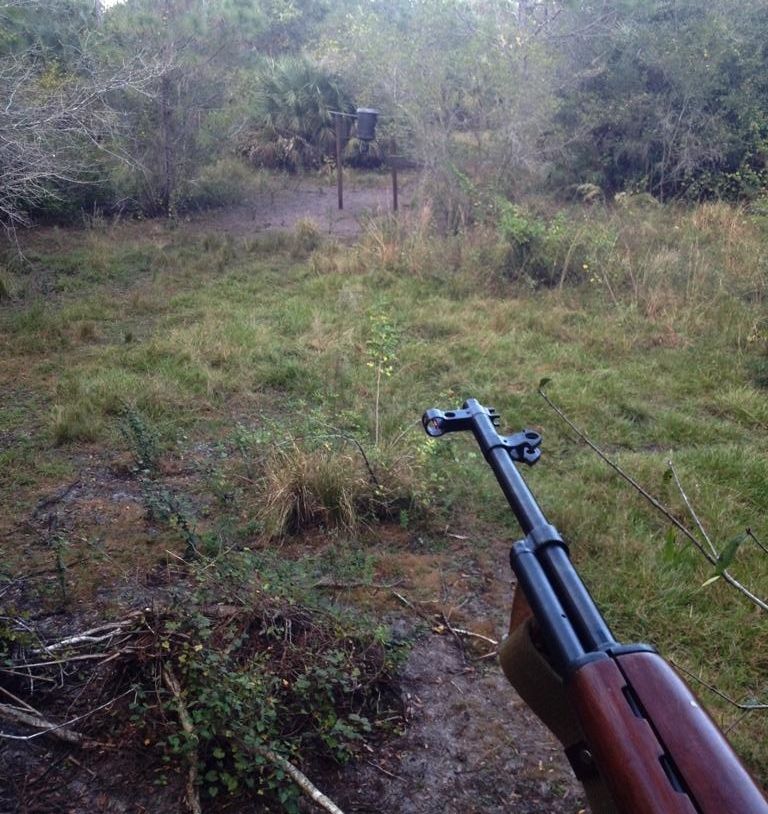 My hunting partner and I took our tree stand at 3:45 PM, later than I wanted to get started. We drew for first shot and my partner Fabio won and elected to give me first shot. Our stand was about 50 yards from our feeder and we waited for game to show. About 20 minutes after we sat three small pigs showed. I passed on them and 20 minutes later another group appeared. I pick a sow about 100 lbs, raised my SKS and heard "click!" but no "boom!" I had a misfire and as I racked the slide for the next round they group scattered.
About 30 minutes later another group came and I told Fabio I had my shot , and it was now his turn. He picked an 80 lb sow and scored a direct hit. The group scattered, and I bet Fabio a dollar we would see no more. I lost. Several more passed through just in the brush but would not approach the feeder. Sundown was 5:30 pm and by 6pm it was too dark to see.
Our guides picked us up at 6:30 pm and we headed back to camp. Of the six hunters in our group, only Fabio took a meat hog that evening. The other group had success in the other "pen" and took four more pigs.
We at a sumptuous camp dinner of steak, green beans and potatoes with cookies for desert, swapped stories, watched our game being cleaned and enjoyed a few adult beverages. We swapped stories. The other group expressed their dissatisfaction with the other hunting property. The "pen" was too small and did not feel like they were giving "fair chase". I asked the owner if they "stocked" and he indicated that they had trappers from the areas bring them wild pigs every week and released them into their hunting areas.
We decided to start the day at 5 AM and leave at 6 AM for the stands. 5 AM came and our camp master Bruce had coffee, donuts, juice, chocolate milk and muffins ready to go. No one elected to go back to the smaller "pen" and six of us headed out to the west property.
I took the same tree stand alone at 6:30 am and watched the sun rise. A group of three small pigs came by but I passed on them. My goal was a sow about 125 lbs. After the initial group came by it was a quiet morning until around 10 AM. Another group of 6 came and I selected a sow that looked right and took her with a 180 gr Sierra soft point in my 30-06 over 47.5 gr of H4350. She presented her right side to me and the bullet passed through her neck, chest and exited mid left rib and she was down immediately.
When weighed at camp she was 145 lbs. Another of our group took two hogs, one around 80 lbs and another at 140 lbs.
At 11:30 am we headed back to camp. Of the 12 hunters, eight scored game, and we had two other miss their shots.
At camp our guides cleaned our kills and we had lunch, and made our ways home. It was a successful hunt, but the overall feeling of the group was the preserve was too small to give fair chase, and it did not feel like we were really on the hunt. We enjoyed our stay, our guides, and our camp. If you are looking for a fair chase hunt, you might want to look at other options, however if you have youth you want to teach, or a group you want to be successful, this is a great facility.
Best,
D
"A patriot is mocked, scorned and hated; yet when his cause succeeds, all men will join him, for then it costs nothing to be a patriot." Mark Twain
Alcohol, Tobacco, Firearms and Explosives.... now who's bringing the hot wings? :jester: