Home
›
Main Category
›
Personal Defense
Middle of the summer EDC thread.
Eli
Senior Member
Posts: 3,074
Senior Member
Since I forgot to do one of these at the beginning of the summer, and since if you're going to get complacent, it's happened by now....
What'cha carrying?
Just came in and threw everything I had on me on the counter, and I've noticed that yes, complacency has definitely set in.
I usually carry two spare mags, but that second one gets heavy after a while. I usually carry two knives, but that second one get irritating, constantly riding clipped to my back pocket.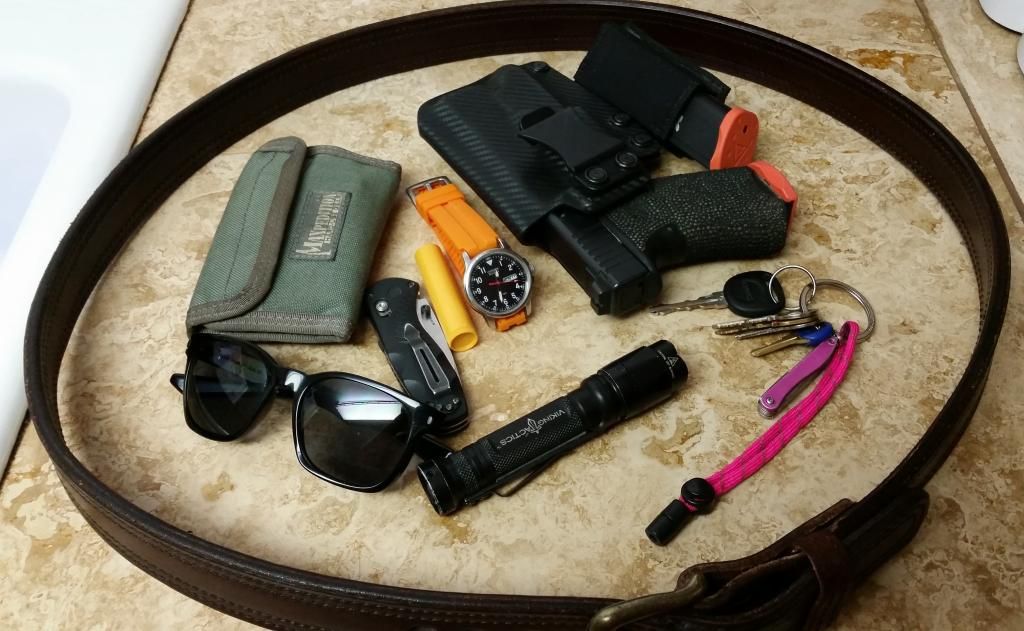 This is everything that was on me today, with the exception of my silicone bracelet (forgot to take it off) and the cell phone that I took the picture with (Galaxy S5).
Maxpedition Spartan Wallet.
Oakley Garage Rock sunglasses.
Benchmade Mini Barrage knife.
Burt's Beez Wax chapstick.
Surefire/VTac L4 light, running a Universal ClipDraw.
Citizen EcoDrive Military watch.
Spare 17 round mag, riding in a US Grunt Gear pouch.
Keys with a Germber Micro Multitool.
Glock 17A wearing an Inforce APL, riding in a Light Bearing IWB from RDR Custom Kydex.
All of it held up by a 1.5" gunbelt from Armour Belts.....seriously guys, check them out.....probably the best value on the market.
http://www.armourbelts.com/