Home
›
Main Category
›
Hunting
Monday Mule
Ernie Bishop
Senior Member
Posts: 7,100
Senior Member
Living in Wyoming has a number of advantages, with one of them being, I can head out for a quick hunt, in the midst of a busy schedule. I knew I had to be back in town around noon to get cleaned up and to have some review time before a memorial service today. When the alarm went off at 5:00 I knew it was going to be a long day, but hey, I still get to go out for a morning hunt.
I was specifically looking for a "shooter" mule deer buck, in other words, a nice 4x4.
Depending where I am at it takes 45 minutes to an hour to get back home. I immediately began to see mule deer does and some young forkhorns. Also, saw quite a few antelope, but nothing big enough to deter me from deer hunting. I have a small Minox spotting scope that I had set-up on a window mount, and the Vortex Razor HD on my tri-pod. Quick glassing was being done by an old pair of Zeiss 7x42 High Brightness binocs. For this morning I planned to drive from spot to spot and glass. After some time checking most of the spots, I went to where I could see land further from the road than any other place. As I scanned the area with my binocs, I saw what I thought was a butt patch in the cedars. Quickly got the Vortex out and it was not only a deer, but two bucks. Both fit my definition of a shooter buck. It was getting time where they were likely to bed down soon, so I made my way to close the gap to a shooting distance.
I parked my rig a good way below the ridge where I hoped to shoot from. As timing would have it mother nature called loudly, right after I got out of my vehicle. Time out, and take care of business. The whole time I am wondering if either of them will be there. Make it to the top slowly and see the larger one just left of a cedar, but broad side. Range it (just under 700 yards), getting set-up, chamber a round only to watch him step into cover. That time-out cost me a shot opportunity-Rats! Now, I am hoping he will keep walking north and come out on the other side. False hope there as well. With the lay of the land and my limited time frame, I decided to see if I could spook him out.
I am using my center-grip XP-100 (Pink Panther), chambered in 6.5 Leopard (270 WSM Norma brass necked down, with a 130 grain Berger). Healthy load of H-1000, and Federal 210M primer.
Mac's Gunworks built this XP for me and she shoots great. Optic is a S&B PMII 4-16 with Holland's new All MOA ART reticle. Barrel is a Benchmark 1-8 twist, Dell trigger, Seekins 20 MOA picatinny rail, and a Mac brake.
Before I attempted to spook him out I walked up the ridge to my left-due south, to make sure I had the wind right as, I was somewhat shielded I thought. My correction would be the equivalent of a 5mph full value wind. Now I am ready.
I go back to my shooting spot, and shoot the first shot just left of the cedar. Nothing happens, even though I waited. Okay, one more try, and this time I shoot at the right edge of the cedar. After about a minute, out he walks. He is calm, but now walking toward me slightly down hill. I grab the Leica 1600 to range him again. When he stopped I ranged him at 611 yards. Wind feels the same. I was using the ART reticle instead of dialing for elevation, so it was quick, but I dialed the wind. Shot felt good, but the recoil moved me off the buck. I listened, expecting to hear a "meat report," but was not convinced I heard one. The buck moves off to the right and down, not fast like a spooked deer, but deliberately/slowly, like he was hit. He disappeared after about 40 yards or so. I tried to re-run everything to see if I had done anything wrong, but nothing came to mind. I left my pack there and just grabbed the XP, rear bag, ammo, LRF, and binoculars.
As I started heading up the ravine, I noticed the wind was not full value, but quartering, oops!
I am now wondering if I had over-doped the wind.
Once I made it there. Took awhile with the steep ravine, and I was winded somewhat. I found blood, and a good amount, I started following the blood trail and had not walked more than 15-20 yards, and felt the odd need to look up. There he was, hurt, but still able to stand, and walk ever so slowly. He walked for maybe 10 yards and had to stop again. At this point, he is 50-60 yards from me. Still being a little winded, I knew I was not going to shoot off-hand, so I extended my Harris BR bi-pod to full length, sat down with my knees up and rested the legs on my knees. Look through the scope, and can't find him. I realize quickly, that I had forgotten to turn down the magnification-Novice mistake! Turn the power down, and quickly put one in him and it is over. I did over-dope the wind, as I was about 4" behind his lungs, but I was spot on for elevation.
Now back to reality, I have responsibilities in Gillette. What time is it now? I left my phone with my pack. Not sure of the time I take my XP with me, finding a better way down and up that ravine than on my first excursion. Get to the Tahoe, and check the time. I have time to head back over there take some pics, and I will need to gut him quickly, get him in the shade, then head to town. Back over to the mule deer again. Get over there to start taking pics and realize I left the compact tri-pod in the vehicle. I don't have time to make another trip, so I make due and end up finding an old shed which makes for a nice compact tri-pod.
On the way out I see a nice antelope buck that I want to shoot (under 100 yards), but I simply do not have the time for it. Oh well, maybe this afternoon when I come back, I will have a shot at him and make it a double.
With the memorial service at 2:00, I am okay on time, but with not a lot to spare.
Get home, and get ready, and do the service. As I was getting ready to leave, go a phone call that required my time to meet with someone. What I thought would be a brief visit, an hour at the most, was more than double.
When I finally get back to the place where I park my vehicle, the sun has already set. Of course on the way to the buck, I see that same antelope laughing at me as I drive by, again at around 100 yards. Decided to debone the buck in the field, and carried everything out, plus the head in one trip. Made it home close to 10:30pm.
What a day! But I would do it again in a heartbeat. I love living in Wyoming!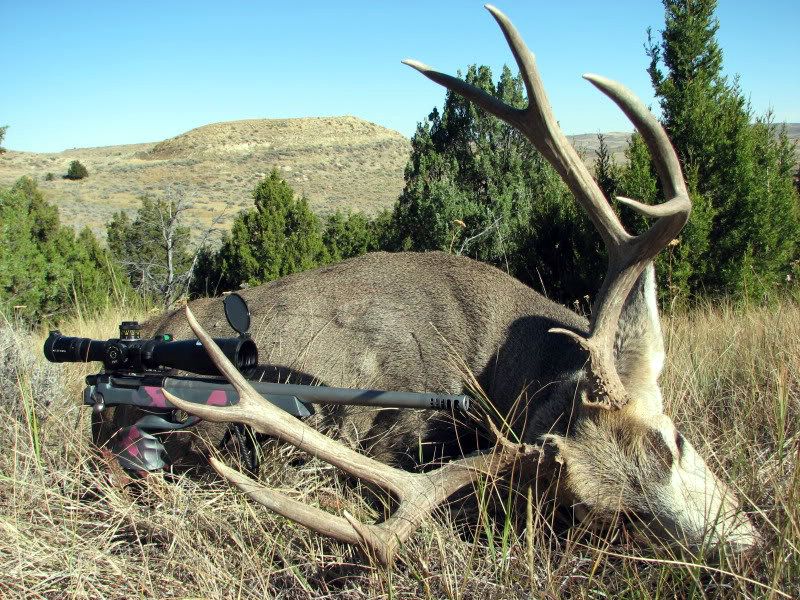 Ernie

"The Un-Tactical"