Home
›
Main Category
›
General Firearms
Yet another .35cal for the year (.358 Winchester)!
Zee
Posts: 28,392
Senior Member
This appears to be a .358cal year for me. If I'm not getting them.........I'm shooting them.
Well, this cartridge has been a long time coming for me. I bounced back and forth about how I wanted to go about acquiring/building the platform for this cartridge. I'd considered a bolt gun, but already have a bolt action rifle in .35 Whelen. So, I didn't want to mimic that rifle or I might as well use that one. I wanted something different.
Then, a certain someone conned me out of my Marlin 1894 in .44 Mag using their puppy dog eyes and Jedi Mind Trick. While boxing the rifle up, I realized how handy it was. Compact and svelt, it shouldered well, pointed quickly...............BINGO!
Measuring the 1894's OAL........I figured out what barrel length I could get away with on a single shot rifle and maintain the same OAL as the 1894.
Voila!!!! My new .358 Winchester.
TC Encore Pro Hunter Action (Tuned)
24" Match Grade Machine SS Barrel w/1-14" Twist
Synthetic Stock Coated w/ AlumaHyde II
Talley Lightweight Rings/Base
Leupold 3-9x TS-30 A2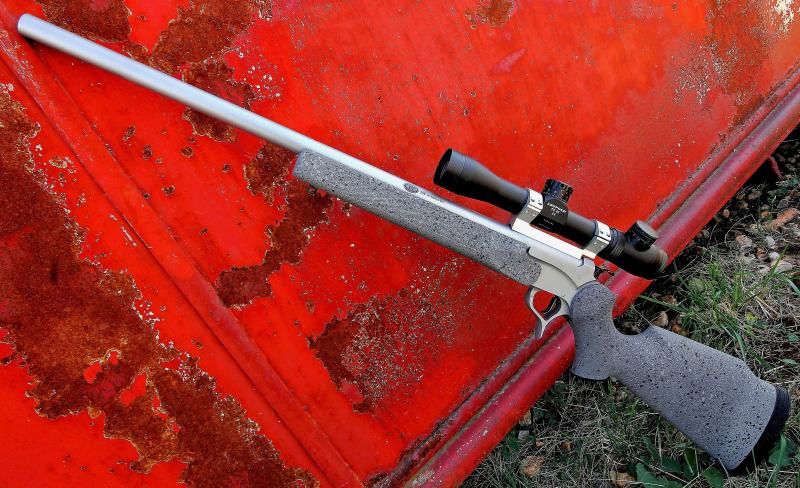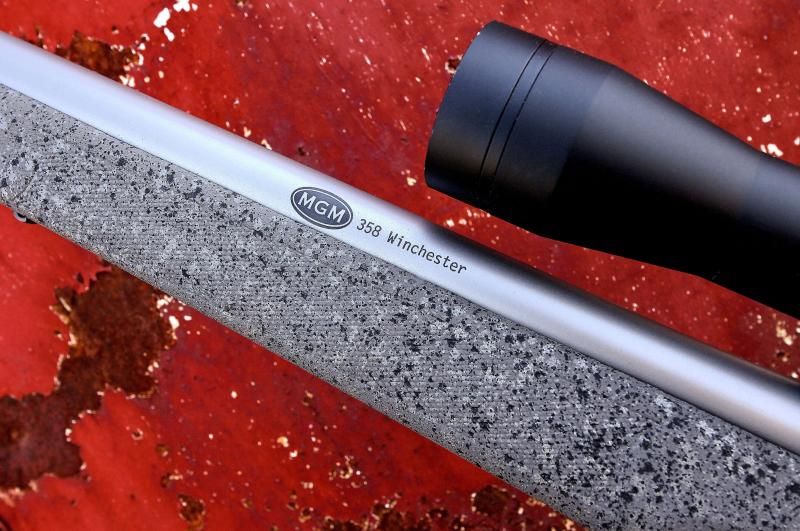 Made up some test loads last night and hit the range today. Best load so far is
38.5gr H4895
with a
200gr Hornady FTX
bullet.
This load moves out at
2,646 fps
with a 24" barrel!!! That's 127 fps faster than Hodgdon lists with a 26" barrel and 1/2 gr. less powder!
I can safely say that MGM has rejuvinated my affection for the Contender and especially the Encore! I hated TC for years because of their shoddy quality control and customer service. I've now discovered a way to circumvent TC and get the quality I want through a different route. With both the action and barrels I desire. Match Grade Machine can work wonders. No wobble in the barrel/action mating as with factory barrels. A solid lock-up! Never thought it possible.
Now the ugly. I replaced the factory recoil pad with a SIMMs Vibration recoil pad. Thinking the gun would be light and therefore heavier in recoil, i got rid of the factory hockey puck. Well, the SIMMs recoil pad assuredly eliminates any pain in recoil. Unfortunately, it gives TOO much.
The current scope is designed for the .223 Remington and has a rather shallow eye relief. Couple the short distance to scope with a recoil pad that compresses about an inch in recoil.................you're gonna get tapped. Sucker kissed my forehead 4 times today. Even with a solid shoulder and getting into the rifle, there is just no way to prevent it with a proper sight picture on 9x. I pretty much have to roll my shoulder forward and hold at the very back of the proper eye relief. Any less, and you're gonna get punched. As I said, it kissed me 4 times today (that I remember). Never drew blood or left a welt, but I felt the top of the ocular ring touch me between the eyes on several occasions.
One plan I had for this rifle was to be another loaner. That ain't happening with this scope/recoil pad combo. Sucker will knock out an unsuspecting shooter that creeps up on the scope with a soft shoulder mount.
So, I'm on the hunt for another scope with a little more eye relief. Considering the Weaver 1-4x that Dan has, but it doesn't sound to have much more eye relief than my current scope. Guess we will play it by ear. It'll be Christmas anyway, before I replace the scope.
Either way, I've never had an Encore shoot so well as this. Turned out to be a nice compact rifle that will get me to 350 yards and keep the bullet traveling at 1,800 fps. I like it!!!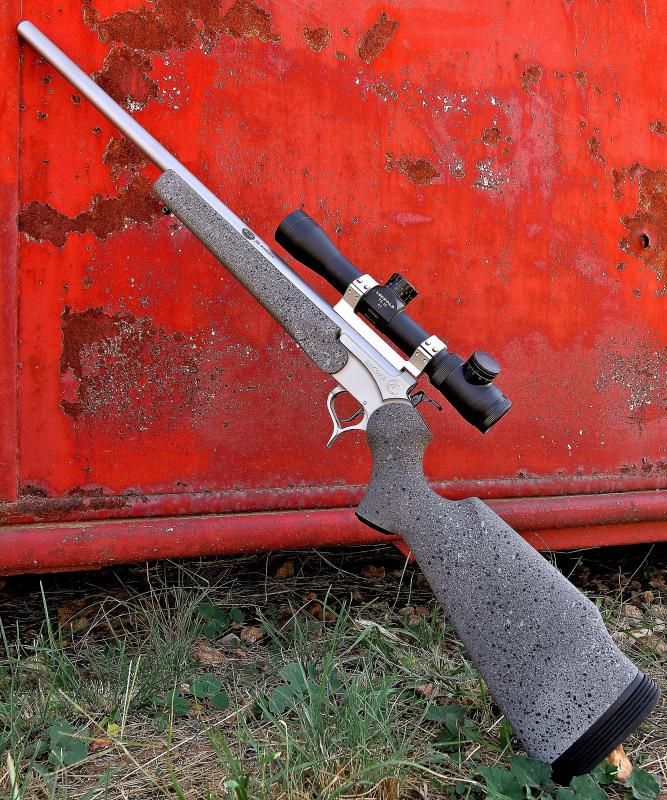 "To Hell with efficiency, it's performance we want!" - Elmer Keith