Home
›
Main Category
›
Hunting
The 6x45 Strikes Again!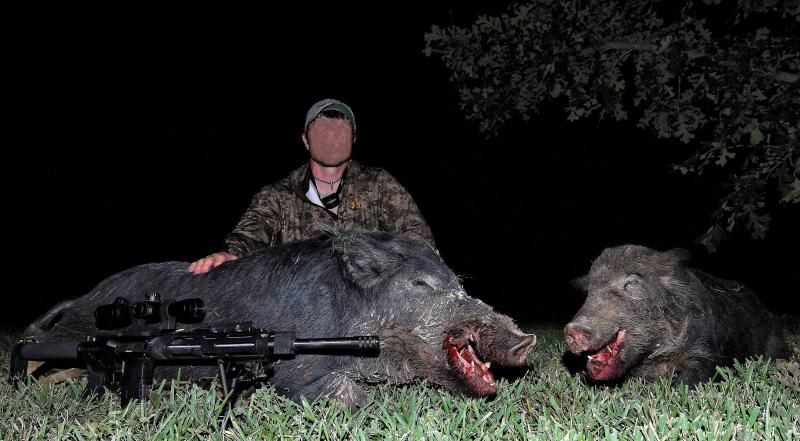 Took my boy out yesterday evening to the ranch I'd gone to Friday night. Today was much nicer as to weather. The sun was shining and a nice cool breeze was in the air.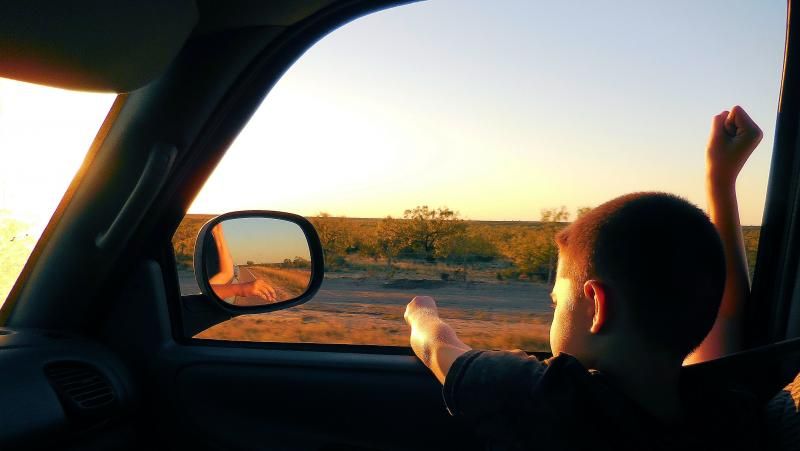 We arrived late evening just before dusk. Visited with the rancher a few minutes and then took the little Ranger to our planned location (where I'd gone on Friday evening as well). As the light faded, my boy and I watched a few deer feed into the field from our left.
I'll explain the
Numbers
and
Letters
as we go along.
Darkness set in and the wait for hogs commenced. My boy at my side, I scanned the field in search of hogs sitting in the Ranger at
1
. There is a major trail that crosses the corner of the field. It comes out of the tree line at
A
(302 yrds) and enters the cane at
E
(196 yrds). I dialed 200 into my scope (up 1 MOA).
In the blackness after sunset and before moon rise, it was difficult to see. But, aided by toys, I see
Hog 1
come out of the cane at
E
and drop down into the irrigation ditch in front of him. Waiting for him to reappear, he suddenly pops over the berm between
D
and
E
and trots off across the field towards
A
. I watched him through the scope but, never felt comfortable about the shot as he zigzagged across the field towards the trees. Hoping I was making the right decision, I let him go without a shot. My boy was not happy with my choice. But, I assured him that more would come out and in my head, I prayed that they would.
About 20 minutes later, a big black form emerges from
E
and stands there staring off into the field. I tell my boy there is a BIG pig coming out of the cane and to get ready for my shot. I watch
Hog 2
stand there, wanting him to move away from the cane. I won't lie that I didn't vaguely wish I'd brought the .308 Winchester again tonight. I honestly wondered if the 6x45 was up to this task. He dropped down into the ditch and I heard him splashing and wallowing in the mud for a few minutes. Emerging from the ditch and crossing the road, he walked off into the field along the trail towards
A
. Tracking him in the scope, I decided to try and spine him. Figured that would be my best chance stopping him quickly as was still questioning my cartridge choice with such a big quarry.
When he reached
C
, I pulled the trigger.
"BOOM"
"Pop"
"Roink!"
Down he went! Thrashing on the ground, I waited for him to get up. He kicked and squealed for about a minute and all was still.
"YES!!!!!"
We high fived and celebrated our success in quiet celebration. Fist bumping and dancing we were some happy campers. I told my boy we'd just gotten a big sucker. We waited a few minutes to make sure he truly was dead and then moved forward towards him. When we reach
2
, I see
Hog 1
come out of the trees at
A
and trot across the field towards
E
. I tell my boy another pig is coming and get in the prone position. Finding him in the scope, I track him with the crosshairs and when he gets to
B
, I shoot him behind the shoulder.
"BOOM"
"Pop"
"Roink!!"
He slumps to his knees, then kicks it into overdrive. Like a rocket, he shoots across the field towards
E
. Now, one of the best aspects of this gun is the total lack of recoil. I could see everything happen through the scope without losing my acquisition. Now, I was playing catch up. Remember the previous thread about the first pig I got with this rifle? That pig was moving along, but not terribly fast. This sucker was flat out hauling butt!!! Questioning my first shot, but not wanting him to make it to the thick cane.............I throw a hail marry shot at him when he gets to
D
.
"BOOM"
"Pop"
His butt hits the ground in a skid and he falls over on his right side. Kicks a couple times and lays still.
More celebrating as we approach our game. Both have succumbed to their wounds and we retrieve the Ranger to load them up...............Somehow.
Hog 1
wasn't bad.
Hog 2
was a son of a gun. Much grunting and groaning and veins popping...........I get him in the Ranger to the cheering of my boy.
We head to the ranch house to show off our prizes.
This gun is quickly becoming one of my favorites. It ain't pretty, but it's a killer in the simplest way possible. Zero recoil, accurate, comfortable. It just gets the job done with aplomb. It's not overly loud like a big boomer and it's gentle to the shooter. Boys, I love the
6x45
and the
85gr Sierra HPBT-GK
.
Autopsies to follow.
"To Hell with efficiency, it's performance we want!" - Elmer Keith