Home
›
Main Category
›
Hunting
The .30-30 Ackley Improved Contender Strikes!
Got called yesterday from a Rancher friend of mine to come cull a deer off the ranch this evening. Who am i to say no to that?
Met him at the gate at 4:00 and he told me where to go. Got set up next to a food plot about 4:20 and the wait began.
I'd brought the Contender in .30-30 AI and a new rest I'm playing with.
It's something I've had around for awhile and it's designed for rifles. Or.............it was. I slightly modified it to accept Specialty Pistols and................oh wow..........this thing is AWESOME!!!!! About as good as shooting from a bench. It's rather quickly adjustable and rock solid. Disadvantage..........it ain't light.
Anyway, I built a ground blind tucked back in the bushes to overlook the food plot and a feeder on the far side.
Placed my Redhawk on my ruck..........just in case a deer decided to come out right in front of me. You know...........self defense.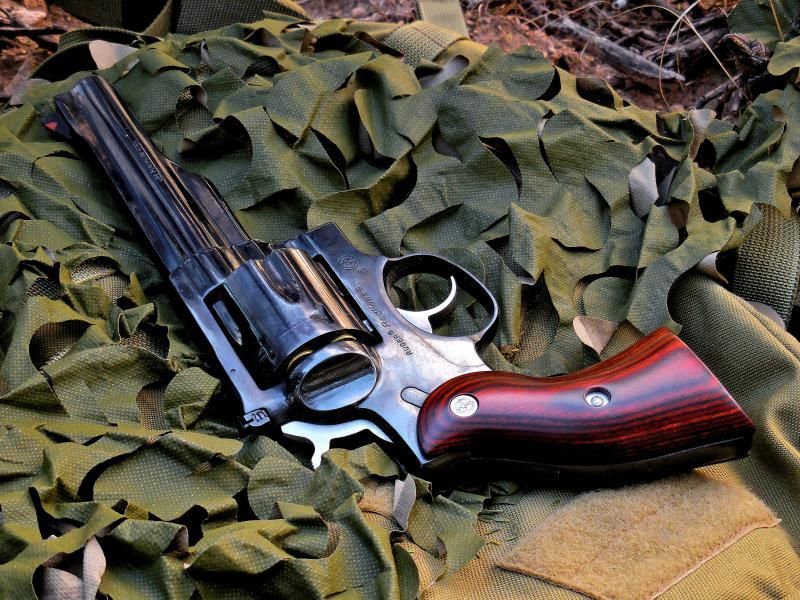 About 5:00, these two does came out. A big one and a younger one. Nothing had been said by my friend as to what he wanted me to shoot. But, I assumed it was the same as last year and that he wanted mature does taken. So, I planned to take the larger of the two does. Problem is.........she wasn't having any of that. See how she is rather intently staring off into the brush?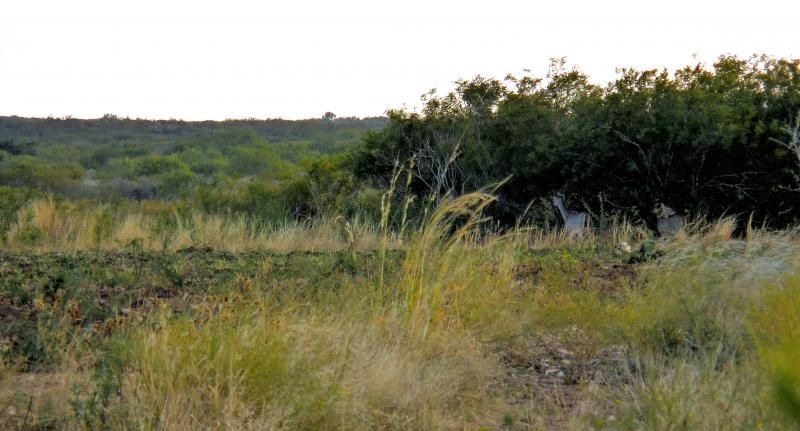 I don't know what she was looking at, but she wasn't too keen on it. She wouldn't stand still and kept going back into the brush. Of course, the smaller doe stood perfectly still forever. But, not the big one. They both finally disappeared into the brush and the wait began again. I was actually fine with it as I wasn't really in a hurry and honestly.........if I didn't get a deer this trip..........I'd get to come back again. That, is kinda what I wanted. I just enjoy being out hunting. Even if I don't take game.
About 5:35, this big boy walked out from my left and started walking across the field.
Nice buck, I thought. But, I'm not allowed to shoot nice bucks here. So, I just sat and watched him. Then he stopped and looked off into the brush.
When he turned to his left, I got a look at his off side antler. Hey wait!!!! He only has a FORK on his left side!! No brow tine and no other points!! With 4 on the right and 2 on the left.........that's a cull buck!
I quickly called my rancher friend and described the buck to him. "Take him", was his response.
Didn't have to tell me twice.
I quickly discovered what the buck was looking at as two does entered the field in front of him. He perked up and started following the does around in circles. I tracked him in the scope as the rest swivels flawlessly. Finally, with his left side presented and slightly quartering away............he stopped walking at
197 yards
. I locked the rest and exhaled.............."BOOM!"
The Contender recoiled as it sent a 125gr Hornady SST across the field. Coming out of it's slight recoil, I reacquired the buck quickly as he came down from a jump and gathered himself to run. Turning to his right, he began what I knew was a frantic death run off into the brush. Not going around bushes, but plowing through them. Oh yeah, he was mine.
I gathered my Contender and camera, put the Redhawk in it's holster, and walked across the field to the point of impact.
No blood. I wasn't too worried, there were tracks and I was pretty darn sure it was a good hit. After about 10 yards, the faucet opened and the blood trail became a highway.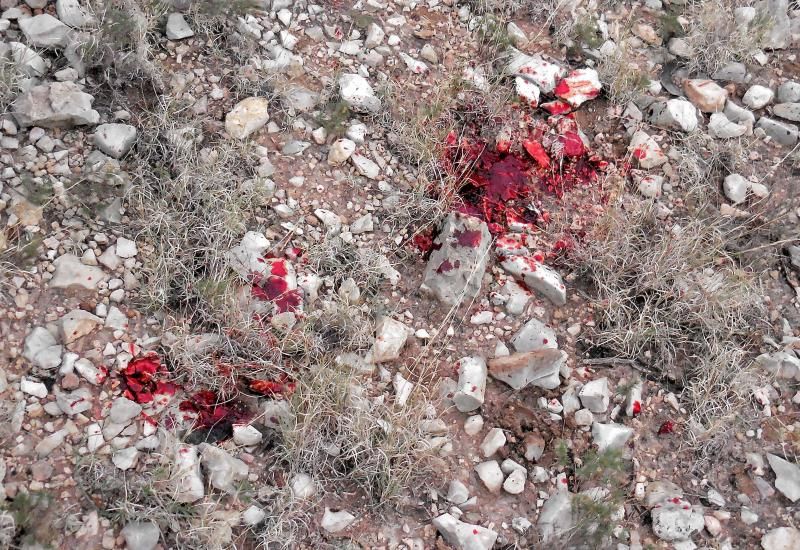 15 more yards into the brush and..................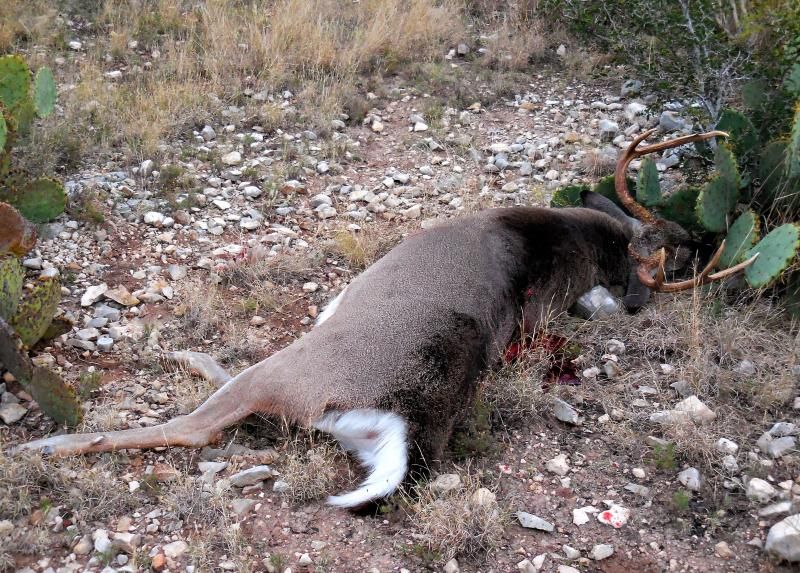 D-U-N............Done. He's traveled a total of 25 yards before expiring................from a .30-30 AI............at 197 yrds. That's pretty cool.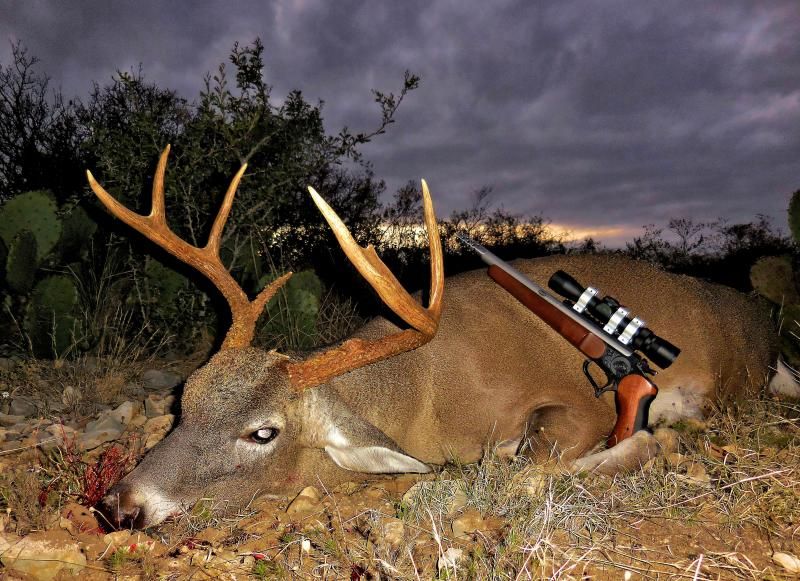 As the sun set, I took pictures and smiled like a boy at Christmas.
See, I don't own property and don't have a lease. I rely on the generosity of friends to allow me to cull deer and hogs for them. I don't get to shoot big bucks. Those are for the owners, clients, and paying customers. There are some monsters on this place! But, I am tickled pink to take this buck. He is the biggest bodied whitetail I've ever taken. Later weighed on the scale at 204 pounds live weight. Not big by northern standards, but pretty good around my parts.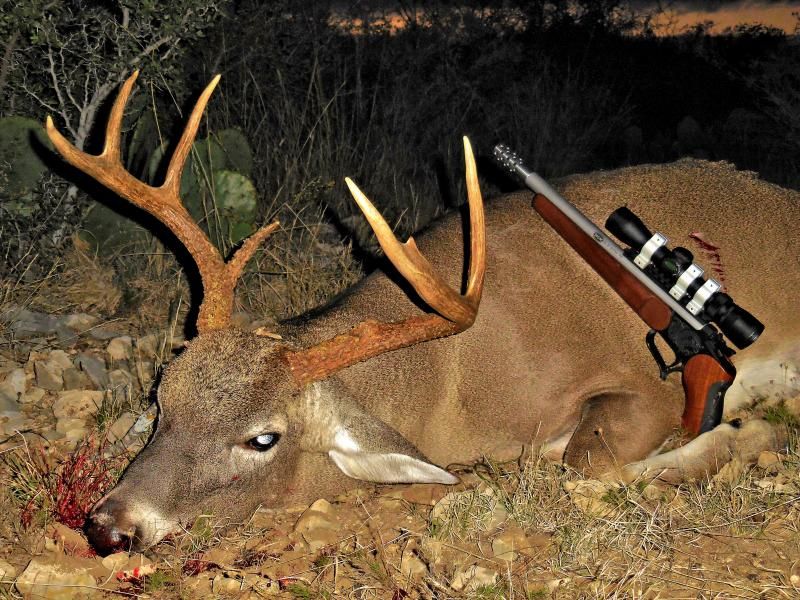 He was 16" wide and not up to spec for the ranch. To big and old for so little headgear. But, he was JUST RIGHT for me!
The rancher was exceptionally pleased that I'd gotten him off the ranch. One mans trash is another man's treasure.
And that's a lot of "trash"!!!
I can't express how pleased I am with the performance of the Contender. This is the first animal I've taken with this gun and the first I've taken with a Contender in about 20 years. The love has been rekindled.........................
"To Hell with efficiency, it's performance we want!" - Elmer Keith