Home
›
Main Category
›
Hunting
Field Report: Ruger 77/44, Hornady XTP, and My Son's First Deer!
Jermanator
Senior Member
Posts: 16,244
Senior Member
Let me start by saying that this may take me a few days to get all the photos and science up on here because they are a lot of both and quite a bit of good information I (actually we) would like to share with the forum. But first thing is first...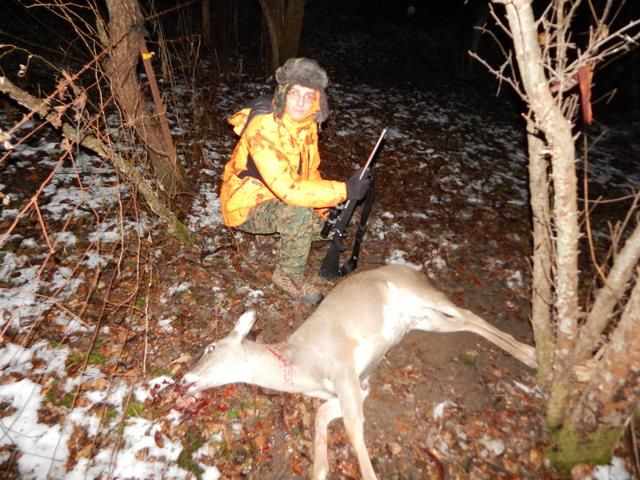 This is my son, Nicolai. He is 14 years old. This is his first deer. We did Michigan's youth hunt back in September but failed to get a deer. We hunted Michigan's firearm opener last weekend and failed to see a squirrel, let alone a deer. Things were looking bleak!
A couple of months back, Joe (Jbohio) and his wonderful wife Angie, invited us to hunt their property during Ohio's youth season this weekend. We gladly accepted. I can't say enough good things about these people. They welcomed us into their home, served us some delicious food and beverages-- we had warm beds to sleep in, and lots and lots of entertainment from their two dogs that are an absolute hoot.
Not only that, but they spent their entire weekend making sure that our hunt was a success. Joe let us park our blind right under his tree stand, when we finally got a deer, they came and got it with their tractor. After that, Joe gutted the deer, then broke it down for us before we left, and even lent me a tub to haul it in. Not only that, but he send me home with some of the delicious bratwurst that he gets there locally, some home canned treats, and these great potato chips that are only available in his area.
The first time I met Joe was several years ago when he hitched a ride with me to a SE Shoot. We hit it off right away. Since then, our friendship has grown. I consider him a close personal friend. If you ever get a chance to meet him, do not pass it up-- your life will be richer knowing him.
Reason obeys itself; and ignorance submits to whatever is dictated to it.
-Thomas Paine