Home
›
Main Category
›
Hunting
First Deer!
A Buckless Yooper no more! Well not really a Yooper, same basic DNA though. Son #1 shot this six pointer, the one side had missing tines to make it an 8, with a .50 Thompson Omega Z5 at 25 yds with a 270 gr. Platinum Power Point and 90 grains ofBlackHorn 209 and a Federal 209A shotshell primer, this was the load we worked up for elk hunting this year with MHS.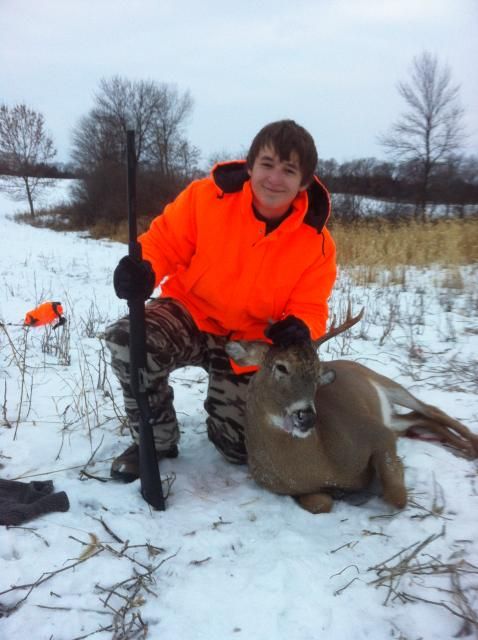 We had one doe come out at 125 yds at sunrise and he almost took a shot be she never stopped walking so we hunkered down in 4* with a 15 mph NW wind and partly cloudy, supposedly felt like -13. I was checking the cell phone for time since we had to leave by 8:45 and I realized that I had 4 bars and 3G of service so I bumped the forum on and had read about one paragraph of Zee's hunt yesterday and KABOOM! I about crapped my pants, my kid had not said a word as 5 deer and this buck walked up to the elevated stand we were in, I thought for a moment he had touched one off in the stand, I immediately saw the buck was trying to get up and we tagged team reloaded while he kept an eye on the deer but he expired by the time we got the primer in. The kid did awesome, he was quiet and smooth, shoulder, lock, kaboom all in one motion. I took the above photo and decided it was way to cold to be bare handed and we were on some time constraints so I gutted it and sent him back for the truck, we were able to drive right up to the deer. We were hunting on my office managers parents place and out of her dads stand, her husband was bow hunting out of another stand and could not quite get the angle on a doe, he saw 12 deer this morning, they graciously allowed the kids to hunt since it has been tough to say the least up by the Canadian border where my family hunts, I only saw 2 does all season, 6 days of hunting and we only got one 6 pointer in camp the last weekend, bucks only in our zone this year.
Here is the entrance wound: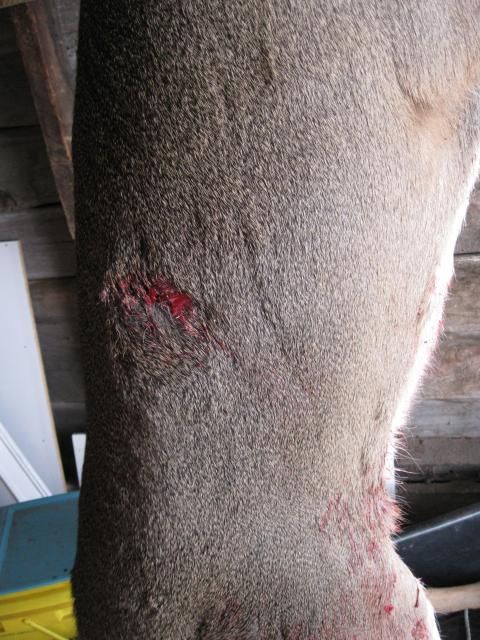 The other side of the hide:
Broke a rib and hit the spine, knife point is on the entrance, no exit wound.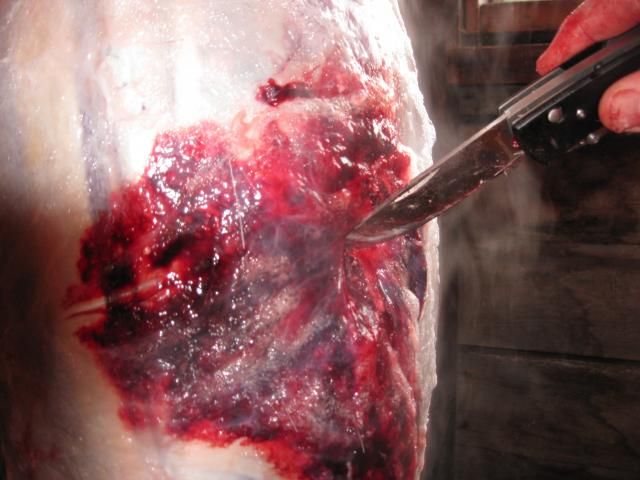 Shredded the front of the loin, could not find the bullet, must have dumped it out when gutting. Bullet hole is at about 12'0clock to the left of the picture.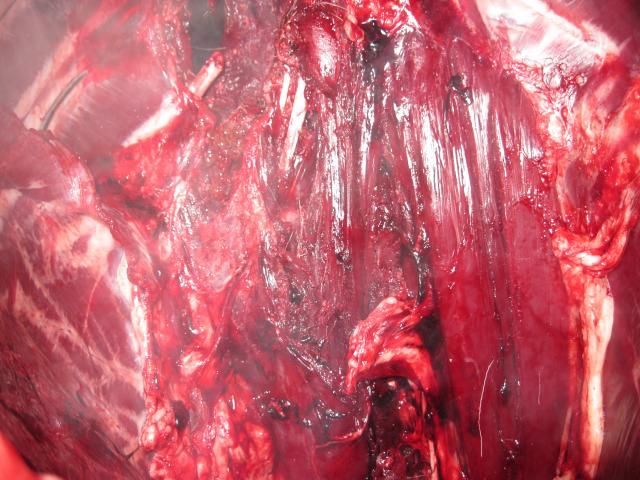 Did find a piece of bullet on the hide, looks like it went superior from the entrance.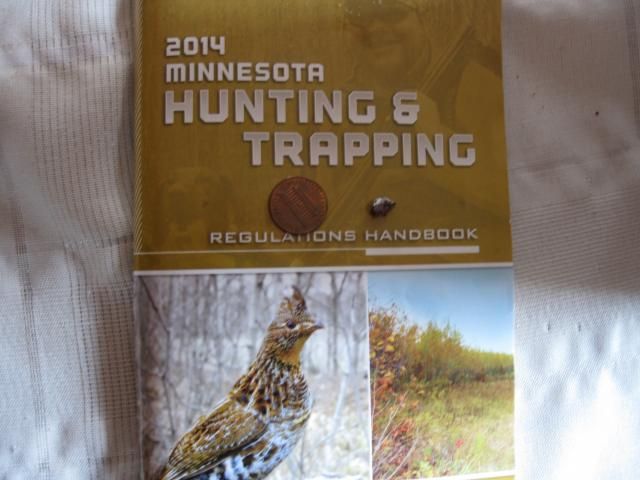 Awesome Day!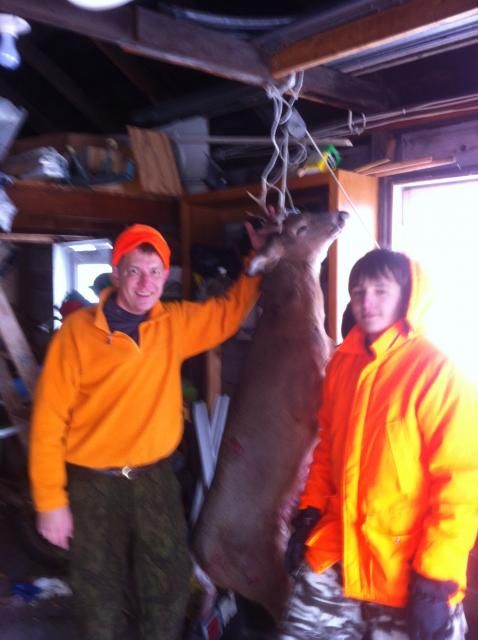 I take no pleasure in the death of the wicked, but rather that they turn away from their ways and live. Eze 33:11