Home
›
Main Category
›
Hunting
.243 Winchester and 100gr Hornady InterLock Bullet - Field Report
Weeeeeellllllllllllll, in light of another forum members mishap with this bullet/cartridge combination.............I decide to give them a try. For science, ya know? Besides, I just happen to have a rifle zeroed for a load using this bullet and I'd not taken any game with that combination. After the issues he was having..........it seemed a good time to try.
Went hunting with my best friend yesterday evening on a ranch that needed some does and spikes culled. I planned to let my friend use my rifle while I did a bit of rattling and calling for him. See what we could drum up. We left the house in miserable cold, damp, drizzly conditions and nothing changed when we got to the ranch.
Let me pause to say that I apologize for the lack of my typical scenic pictures. But, with the rain...........I wasn't breaking out the camera. So, you'll just have to imagine.
We set up about 4:20 along a long fence line that separated a alfalfa field from thick brush with a wide sendaro between. The sendaro had big mesquite trees in the middle of it that acted as decent range markers. I started the rattling sequence and went off and on until about 4:45 with no luck. We were just discussing moving to a different location when I spotted a doe enter the sendaro about 480 yards down. I didn't want to push this cartridge that far. Especially with a gun he'd never even shot before. So, we waited. Maybe she'd come closer or maybe more deer would come out. Eventually, more deer came out way down by the original doe. Then, another doe came out about 280 yards away. Now, we were cooking! She meandered around in the sendaro a bit and we gave it a little more time to see what else came out. Finally, we decided to go ahead and take her. So, my buddy set up in a sitting position with a BOG Pod Tripod in front and a BOG-Pod Tripod in the back with me looking over his shoulder calling the range and wind and such while looking through binos. At
225 yards
, she was facing us. When she turned broadside to walk to the fence, I told him to send it.
"BOOM!"..........."POP!"
I heard the bullet hit and saw the doe hunch and lurch in the air. With one bound and a leap, she cleared the fence and ran off into the field. I lost sight of her quickly as there was some scrub mesquite in the field that obscured my view. But, I knew he'd hit her. I heard it and saw her reaction. He said he was trying to hit her in the heart, so we sat there a few minutes and then packed up and quietly walked down the fence line to where she was standing.
Once there, I saw the dig marks from here hooves where she lunged forward and jumped the fence. No blood. I saw on the other side of the fence where she landed. No blood. I walked a few more feet along her direction of travel and then, looking forward, I saw her laying dead out in the field. As I walked toward her, the blood trail appeared and grew greater and greater until, as I reached her, it was spilled out in a large bloody ring where she'd stopped, turned in a circle and fell. She's traveled
62 yards
from impact to her final resting place.
Our work here was done. But............it was early enough...........and I happened to bring a revolver with me............so, we continued hunting. But, that part of the story is for a different thread.
Fast forward to dark.............and the rain..........and retrieving my friends doe.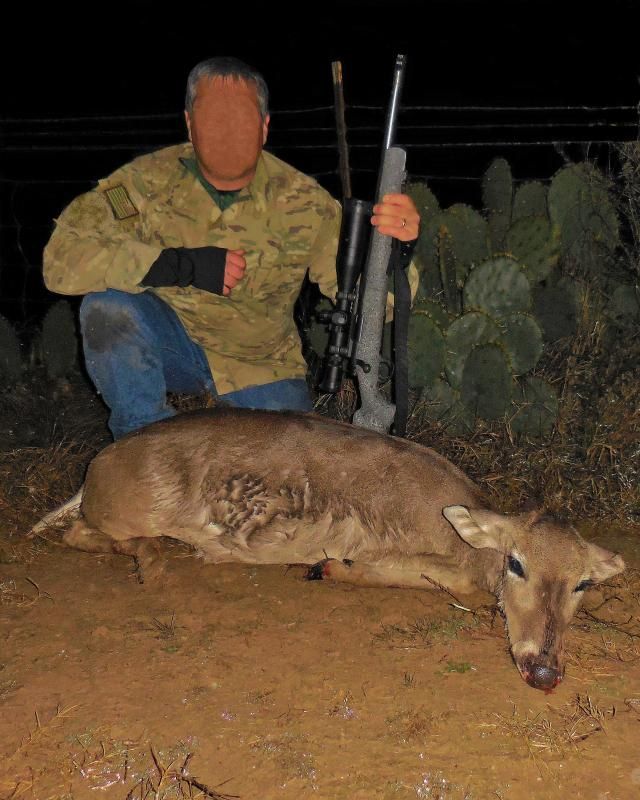 Back at the house, conditions were worsening. It started to thunder and lightening, and the mist turned to drizzle and then to rain. With no shelter in his driveway, my friend did what any friend would do. He held an umbrella over me while I butchered the doe and conducted my autopsy. I didn't stay dry..............but I got less wet. The autopsy somewhat reflects my rush to get done and out of the rain.

Range:

225 yards


Bullet:

100gr Hornady InterLock


Muzzle Velocity:

2,756 fps

from an 18" barrel


Impact Velocity:

2,278 fps

(est.)


Distance Traveled:

62 yrds

Entrance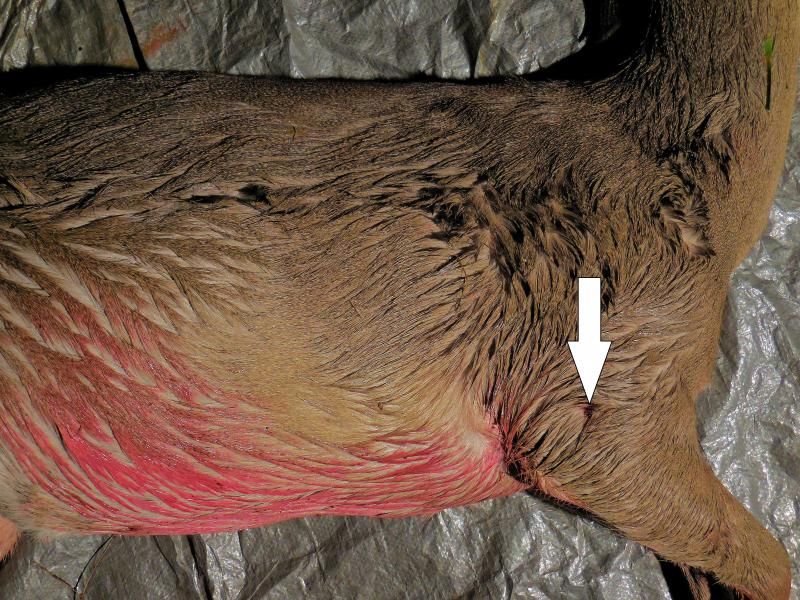 Entrance Under Hide (her leg was back on impact as she walked forward)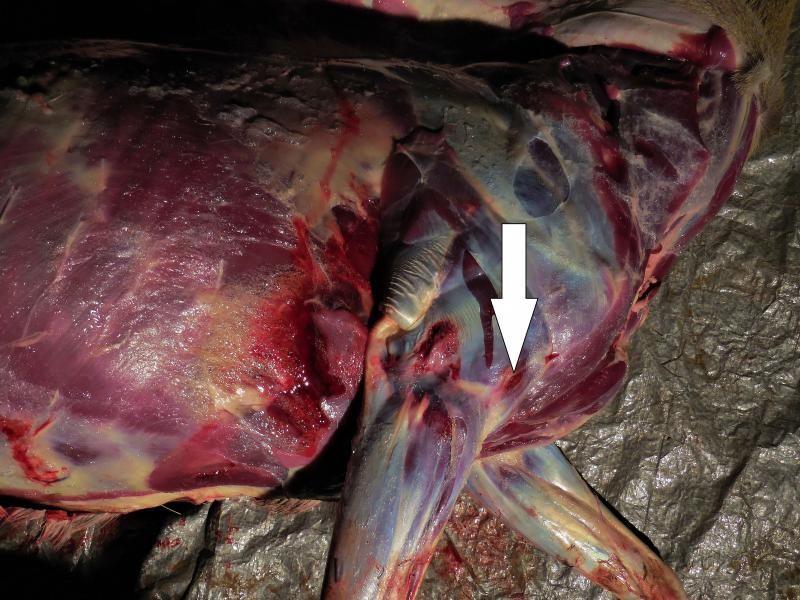 The bullet broke her leg just above the joint.
Entrance Under Leg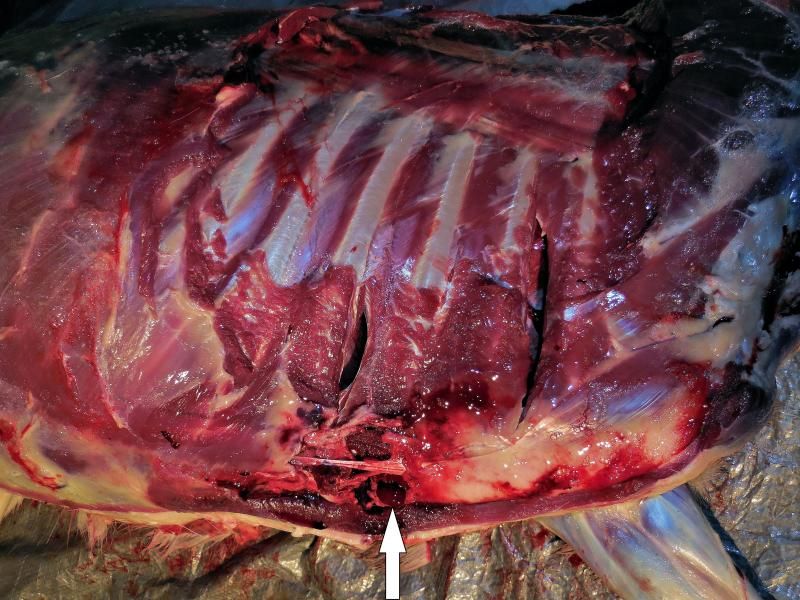 Entrance Under Ribs (bullet struck bottom of heart)
Heart/Lungs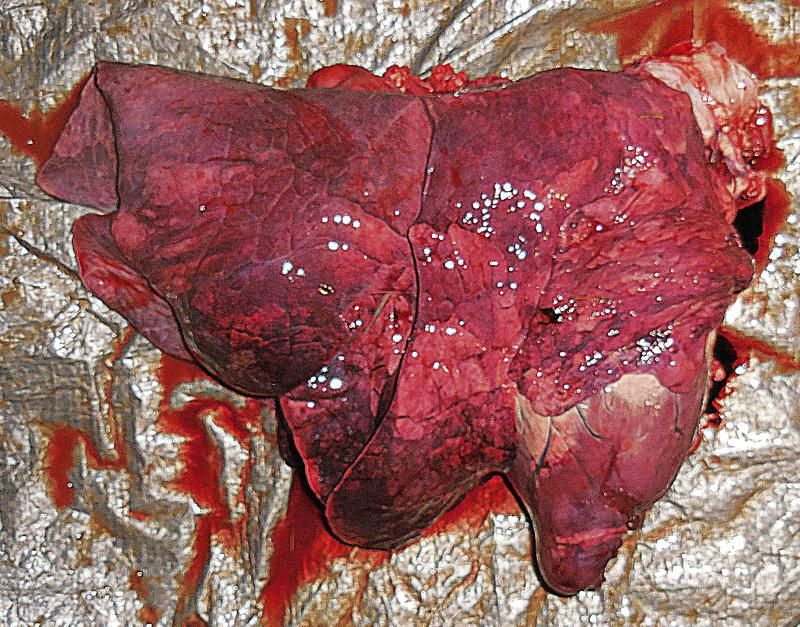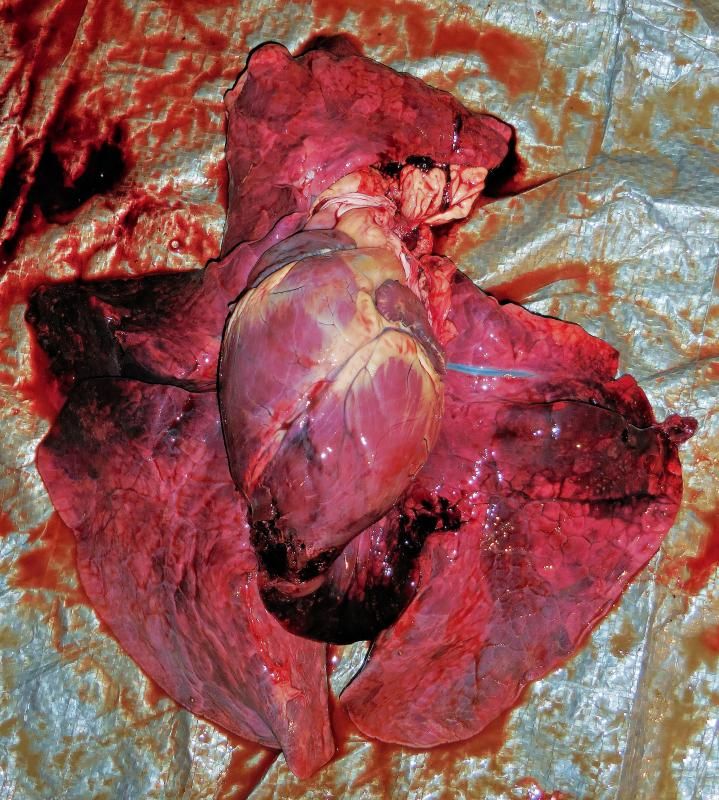 Exit Chest Cavity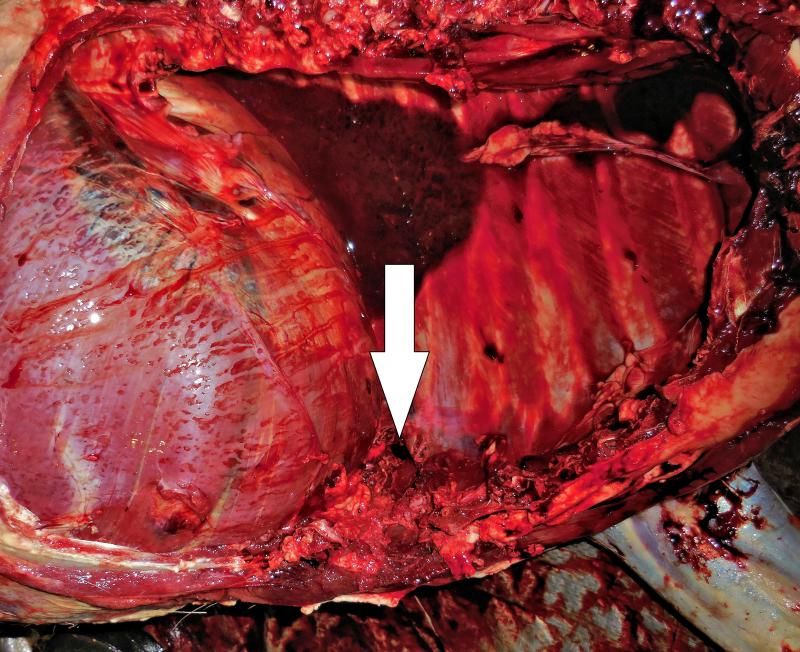 Exit Trough Ribs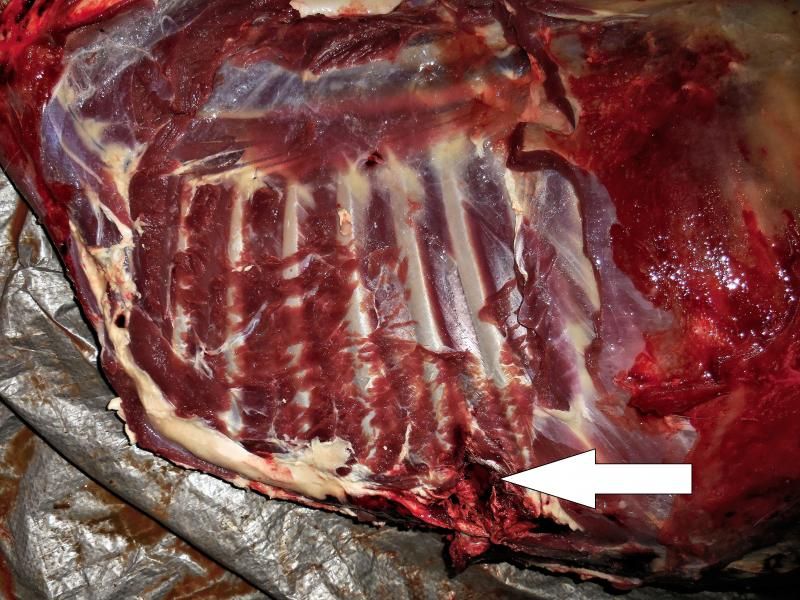 Exit Under Hide
Exit
Now, this is a very perplexing result. We see that the bullet struck low in the chest cavity. Breaking the on side leg, it barely struck the bottom of the heart. Then, passing through the chest, the temporary cavity caused bruising to the bottom of both lungs and broke 1 rib on exit. The vitals were barely "touched"! Yet, that doe bled rather well. Granted, it was a slow start on the blood trail, but it increased rapidly as it progressed. AND.......she died within 62 yards. With not more than a nick in the heart and bruising to the lungs!
That is a result I would not have anticipated with that little damage to vitals. Her chest cavity, as you can see, was filled with coagulated blood and the lower entry/exit aided in the blood trail left behind. What baffles me, is the amount of blood from so little damage to the heart. And, how short a distance she ran with only bruising to the lungs.
Needless to say, I was impressed with the terminal performance given the path of the bullet.
"To Hell with efficiency, it's performance we want!" - Elmer Keith