Home
›
Main Category
›
General Firearms
Reacquainting myself with the .243Win
JasonMPD
Senior Member
Posts: 6,577
Senior Member
The .243Win is a caliber I've always admired, but never really owned. I did own, for a while, a H&R Handi Rifle in the caliber, but I sold it for other projects. The single action didn't appeal to me and the accuracy was not what I wanted from a rifle. A while back, I had an opportunity to purchase a Remington 700 BDL .243Win second-hand. At $225, I jumped on it and it's been quite possibly one of the top-3 purchases I've ever made gun-wise; and not just for the value. I had originally bought it after correlating the the $225 price tag with a gun suitable only as a donor action. Boy was I wrong...
The month and year manufacturing marks on the barrel are "C" and "S" making it April of 1969. Why does this matter specifically? For that year, the rifling rate-of-twist was 1:9". It's the fastest twist Remington ever manufactured .243Win BDLs with. And this translates to more versatility.
I recently got out to the range with some ammunition I'd loaded up for the gun:
60gr SIE HP Varmint
87gr HNDY Vmax
100gr SIE SP (not my load...more in a minute)
It was windy...shifting from 15mph in my face to 15mph half value from right to left. I called a couple fliers, too, but all in all, my shooting wasn/t my worst or best. I chalked that up to mean this is likely the average of how my shooting would be on any given hunting day: not the worst by far, but not my best.
60ge SIE HP Varmint | 41 & 42gr H4895 | 2.605" COAL
These puppies were cooking along at 3490fps (41gr) and 3557fps (42gr) on average.
I had one called flier in the two groups and I suspect my group on the right is an average of my shooting versus the load recipe. I am very confident the flier on the left-hand group was called spot on. The 41gr H4895 is a great load for these 60gr Sierra HP bullets as you can see. It's exactly 1/4" ctc. I saw absolutely no pressure signs with the 42gr load either, so I may bump up to 42.5 and 43gr and see what happens. 43gr is in excess of the Hodgdon manual maximum. If the group shrinks down above 42gr again, I will load up 100 rounds. I'm liking these bullets.
87gr Hornady VMax | 40 - 40.5 - 41gr H4350 | 2.620" COAL
I was moderately satisfied with my initial testing. I had high hopes for H4350 here. After finally getting my grubby hands on some, I loaded up some rounds. I don't have pictures of the 40 and 40.5gr loads, but 41gr produced the best group. It measured 0.812" ctc. It showed an average velocity of 2840fps and I consider that acceptable, but not ideal. I've got some other powders to try, but I am looking for 2900-2950fps here. H4350 is showing some promise in my .280Rem, so I may stay with it there.
100gr Sierra SP | Powder Not Known | 2.650" COAL
This is a load manufactured by a local FFL ammo manufacturer. They use factory new Winchester brass, 100gr Sierra SP bullets and the powder is unknown to me. After shaking the cartridges, hearing how full the case is with powder and registering about 2700-2800fps, I've narrowed it down to either Varget, H4895 or H380. I'll ask them. I buy all my powder from them anyways and they've got no issue divulging their load recipes. They aren't trade secrets to them.
As stated, they registered at ~2750fps. I only shot one over the chronograph before grouping the other shots above. This load is spot on for this rifle. Good velocity, and great accuracy. It's a 1/2" group with a very surely called flier. I zeroed the scope for this load for now. It's spot on to slam some hogs now. Or anything else in Florida for that matter.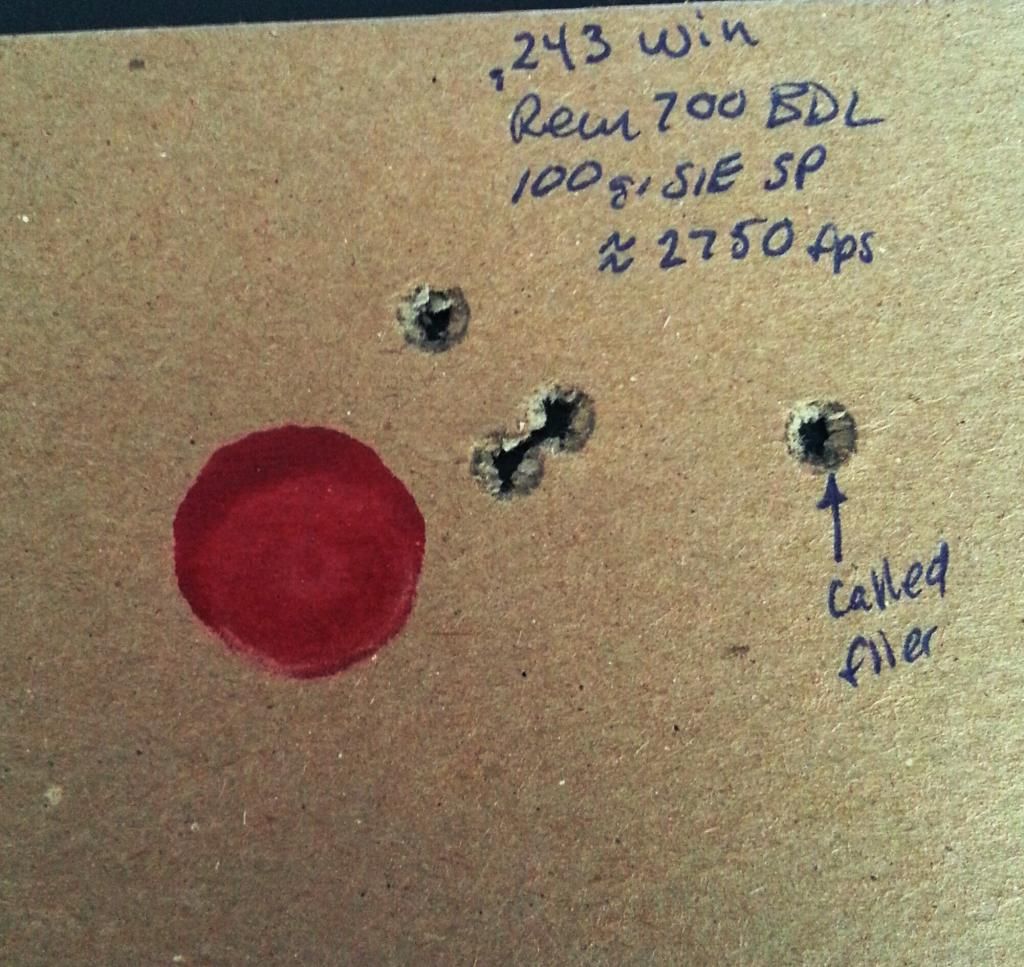 I am all about this rifle. Light, quick pointing, and the 22" barrel lends plenty to velocity and maneuverability. It's going to be a go-to rifle surely. The scope atop it is my "test" scope. I plan to get it a hunting-looking scope that has a BDC reticle of likely the MIL variety. It's got medium range use, so quick come-ups with a reticle make it simpler.
After seeing the 60gr to 100gr bullet versatility first hand, I see plainly and unequivocally why the .243Win is probably one of, if not the most, versatile cartridge one can own for a non-combative game plan. Varmints to pigs and deer, no problem.
-Jason
"There are three kinds of men. The one that learns by reading. The few who learn by observation. The rest of them have to pee on the electric fence for themselves." – Will Rogers