Home
›
Main Category
›
General Firearms
I dont believe I am posting this up about the 270.........but.......
orchidman
Senior Member
Posts: 8,108
Senior Member
I have been invited to go help a buddy cull some wild bulls in a couple of weeks. He told me that these things are wild and dangerous and then specified that the minimum calibre that the land owner will allow is a 270. ( Apparently the landowner is 'old school' and was an avid follower of Elmer Keith to the extent that he only ever used a 270 for hunting.....and he is also a great fan of pre 64 mod 70's according to my buddy )
The choices I have available ( and practical) are the Pre64 Mod 70's in 270, 30.06 and 375H&H Magnum. I have discounted the 10.75X68 due to only having a handful of rounds and I want to save them)
I figured it was about time I got off my arse and set up the 270 which has been languishing in the gunsafe unfired since I bought it.
The 30.06 is scoped.......thanks to wambli and has drawn blood.......the 375 is scoped and has yet to draw blood.......the 270 is sans scope and although it has been described as a perfectly adequate coyote rifle on here, all joking aside, I think its about time I took her to a 'dance'.
For those that don't remember what she looked like here she is along with the other 3 pre64's that I 'stole' at an auction a few years back. She is the top rifle in the pic.
She has a custom stock ( by Monte Kennedy) and the previous owner ( a collector of pre 64 mod 70's) had never mounted a scope on her and she remains unfired from the day she left the factory. ( Three of the 4 mod 70s in the above pic were collectors items and had never been fired btw)
Here are a couple of close ups.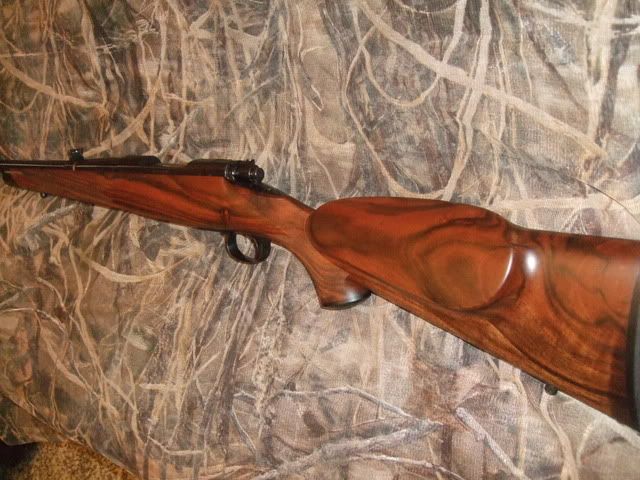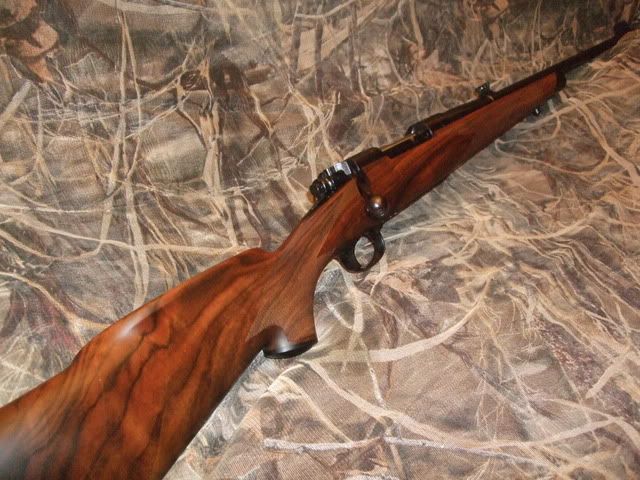 I think that it would be appropriate to set her up and see what she can do, esp in view of the landowners view of both the calibre and the rifle.
I already have ideas about the setup I have planned for the rifle but I am open to ideas on which factory loading to use, bearing in mind the intended 'targets'.
What bullet weight do you reckon for wild bulls.........they (according to my friend are fully grown) and he suggests the heaviest factory loading I can get.
( Not having any experience in the calibre I figured I would ask you guys for advice rather than just pick up whatever is the heaviest load from any of the major ammunition makers.)
So.........what say you.............Linefinder, Snake, other 270 owner/hunters ???
Edited to add: BTW, the pics above don't do her justice........she is a truly beautiful custom stocked rifle.....
Still enjoying the trip of a lifetime and making the best of what I have.....