Home
›
Main Category
›
General Firearms
The 270 is ready to go on a bull hunt.......
orchidman
Senior Member
Posts: 8,377
Senior Member
...............Easter weekend.
Had a bit of work done to it by my 'Smith' last week and took it up to the range on sunday. Managed to put a few rounds through her after shooting the deer with the 204 and I must say I am impressed.
I have fitted her up with a 6-24x50 Illuminated reticule scope and it allowed me to shoot groups in the .25" range with Remington Factory 130gr corelokts.
Here is a pic of her with the scope.................
In addition to fitting the scope I also had the opportunity to have a suppressor fitted for no cost...........The Gunsmith I use has been experimenting with a new type of suppressor which is cutting edge technology.............The suppressor is made from an exotic combination of Kevlar and composite materials and weighs less than 4 oz's for a full 'over the barrel' combined suppressor and muzzle brake!.
He described the technology he uses and it involves wrapping the Kevlar core with a wrap of composite materials then baking the unit at a steady temp till it hardens. He offered to do all the work and supply the unit at no cost...........
Now I know what some of you are going to say...............but I figured 'What the heck' and gave him the go ahead.
Here is a pic of the suppressor fitted......( Had to take the pic with my cell phone as my camera went flat so excuse the quality please)........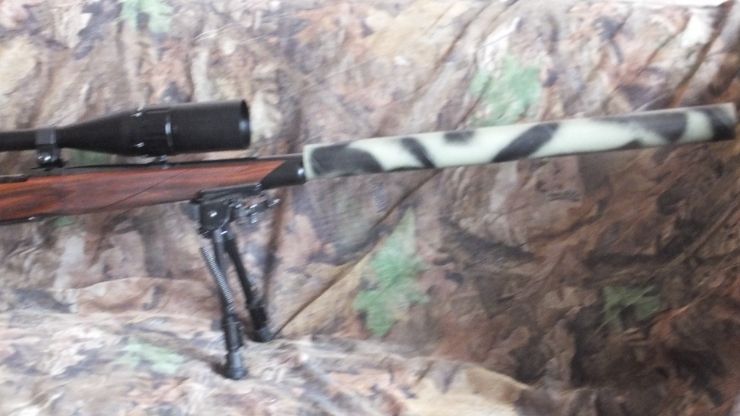 He didn't have time to put the finishing coats on the suppressor but it will be going back to him next week after the Wild bull hunt. The finish I have chosen is Blued to match the rest of the rifle. He also needs to take about 1/2" off the forend as the suppressor is touching the wood.
With the built in muzzle brake there is almost no recoil and I was able to watch the bullets strike the target at both 100 and 200m.......!
Now the bad news..........He had to take the front sight off and cut 2" off the barrel to make the rifle more balanced but it does handle well. He didn't call to tell me that he was going to cut the barrel which does piss me off a little........actually a lot, cos I told him that I wanted the rifle to remain original.
I will be negotiating compensation with him and he has agreed that it is appropriate.........its just a matter of figuring out a dollar amount.
And yes I know I have diminished the value of the rifle somewhat.............but I have a thick skin so tell me what you honestly think.
Still enjoying the trip of a lifetime and making the best of what I have.....