Home
›
Main Category
›
Hunting
6x45 Still Works.
Rancher friend of mine told me on Sunday that the pigs were back to messing up his fields. So, that afternoon I went out to try and find what part they were feeding in and maybe what direction they were coming from. Did my scouting, found the damage and tracks coming and going from both sides of the LARGE field. Went home and made a plan.
Couldn't go out Monday night, but I made time last night to take a trip out. Got to the field around 9:00 PM and set up shop. No pigs. Just a butt load of skunks rooting in the freshly harvested milo on one side of the tank and newly planted winter wheat on the other side.
Sat there for about an hour and a half to no avail. At 10:30, being as I had to work in the morning, I packed up and headed home. Driving down the road, I got to the corner of the field that afforded a different angle. Figuring I had nothing to lose, I stopped and got out to scan the other side of the field which had been obscured by the stock tank. Yep. There they were. A band of about 15 sows and piglets with 3 bigger boars patrolling the outskirts of the group a little ways off.
Grabbed my my stuff and took off across the field. They were a GOOD ways off and moving away. Which, didn't make it easy. I had to boogie to catch up and flank them at the same time in order to stay down wind. I'd catch up to about 150 yards and kneel down to scan the herd. By the time I'd find a boar, they would all be quickly moving on off down the field. They obviously hadn't found their preferred feeding spot and they were traveling.
After a a couple stop and goes, they were getting close to the another stock tank and surrounding brush. Figuring I was about to lose a chance, I hurried forward and knelt down. With my gun on the tripod with my new Pig Saddle adapter, I found a boar as he quartered away slightly. At something around 150 yards. Let fly with a 85gr Sierra HPBT Game King.
"Pop!"
"Roink!"
He took the round behind the right shoulder angling forward. Spun to his left and started running at an angle towards me. At approximately 100 yards, he stopped and started spinning in circles squealing. Suddenly stopping broadside facing to my right.........I put another round in his shoulder. And with that, he fell over dead.
I was a LONG ways from the gate and even further from the truck. So, I set off walking back. With the recent rain, the field was damp and dirt soft. No driving through the field. I'd have to get him to the edge of the field by the gate. There was NO way I was ever gonna drag that sucker to the gate. I'd have left him or died trying.
But, I had a new toy..............Game Cart!!!!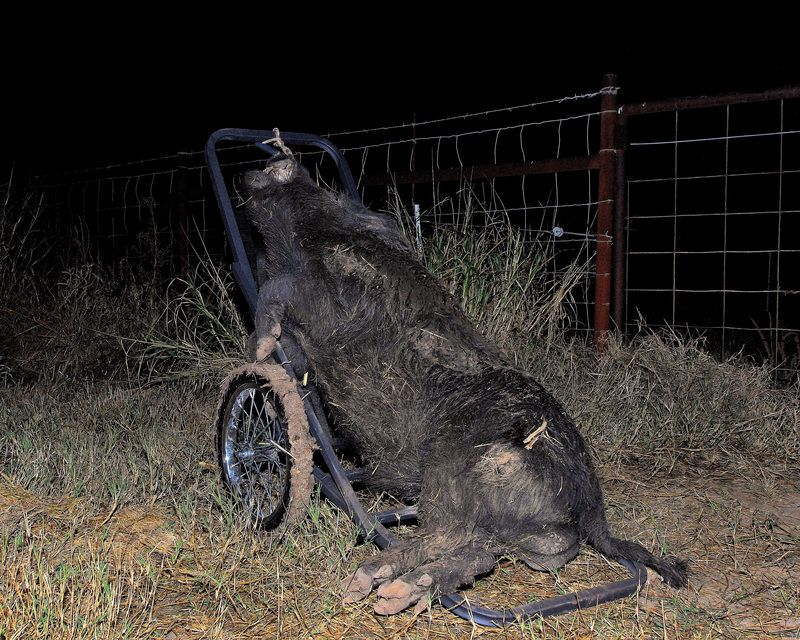 Even with that, it was a mother in the damp, soft dirt of the recently harvested field. Couldn't have made it without the cart. Money well spent.
I even bought a scale this year. Sucker weighed 210 pounds. And no.......there are no autopsy pics. He stank. I didn't get home until 2:00 AM.........it wasn't happening.
Here is my new rest.
Combined with a carbon fiber Manfroto Tripod............it's pretty handy.
So, lots of new toys used and they all worked perfectly. Will be going back for more pigs.
"To Hell with efficiency, it's performance we want!" - Elmer Keith