Home
›
Main Category
›
General Firearms
My .430 SJS lives!
Zee
Senior Member
Posts: 24,508
Senior Member
Got her built last Friday and spent yesterday making loads so i could hit the range this afternoon.
Took the barrel off my .308 Winchester Savage Hog Hunter and put the 20" Stainless Heavy Magnum Contour barrel on as a replacement. Topped it with a 10x Leupold mark 3 scope for load development.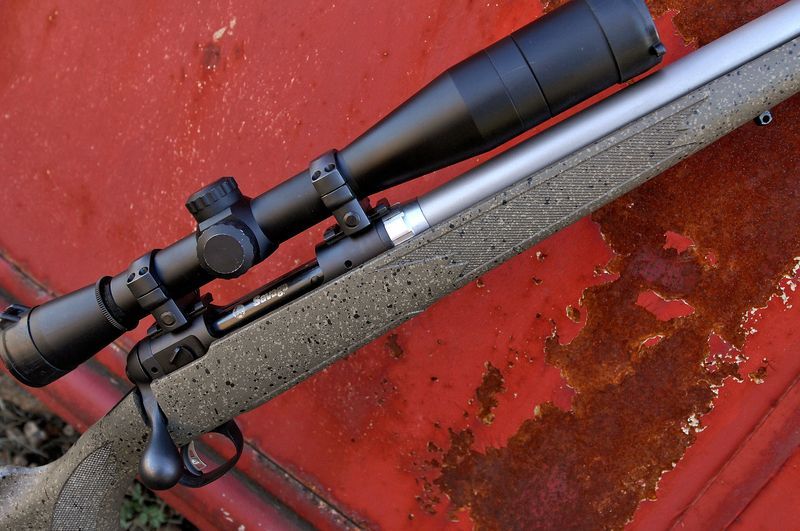 The barrel is a right handy length and weight.
With a cool hole in the end.
First order of business was to find a viable load for the 240gr Hornady XTP bullet. Using QL, we decided to test the following charges.
38.5gr H110
39.0gr H110
39.5gr H110
40.0gr H110

Bore sighted the rifle and fired 1 round with the
38.5gr
charge at 50 yards to make sure I was on paper. Yes........I was hoping I'd have a face left after that round. I wore eye protection.
It was rather anti-climactic and recoil wasn't nothing! Adjusted the sight and moved to 100 yards.
First group did NOT give me warm fuzzies. About a 2.5" group. I was hoping for better. So, I moved on to the
39.0gr
load.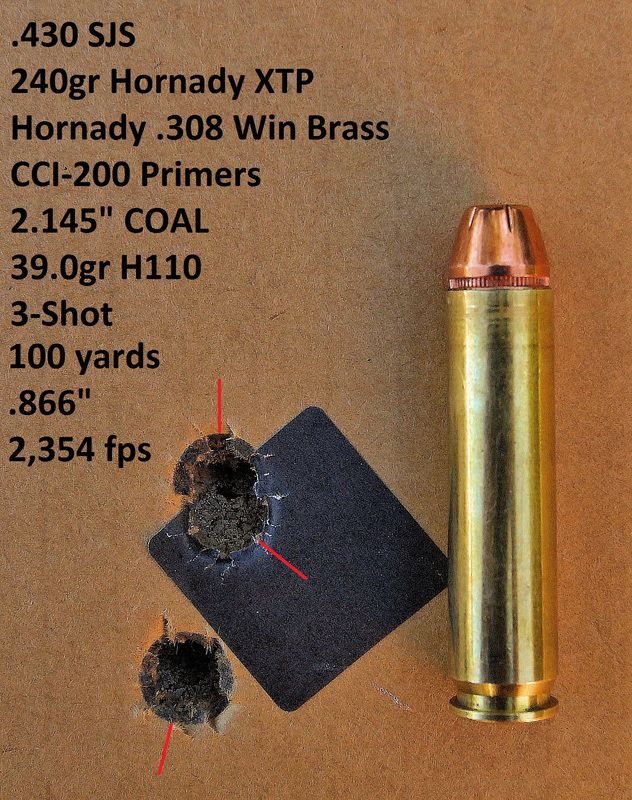 WOW! What a difference 1/2 a grain makes!! Now, we were on to something! Bullets were moving along at
2,354 fps
.
Here is a video of the recoil.
http://vid26.photobucket.com/albums/c106/lovinmycaitlynn/Shooting/240gr%20XTP%20with%2039gr%20H110%202_zpsuokdf3ww.mp4
Not bad at ALL!
Then, I moved on to the
39.5gr
load and groups went to crap again at 2.25" for a 3 shot group.
Finished the XTP bullets with the
40.0gr
load and found the gem.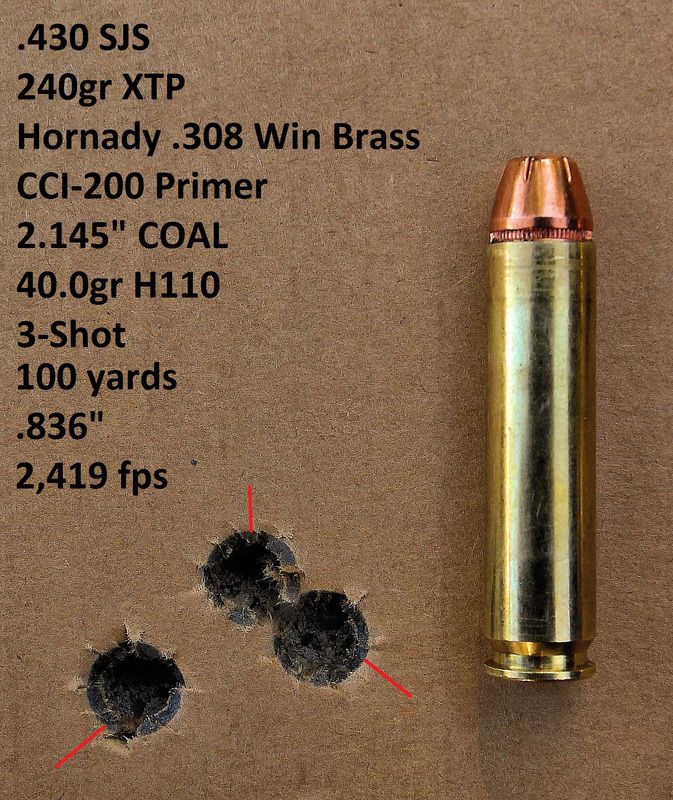 Suckers are moving at
2,419 fps
!
And they shoot some FLAMES!!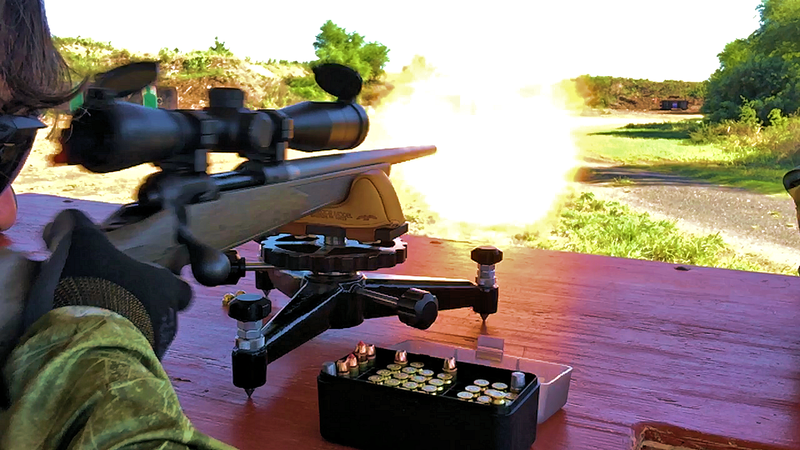 After those loads, I moved to the 325gr WFN-GC bullets. First off, they load catiwhompus in the cases as though off center. Still chambered in the rifle, but looked weird. Anyway, accuracy was unacceptable for me at 2" for the 35.0gr load and 2.25" for the 35.5gr load. Those were 3 shot groups. But, both loads threw a 4th round way off course to the tune of 2.5" away for the first load and 6" for the second. Then, I tried the 36.0gr load and only fired 2 rounds. they were 4.5" apart. Called it quits at that.
I have a little more work to do and I'm gonna kill a pig with the 240gr XTP bullets. Next weekend, maybe.
Note: I DID NOT bell any of the cases before seating the bullet. We were concerned that we were getting inconsistent case mouth tension due to no crimp. So, I treated the case like a bottleneck cartridge and VLD chamfered the case mouth. Then, just seated the bullets like a regular flat base rifle bullet.
Might try to test some 265gr FN XTP bullets as well this week.
I.........like..........the project.
"To Hell with efficiency, it's performance we want!" - Elmer Keith