Home
›
Main Category
›
Hunting
6.5-06 A-Square - Field Report on Doe.
I've been trying for the better part of a week to take a deer with my MGM Barreled Encore Rifle in 6.5-06 A-Square. But, the moon has been playing havoc on the deer movement. Hunting the same property as I hunted last year, it is just an agricultural field with a grove of palm trees in one quadrant. There deer actually bed in a river bottom about 1/2 mile away. They travel to the fields to eat at night. When I'm lucky, they get there before dark. When I'm not, they don't.
The Blue Square is the land I'm allowed to hunt. Deer come from the river bottom to east.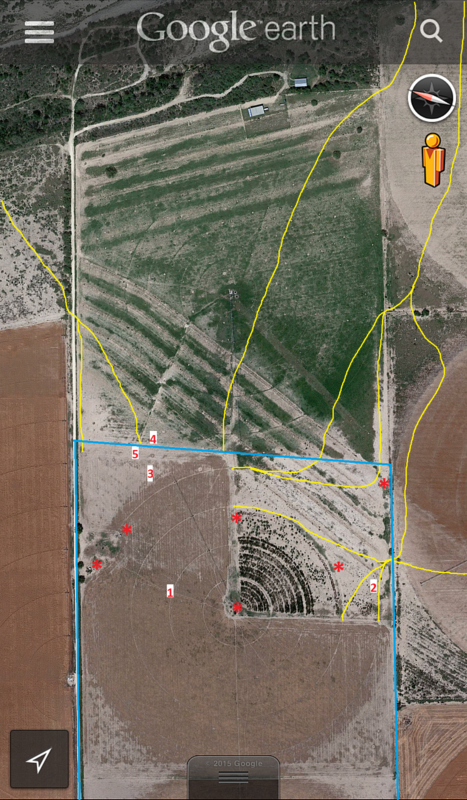 * = Locations I usually sit depending on wind and area I want to cover or gun I'm using.
Yellow Lines = Deer Travel Routes
1 = 2014 Blackbuck w/ 6.5-284 Win
2 = 2014 Doe w/ .454 Casull
3 = 2014 Doe w/ .460 S&W
4 = 2014 Axis w/ 7mm Rem Mag
5 = 2015 Doe w/ 6.5-06 A-Square
This week, I've been mostly unlucky. With the moon rising before sunset and being so high overhead and bright, the deer haven't been getting to the field until after legal shooting time. All but one 4-Point with a death wish. I've seen him 4 times before dark and always passed him up. Wanting a big doe. The does I've seen have not entered the field until after legal hours. I've been able to watch them make their trek towards the field.........but they never made it in time.
Last night........I decided the buck had worn out his welcome. If he showed up, I was gonna smoke him.
I parked at the gate and walked across the field. Set up where I shot a doe and axis buck from last year and waited. Time ticked by and it got darker and darker. Not even the 4-Point had showed up. Figuring I was going to get skunked.........I contemplated packing up. Then, with 6 minutes of legal shooting light left, I saw a herd of deer approach the fence. Getting on my rifle, the jumped the fence one by one. The 4-Point first with 5 does behind him. Scanning quickly, I found the largest doe and ranged her at 185 yards and dialed up 3/4 MOA on the scope. Glanced at the clock...........4 minutes left. Got on target and she was facing me. Waited...........quartering to........now or never.............front/center of shoulder...........BOOM!!
Recoil rocked the tripod and I lost sight picture for a second. But, even with my ear plugs in, I heard the impact.
POP!
Regaining a sight picture, I see my doe vaulting the fence like a scalded cat with the other does in tow. The 4-Point buck.................standing flat footed in the field wondering what was going on. I lost sight of the fleeing deer as they ran back towards the river bottom. Grabbed my gear quickly and moved out into the field towards the POI. The 4-Point buck..................standing there staring at me until I was less than 100 yards away. Then, he decided it was time to leave. Getting to the fence, I vague make out the band of does standing about 50 yards away, milling about. As I cross the fence, they reluctantly run off. That tells me, my doe is dead right there.
Without even looking for blood, I walk over to where the group was standing and ............there she is.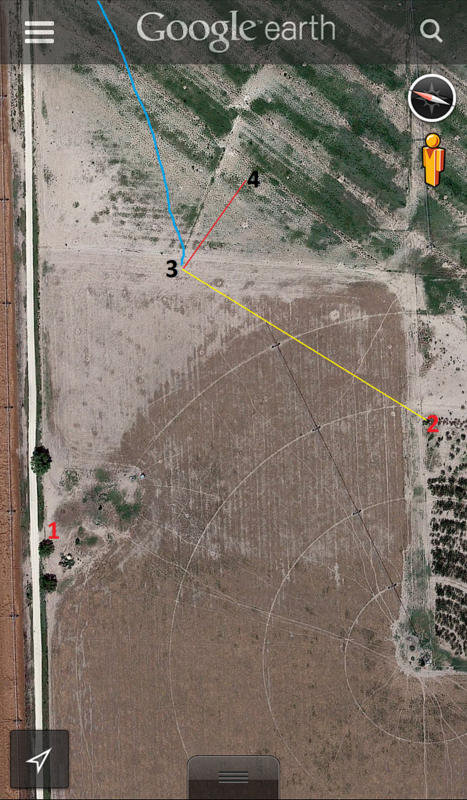 1 = Park
2 = Hide Site
3 = Point of Impact
4 = Point of Recovery
Blue Line = Route Deer Approached From
Red Line = Route Doe Took After Shot
Finally!!!
She turned out to be the biggest doe I've taken in several years.
Weighing in @ 109 pounds.
I have 2 more rifles and 5 handguns I'd like to use this season. Don't know that I will get them all bloodied, but hopefully I can make a dent on the list. Kinda want to focus on the handguns now.
"To Hell with efficiency, it's performance we want!" - Elmer Keith