Home
›
Main Category
›
Hunting
Cull Buck with the Rossi Modle 92 in .45 Colt
Rancher friend called yesterday and wanted another cull deer taken from his place. I grudgingly agreed.............and quickly grabbed my gear!
This time it would be a pair of .45 Colts that would go along. One, my 24" Octagon Barreled Rossi Model 92 with tang sight and globe front. The other would be my 6.5" Ruger Super Blackhawk Bisley (Casull). Both would be running the same .45 Colt load with a 250gr Hornady XTP over 26.5gr H110 in the case.
Arrived at his place around 3:00 Friday afternoon. We chatted and visited. Discussed guns and what not. Told him I wanted to try and go old school this time. Open sights on both. He said if I could hit it, he trusted that I could kill it. This time, he had bucks in mind. Seems there were two narrow and tall buck he wanted gone. Along with a freak horned 6 point with a dwarfed side. Bucks? I can do bucks. Let's go!
Set up in the same stand as the last couple times. Nothing was moving at first. Then, several does w/ yearlings and axis deer began moving down and through the shooting lanes and clearings. But, nothing close and nothing he wanted shot anyway. So, we waited......and waited. Finally, at just before 5:00, this little guy showed up.
A big 8-Point that was beautifully healthy with a huge body and heavy rack.
Then, the feeder went off and the bucks poured in.
I lost count as they just kept coming and going. But, the Dwarfed Rack buck showed up in the process. He is the one just to the right of the right feeder leg in the picture above.
The feeder was 98 yards away. I could have pushed it with the Rossi, but chose not to. We waited. From the feeder, the Dwarf Rack milled around and finally moved to 70 yards (Black Star below). I readied the Rossi to shoot. Aimed in.........and a coyote or something got every bucks attention. They all spooked and trotted of, except for a small 8 point. Crap!
As the sun set, they slowly milled back in. A handful of 8s and several young spikes. Some 4 points and a doe as well. A herd of axis passed by. But, no cull buck. As the light faded, he finally returned (on the left).
But, he wouldn't come any closer than 80 yards and wouldn't stand still. So, he wandered off through the brush. Appearing to try and flank the feeder and the mass of testosterone present. It was getting too dark to film and too dark for the Ruger. At the last moment, he committed and, circling around, came within range at 65 yards with just enough light to see my front sight.
(path he took)
At the red star, while quartering to me, he looked up at the blind and stopped. Placing the crosshairs of the globe sight on the point of his shoulder................BOOM!
On impact, he instantly crumpled to the ground and rolled on his side. I saw his head turn up once and hold. Then, sink to the ground as he expired.
(where he was at the shot)
And, where he fell.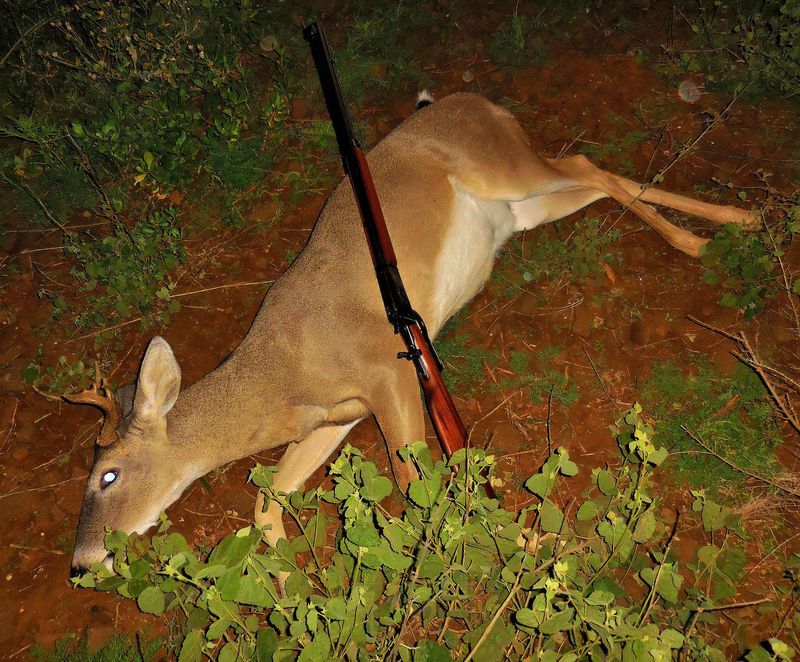 The stand I was in is over my right shoulder (left side of pic).
A wonderful hunt with a good friend. This is the first deer I've taken with a levergun in 21 years. The last being my Winchester Model 94 in .30-30 Winchester. This is also my first deer ever with a .45 Colt. I was impressed.
We loaded him up and headed for home. I am blessed by gracious and wonderful people who bestow upon me great opportunities and friendship.
Autopsy to follow.
"To Hell with efficiency, it's performance we want!" - Elmer Keith