Home
›
Main Category
›
Hunting
10
I went out yesterday to try one more time to nail me a nice buck (Actually any buck) to finish out the 2015-2016 Muzzle Loading Season. I got to my blind a little late at 4:45 PM and settled in. About 6 I almost packed it in. But thought, why, it's the last day until next November, might as well play it out. At 6:10 PM, about 10 minutes before the end of legal shooting time, out comes a big buck about 130 yards down the Sendero. I didn't have much time because he was moving so just as he turned up (AWAY FROM ME) the sendero I got on him with my Muzzle Loader. I put the front blade sight right at the base of the neck and squeezed it off. It fired without a hitch with the new No. 11 Magnum caps. Even shooting the 3" to 5" Pie plate groups I feel I hit him. But as Muzzle Loading Black Powder guns go, I had to wait about 15 seconds for the smoke to clear before I could see anything and it was getting dark fast. I called my son in law and my ex to help me look for it. My son in law and my daughter showed up about 7 and my Ex and her Boy Friend were already inside the gate when my son in law pulled up. My ex and her boyfriend live only 2 miles from the lease gate. We went to the scene of the crime and started walking and looking. Since I couldn't see for a few seconds after I shot, I didn't have a clue which way he ran, so we started Up the sendero, the direction he was walking when I shot. We scoured both sides up against the brush plus I went into every opening. Then we saw some fresh hurried tracks going South East (The sendero runs North East) Toward the Hiway. I shot at him at approximately the same location I shot the little nubber buck earlier in the season and it looked like he may have run the same direction as the nubber. We looked for about 3 hours before we threw in the hat. But I'm about to go look again. It's cold out so the meat is probably still good. I'll let you know later.
Here's some picks of another deer that showed up at my feeder. The one I shot at yesterday was bigger. He looked to be 16 maybe 18 inches inside.
Here's some pics of the biggest one I've seen on my cam,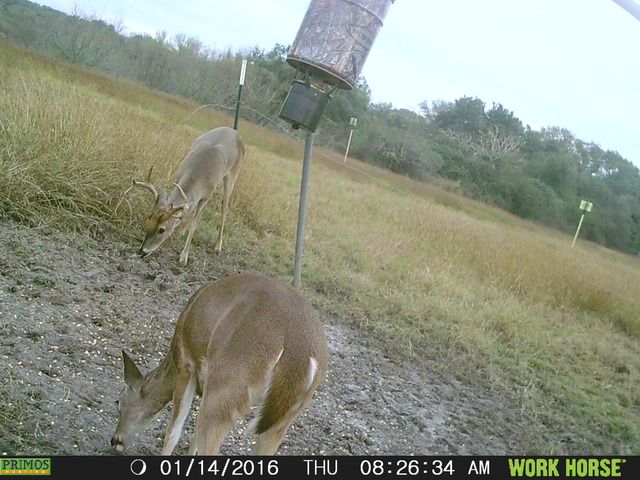 I don't know what happened to the thread title, this computer is jumpy and it did something screwy. It's supposed to read something like last hunt of the year or whatever. I have no clue where the 10 came from.
Daddy, what's an enabler?
Son that's somebody with nothing to do with his time but keep me in trouble with mom.