Home
›
Main Category
›
Hunting
Feral hogs have no morals
Jeff in TX
Senior Member
Posts: 1,553
Senior Member
The hogs have finally returned to the ranch. During the fall and up until about 2 weeks ago they had all but disappeared. It's been a quite strange as they've never disappeared like that before and boys and friends love to shoot them, especially now that deer season has ended. They've never ventured up near the house and don't do any real damage on my place. I know some of y'all aren't that lucky.
Anyhow back to my story. I was hunting last weekend when I dropped this big feller! He's the one napping in the water trying to over come the .95 gr ballistic tip from my .243 migraine I gave him. It had just turned dark and about 10 min after I popped him I got a call from a long haul delivery guy he was 10 min out from arriving with my new tractor. Ten minutes turned into 90 min as he'd gotten lost and his GPS wigged out on him. It took another 30 min or so to get the tractor and mower deck off trailer and sign all the paper work. Usually for hogs I just cut the back straps out an haul them into the cactus. This guy could wait until morning.
I pulled the camera chips and this other hog showed up 2 hours after I dropped the one napping. He stayed around on and off all night feeding and came back again in the morning. He feed all around the napping the hog. I guess they have no morals for their brethren who have passed. I also got a kick out of the fact that when the feeder went off it scared the snot out of him!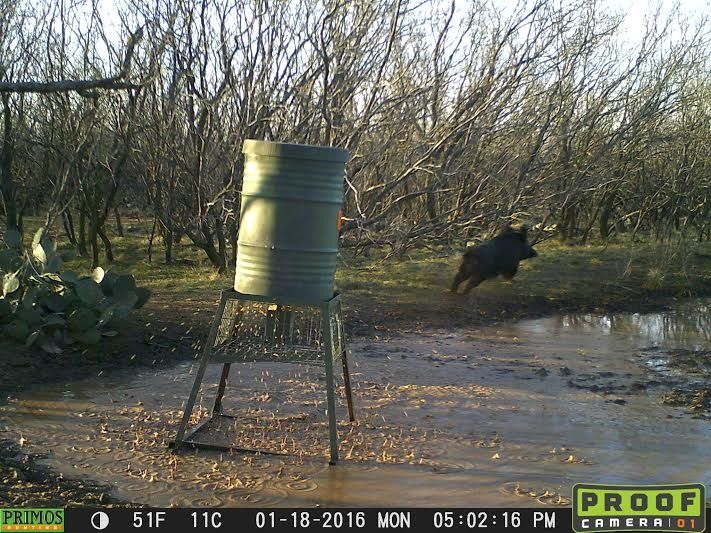 Distance is not an issue, but the wind can make it interesting!

John 3: 1-21