Home
›
Main Category
›
Hunting
Texas hog hunting - Low tech, Med Tech and High Tech
Jeff in TX
Posts: 2,641
Senior Member
I own a ranch in north central Texas. Along with deer and turkeys hog hunting probably ranks number 1 with my boys and I, friends and family who come out to hunt. Most of our hogs and the other ranches we hunt are nocturnal critters. Sometimes we get hogs that show up on the cameras 30 to 45 min before dark and every blue moon in the middle of the day. I can count on one hand have a finger or so left over on the number of hogs we've shot during day light hours.
We've evolved on our night time hog hunting. We started out using HogSniper red LED lights mounted to our scopes. This bad boy can throw a tight red beam 350+ yards. They work very well, however on a few occasions the red light has spooked the hogs and they take off. Usually it's a single boar that spooks with the red light. I've never had a pack of hogs run off from the red light until the gun goes boom. I put these lights in the medium tech hog hunting.
Going hi-tech I picked up an ATN Day/Night scope. This scope works great at night but has a few draw backs. It will chew up 4 AA Duracell batteries in about 45 min to maybe an hour on a great day. The existing FLIR light source that comes with it is good for shots to 85 yards or so, maybe 100 yards on a full moon night. To overcome these short comings I purchased some ultra 9X lasting AA batteries and a $30.00 T-20 5W 850nm LED IR flashlight on eBay. This doubled my distance to 175 yards which is farther than I can shoot at night at the ranch. I use 1" QD rings to attach the IR light to the NV scope. The field of vision during the day is a bit grainy. I use my Leupold 1X6 during the day and pop it off at dusk and put the ATN day/night scope on for the night hunts.
The best, simplest and cheapest solution we're these $25.00 to $30.00 solar powered green 40 LED flood lights. These lights come on at dusk and turn off at dawn. We mount them about 15' to 20' from the feeders. We put a 2X4 in the ground and it takes 4 screws total to mount the solar panel and light. We keep the lights out of reach of my cows and they like to eat the wires. This illuminates the area around the feeder very nicely at dark. We've actually gone to 2 of these flood lights for each stand at opposite sides. This makes hog hunting at night as simple as it can be. The deer & hogs get used to the green light in just a couple of days. I just went out to one of my stands and took a quick picture when it was dark out.
I will caution about using any type of flood or spot lights. Check with your state/county game regulations and make sure they're legal. Also, I don't run mine all the time during deer season, only when someone wants to hunt hogs. I don't want the game warden coming on my place and questioning what we're hunting at night. If anyone ever shoots a deer under the green lights and I've made it perfectly clear I will turn them in myself. I take it very seriously. Actually our rule is when the lights come on in the evening deer hunting is done for the day.
My custom Tikka .243 Win with red HogSniper light attached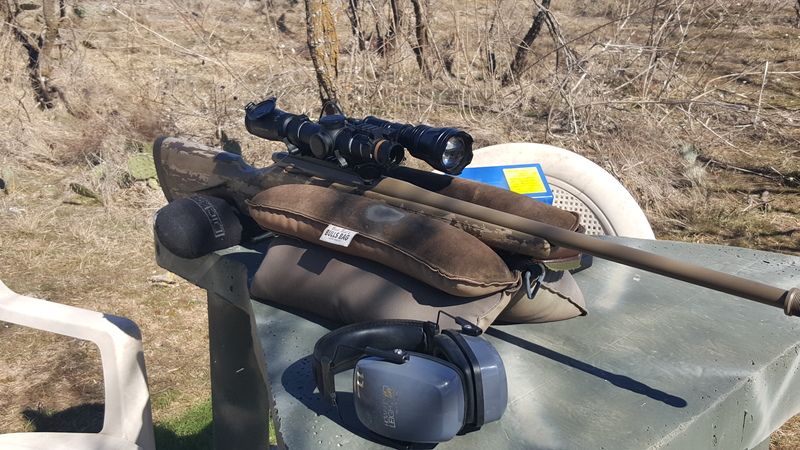 Now with the ATN day/night scope
Night time shot of the green flood lights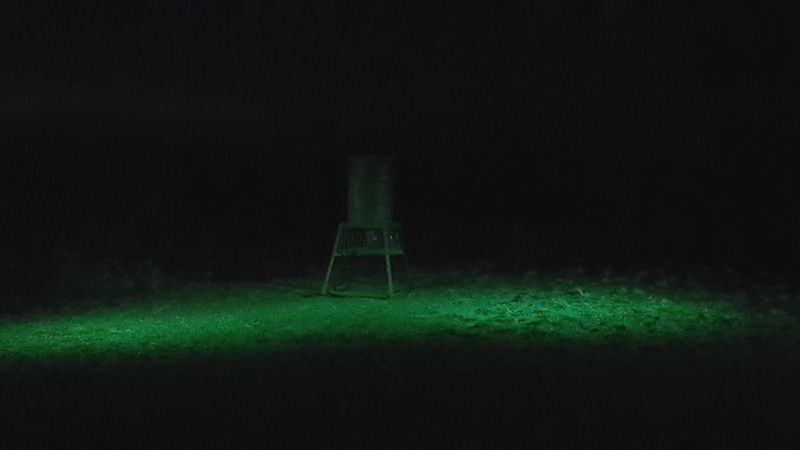 A lone hog from last night, hard to see the green lights with the game cameras IR flash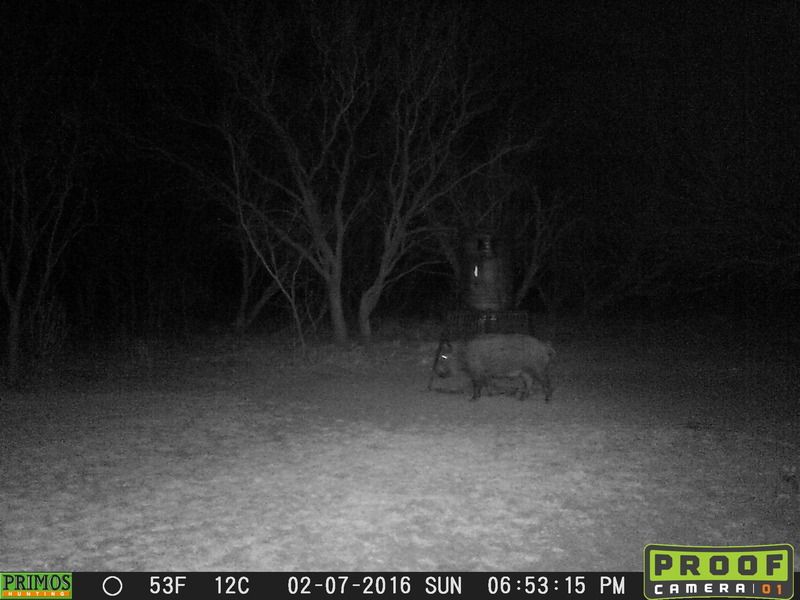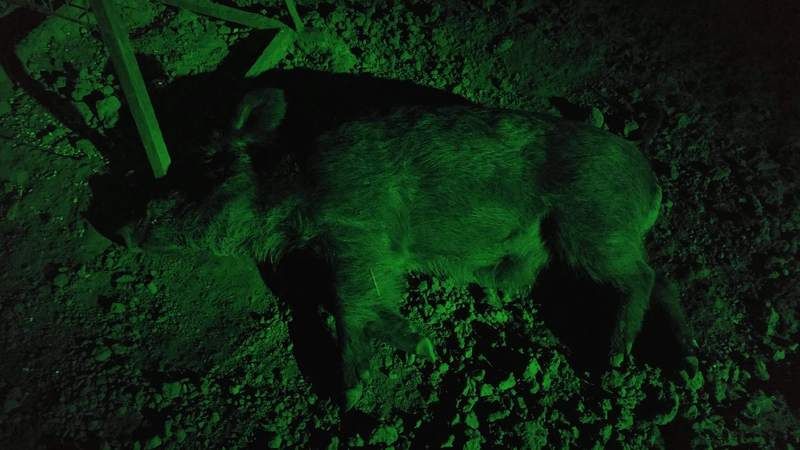 Green 40 LED Flood lights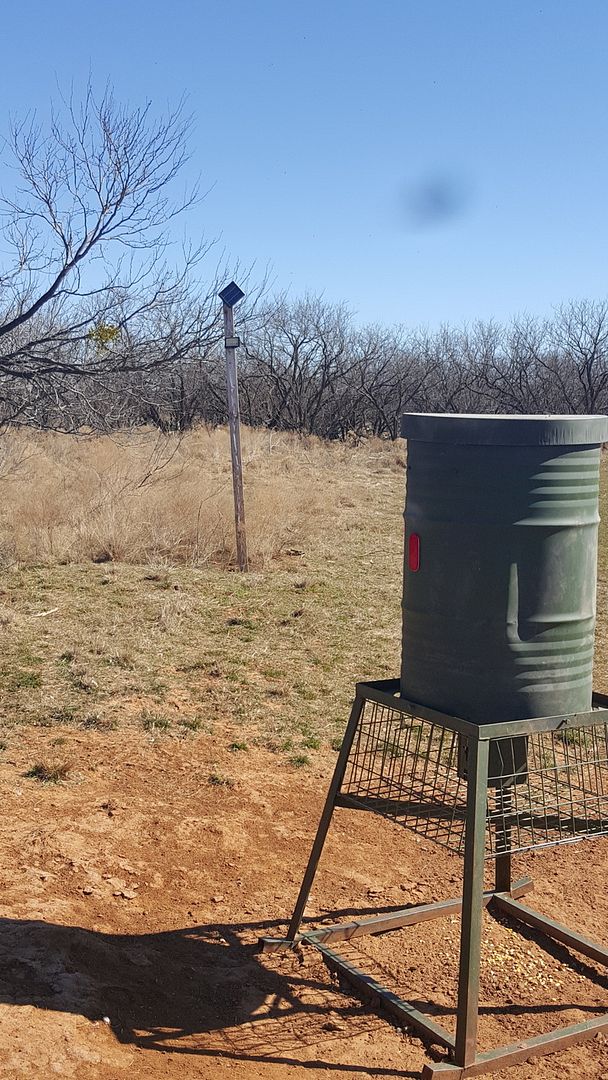 Link to 40 green LED flood lights
http://www.ebay.com/itm/Solar-Power-30-40-LED-Ultra-Bright-Spotlight-Garden-Lawn-Waterproof-Flood-Light-/381399444650?var=650571350464&hash=item58cd2dacaa:m:m-AuvTeh0eyYk7ldZGCFsLg
Distance is not an issue, but the wind can make it interesting!

John 3: 1-21