Home
›
Main Category
›
Hunting
Pig Killing!!!
Back in 2012, I went antelope hunting with Ernie. Plan was to trade off and he'd come hog hunting with me some day. Unfortunately, due to my travels and fluctuating hog populations, it took us 4 years to get our pig killing on. But, it finally came to fruition.
Just about the time we planed on the hunt, I had a new farmer contact me about a couple crop fields he was having hog trouble with. He showed me the location and the damage they were causing. Upwards of $18k worth of damage!!! Asked if I could help.............who am I to turn down a man in need?
Ernie was supposed to arrive Wednesday morning, but a "winter" storm blew in and shut down the Denver Airport. Making him scrabble and deal with a couple canceled flights. After all the smoke, or snow, cleared.......he wasn't due to arrive until almost midnight on Wednesday. 12 hours later than originally planned.
I'd already told the farmer that we would be hunting Wednesday evening and night, so he was expecting us. Not wanting to have excuses for the farmer on our first night, I went ahead and hunted one of the properties Wednesday evening and planned to pick Ernie up afterwards when his plane arrived. Then, we would head over to the other field and hunt there the rest of the night.
Arriving at the smaller of the two fields about an hour before dark, I sat and waited. Of course.......being pigs.......they never showed in daylight. But, about 30 minutes after dark, a HUGE boar came out of the trees 600 yards away. making his way across a cattle pasture, he entered the wheat field. I texted Ernie that a big pig had showed up and while he was changing planes in Salt Lake and that he'd better hurry up!
The wheat was so tall that I could only see the boar's back. But, as he made his way across the field, he reached a spot where the wheat was a little shorter. Trying to figure out where I was going to shoot him, he lifted his head above the wheat............and..........at 250 yards..........I put a 105gr A-Max from my .243 Winchester in his skull between his left eye and ear as he stood broadside. 1 down.
I walked across the field and arrived at his location just as I noticed another boar entering the wheat. I watched his back as he took the same route the first boar had. Directly towards me! At about 50 yards, he raised his head above the wheat and..........resting on top of a fence post..........I sent another A-Max into a pig's skull right above his left eye. Down went #2.
After taking these pictures, I packed up my gear and looked to my left. There........about 100 yards away.........were 8-10 pigs feeding in the wheat. Leaving quietly, I left to get Ernie at the airport. We........would return.
Picked Ernie up at midnight and headed to the larger field. Unfortunately, we arrived at the same time a huge thunder storm did. With heavy winds, strong rain, and light hail...........there was no entering the field. We couldn't win for losing with the weather!
We drove back to the smaller field and waited until 3:30 in the morning for the storm to pass. With clear skies overhead and a full moon..........we looked across the wheat field and located the band of pigs I'd left there earlier. What followed was a cat and mouse game of sneaking closer.......setting up on a fence post.........the pigs moving away and losing sight of them in the wheat. Sneaking closer......setting up......and them moving away into the wheat.
FINALLY, we got within 50 yards and Ernie set up. Of course, nothing can be easy. Ernie was shooting my .308 "Short" rifle. Yes.....a rifle. To top it off........due to the configuration of the fence.....he had to shoot right handed even though he was a lefty. Fun times. And he pulled it off. I told him which pig was the biggest in the bunch. I didn't set up for a shot myself. Figuring the pigs would run away into the wheat field and be obscured. As Ernie's hog turned broadside, he shot him with a 168gr A-Max out of my .308 Winchester rifle and dropped him on the spot. The field erupted with running pigs. Except........they didn't run deeper into the field. They exited and ran across the cattle pasture. Presenting me a shot. So, I dropped to a sitting position, picked out a big sow, and shot her as she entered the brush on the other side of the pasture. The hog Ernie shot turned out to be another nice boar.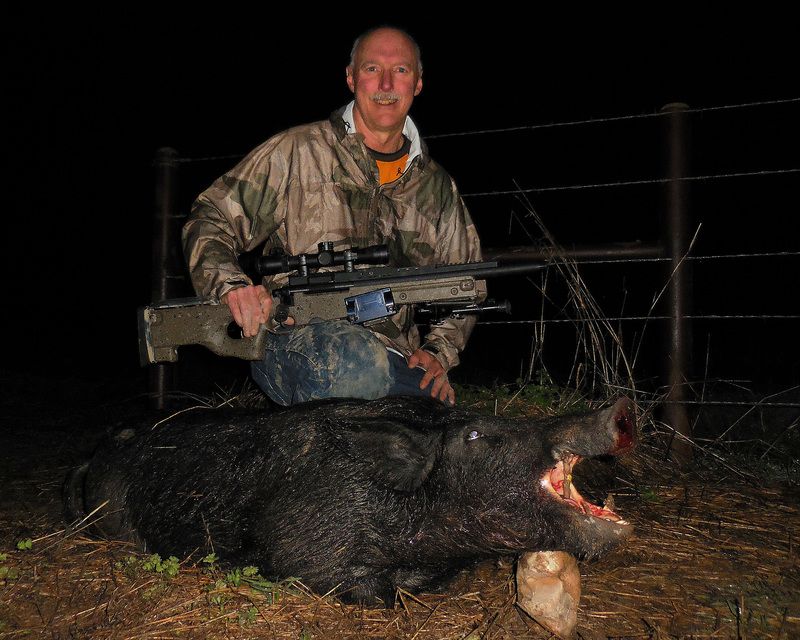 Being 4;30 AM..........we called it quits for the night and got home to my house about 6 in the morning.
What followed were two more days of day time shooting on the range and night time shooting of hogs. With little sleep in between. It was a whirlwind of fun and pig killing.
By day, we would go to my gun club and shoot (the "Ernie shooting the Frankenruger" thread from Hoggin was at my club). Then, we would spend all night hunting pigs to help the farmer save his crops.
This was just pig killing. We didn't take the bodies. We just shot them, chased the bands off the fields.........and looked for more. All in all, we shot 12 hogs in 3 nights. Saw probably 100+/- in all...........and I still have my work cut out for me. It's a tough life.
Here is a photo collage of some of our pigs. Big.........small........and in between.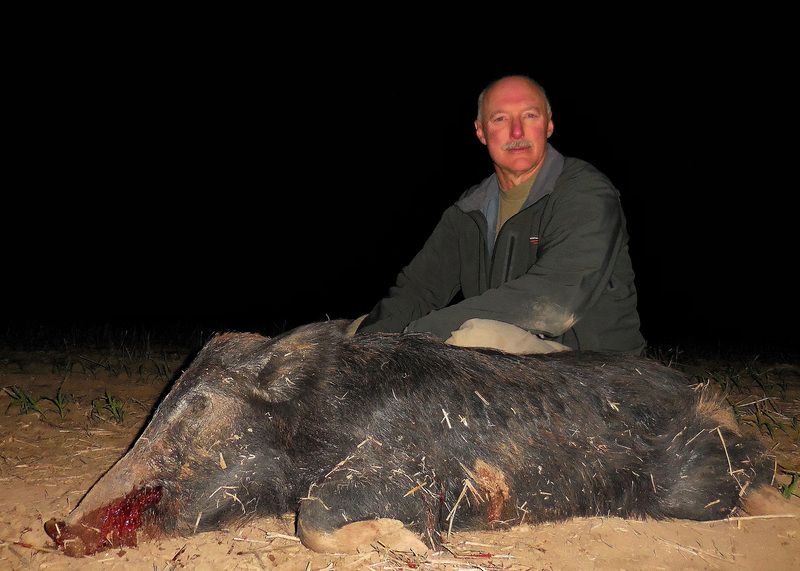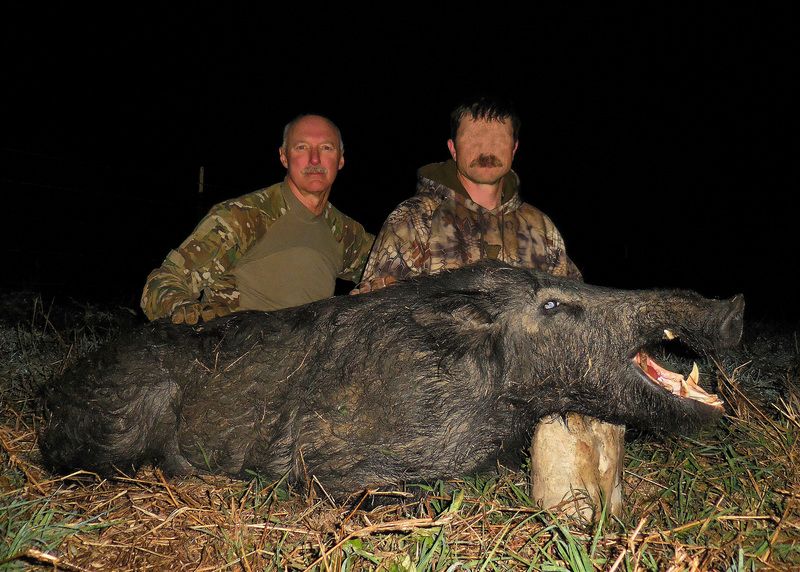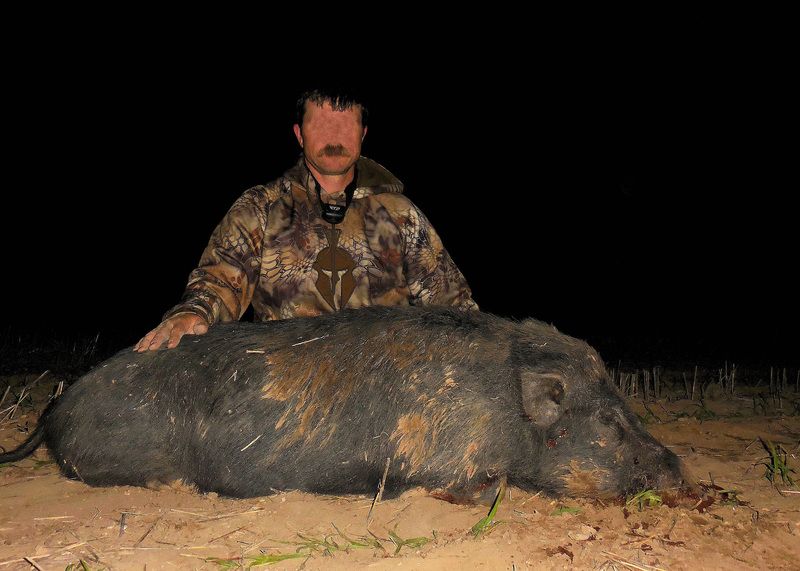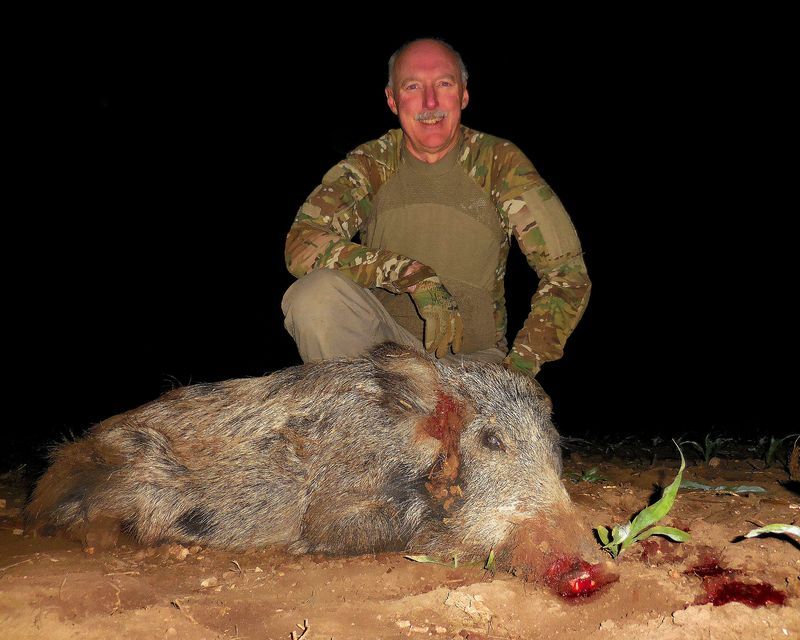 And my favorite...........and the only one that ended up in my freezer............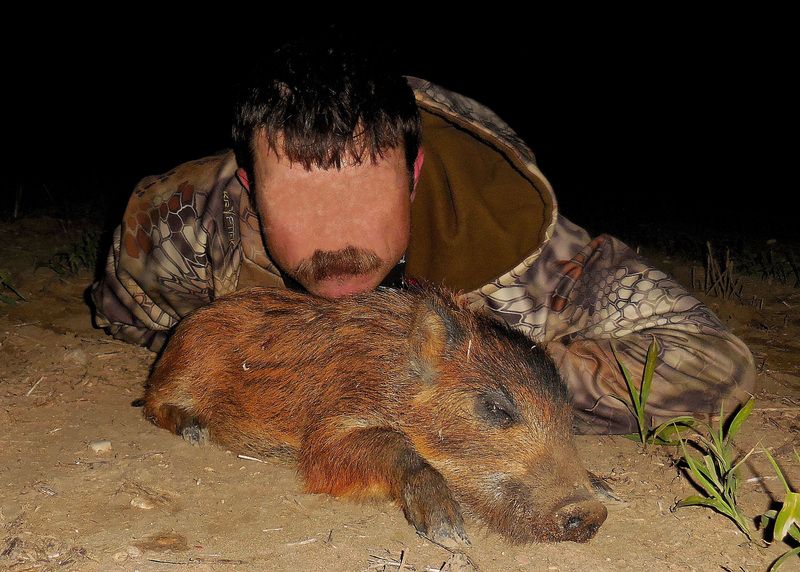 It was a good time. I used my .243 Winchester and the 105gr A-Max the whole time. Ernie used my .308 Winchester and 168gr A-Max ammo. Shots were far and static............close and synchronized (two at a time), and running flat out.
A good experience for Ernie, I believe and a wonderful time for me. To share with a friend a little of what I do. We had a great time and look forward to doing it again.
The pigs ain't going away.
"To Hell with efficiency, it's performance we want!" - Elmer Keith