Home
›
Main Category
›
Clubhouse
Spring Break 2016- Grand Canyon and Zion - Lots of pics!
We left Miami on a direct flight on American Airlines at 7 AM and were in Las Vegas at 9:30 AM. It's been 25 years since I have been to Vegas and what a change! The kid , now 12 and looking 15, and wanting to be 21, wanted her picture in front of this store.
The airport has gotten huge! It used to be I would get a rental car right in the airport and drive directly to the strip. Now you have to take a shuttle 15 minutes away just to get a car. It took about 2 hours to get our luggage, and car sorted out and on the road. We stopped at Lake Mead and the Hoover dam on the way.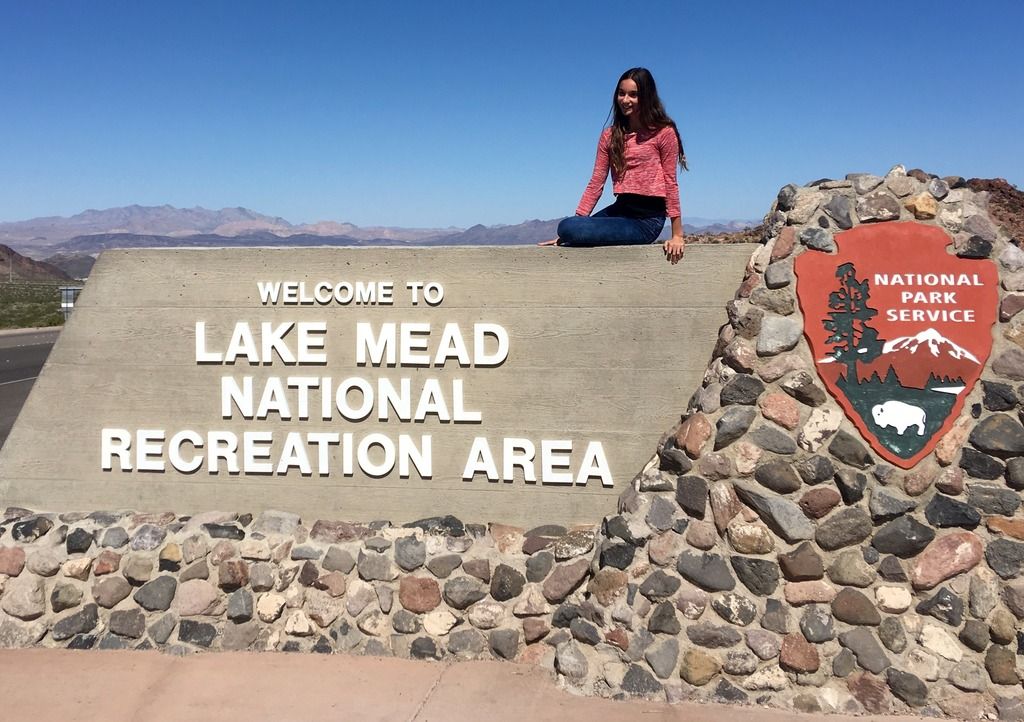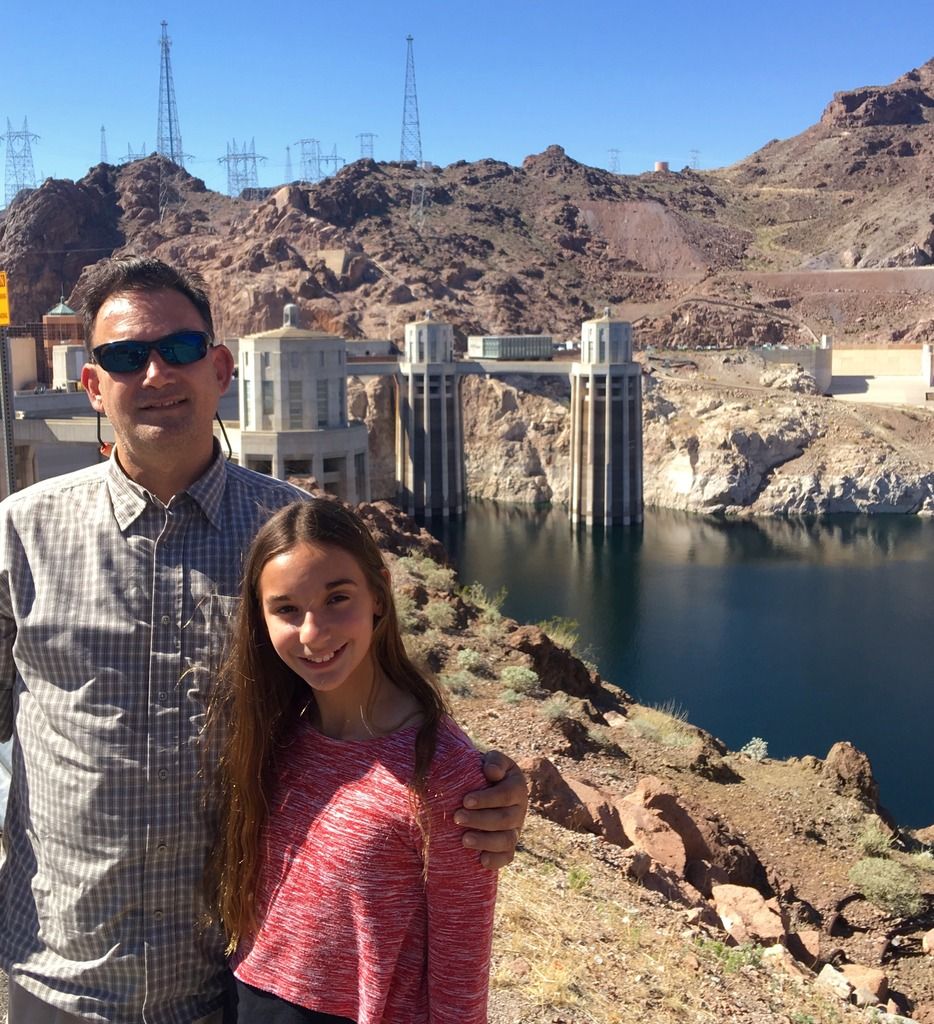 Again things have changed. Used to be you could drive over the dam and back onto the highway. Now it is $10 just to park in a closer lot to see over the dam. We didn't have a lot of time, so we snapped a few pics and headed out. It's all about money. I saw the dam in its entirety for free in 30 minutes 25 years ago. Now you could spend four hours and $100 easy.
We left to head out through the desert of northern Arizona to the Grand Canyon. Time is weird there. Las Vegas is on Pacific time. Arizona is on Mountain time but does not observe daylight savings. Utah to the north is on mountain time and daylight savings. It was 9:30 AM when we landed, took two hours to get out of the airport, about 1 hour to the Hoover Dam. The dam is on the time line, so one side was 1 PM ( Nevada ) the other side 3 PM ( Arizona.)
We arrived at the Grand Canyon just after the visitor center closed, plus with the time change, just at sunset, around 6:30 PM. We stayed at the Yavapi Lodge, inside the park and it was excellent. It's so darn busy during Spring Break, we had to book 8 months earlier just to get a room. We woke to clear mornings and our first day was a bike tour. We have National Park passports, so we got them stamped and headed out to Mather Point for our first view and we weren't disappointed.
Mornings were clear and crisp , about 40 F and afternoons warmed up to 65 F or so. The bike tour was a great choice. We came from sea level and the Grand Canyon South Rim is about 7000 feet in altitude. The bike shop took a group of us to an area west of the main hotel, the El Tovar and associated shops. It was a three hour tour / orientation for us and mostly down hill. Near the end we got a little too close to the edge...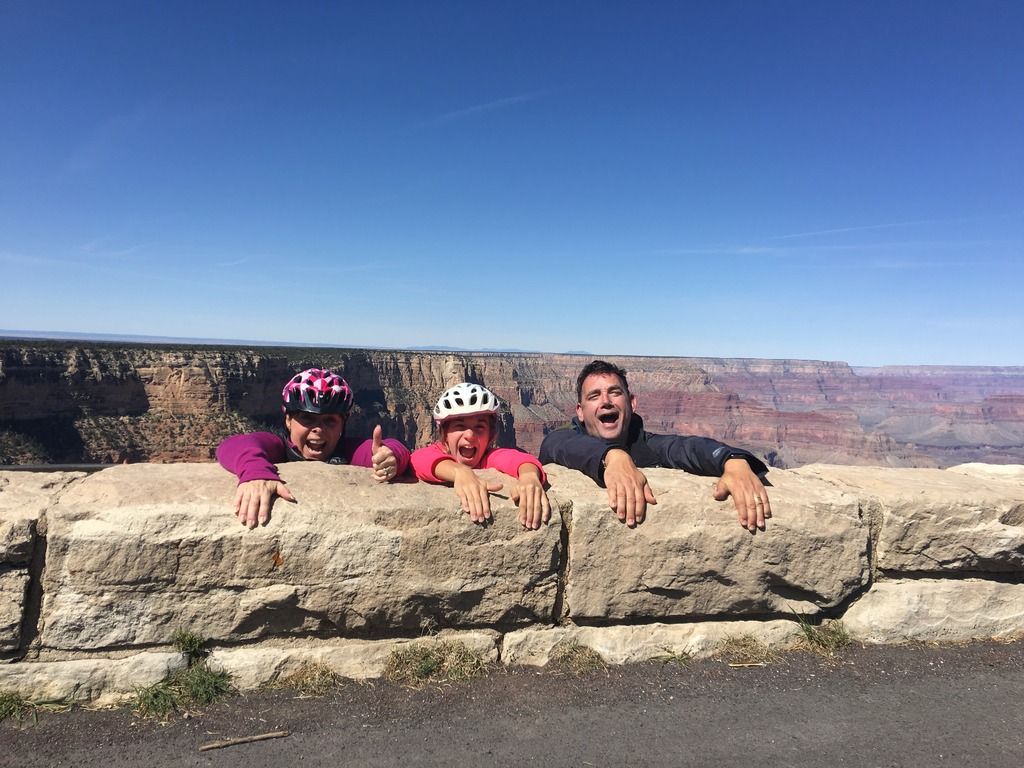 We returned to the Visitors Center / bike rental and they let us keep our bikes for the rest of the day, so we traveled "uphill" to the east and saw more of the canyon rim.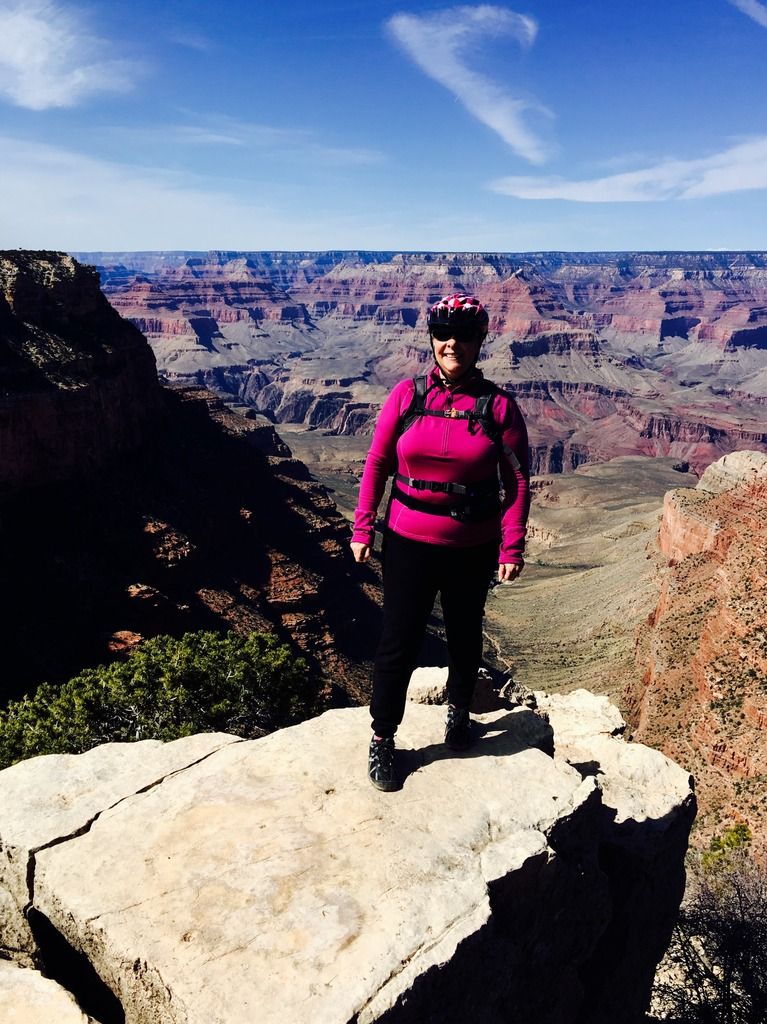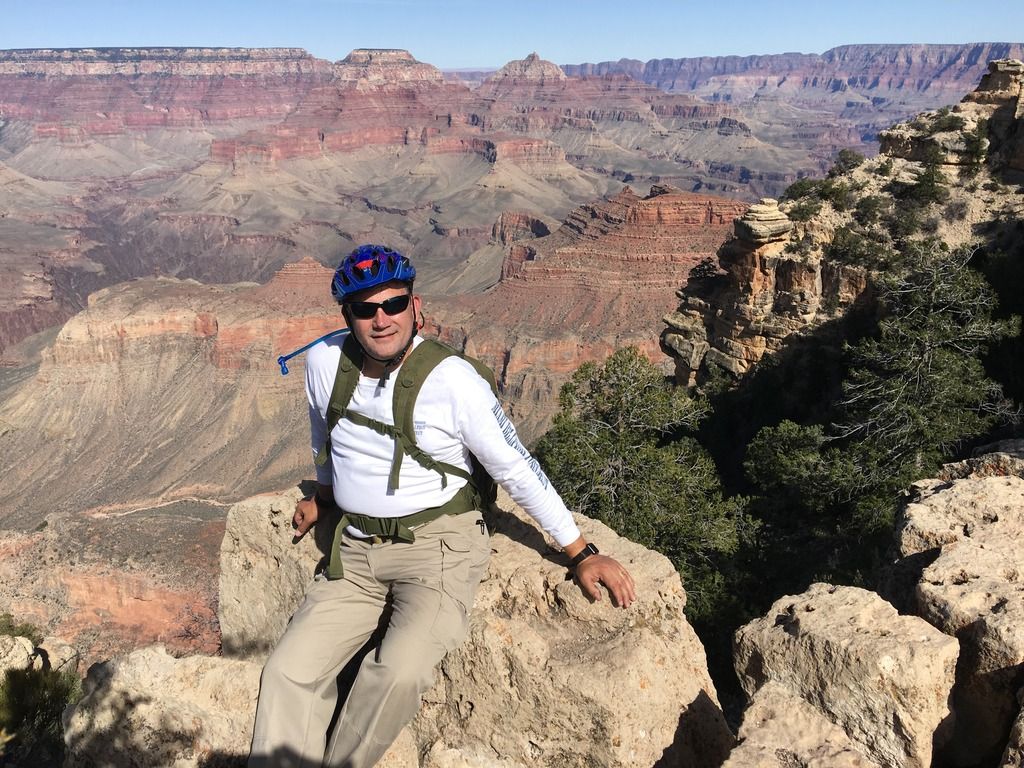 There were several places that we turned off, and the bike ride was modestly exerting. Actually excellent acclimatization for lowlanders like us. We returned our bikes at 4 PM and called it a full day. Staying in the park has its pluses and minuses. You get a jump on the day and are first to most of the early morning things. There is no waiting in the morning lines to get into the park and you have first access to most trails. The downside is the limited number of places to eat.
We woke early and headed to a hike into the Canyon, the South Kaibab Trail. Many of the trails in the Canyon go from rim to rim, but for us lowlanders, we decided to attempt a moderate hike to Cedar Ridge. The views are great, but it is downhill in and uphill the entire way back. We descended about 1100 feet in 1.5 miles, then had to hike it back. Carrying water and food and emergency supplies, it was a challenge! Here is a view of the trail leading down to Cedar Ridge. On the left side of the picture you can see my wife and daughter heading down one of the switch backs:
More to come...
"A patriot is mocked, scorned and hated; yet when his cause succeeds, all men will join him, for then it costs nothing to be a patriot." Mark Twain
Alcohol, Tobacco, Firearms and Explosives.... now who's bringing the hot wings? :jester: