Home
›
Main Category
›
Hunting
Pig with a .45 ACP!!!
I set out this evening to kill a pig with my Kimber TLE/RL II in .45 ACP with 230gr Federal Hydra Shok ammo. I wanted to see if the .45 ACP would fit my needs for close night time pig killing or if I really needed to look into the 10mm for the job.
I arrived around 9:00 PM at one of the smaller properties that I cull pigs at for a farmer friend. Scanning the field, I only saw deer. So, I drove on over to a larger property he farms and looked around there for a bit. But, I only saw one pig there and he disappeared into the cotton.
Arriving back at the first property.......I found what I was after. A huge band of pigs had entered the field and were feeding on the cut wheat. There were too many to count. Just a mass of crop destroying vacuums. Grabbing my gear, I headed south to get down wind of the band and then turned east to close the distance.
I had a TC Contender in .44 Mag that I had rigged up with a laser instead of a scope. I would use that if I was unable to get within 50 yards of a pig. But, my main weapon of the night was my Kimber TLE/RL II with a Streamlight M6 Light/Laser mounted on the rail and shooting Federal 230gr Hydra Shok ammo. This is the defensive ammo I carry in the gun and supposedly has a good reputation. Supposedly.
I slowly made my way towards the band of pigs as they fed through the field. Anticipating their route, I side stepped as needed and continued to close the distance. At 75 yards, I sat down, and hoped that they would continue on their path to pass within 25 yards of me. There were a mixture of sows and piglets with 3 boars in the band. To my left was the main group with all the sows and boars. To my right was a band of about 20 unattended piglets. I had no interest in them as they wouldn't provide the ballistic data I was after. They were simply interference for my main target.......that being one of the boars.
As the boars moved closer with the main group..........so did the piglets. Passing within 15 yards of me as I sat exposed in the middle of the field, I hoped the little suckers wouldn't blow my cover. One of the boars was about 40 yards away and moving closer. But, he was facing right at me and I didn't want to shoot at that angle. Unfortunately for me, there was a sow ahead of him. I kept the gun oriented towards the boar, waiting for him to turn........but, I kept my eye on the sow. It was just shy of a full moon and that moon was up and behind them. Meaning..........I was in full light for them.
Suddenly......at about 30-35 yards.........the lead sow stopped abruptly...........raised her head..........and stared right at me. DOAH!!!!! Busted!
I wasted no time panning the gun towards her. Quartering towards me, I painted her shoulder with the laser and sent a 230gr Hydra Shok on it's way. On impact, she dipped and spun away. Kicking it into hyper drive, she headed for the woods. I painted her with the laser again and sent another round into her flank as she sped away. Knowing I'd hit her twice, I looked for another target. Finding a boar..............way out there............I lit him up with the laser and started mortaring round his way. Yeah.........that didn't work. I could see the round impact short. I aimed higher..........and saw the round hit behind him. One more sent and landed short and behind. I don't know how far he was.........but he was further than I was capable of hitting a moving target with a .45 ACP...........that's for sure.
Looking back at my sow, she was nearing the end of her run. She finally stopped and teetered over. I gathered my gear and paced off the distance to her. As I neared her, I saw she was breathing her final breaths, so I waited for her to pass, then finished my pace.
130 yards of travel from start to finish.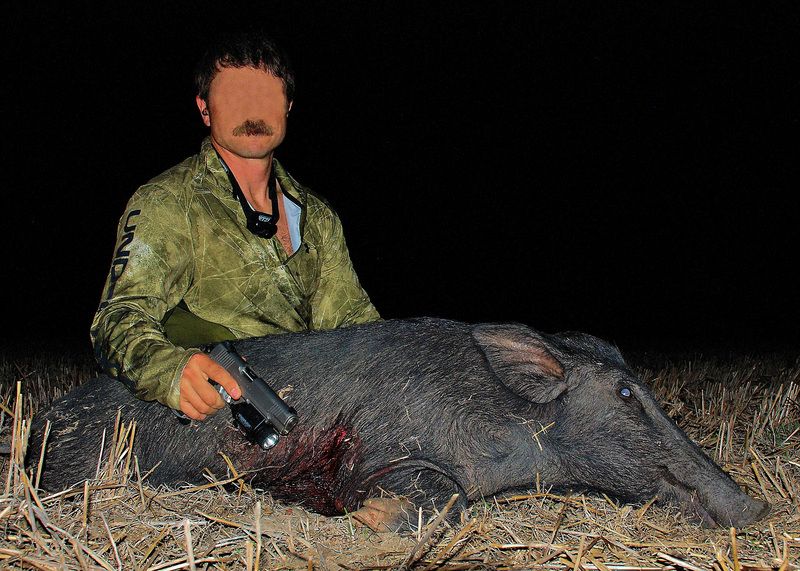 I didn't weigh her, but I guess she is around 85-100 pounds or so. Or, I could be way off. No clue.
Entrance of First Shot (Yellow arrow from now on)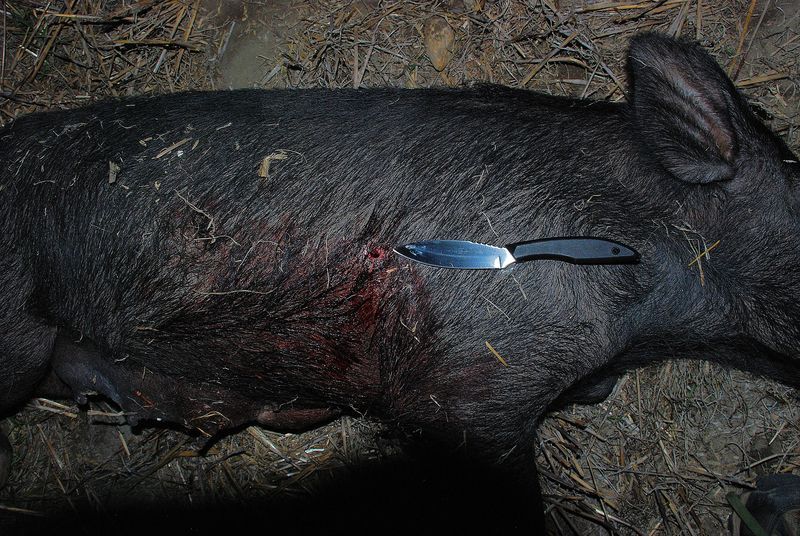 Entrance Under Hide / Exit of Second Shot (Black arrow from now on)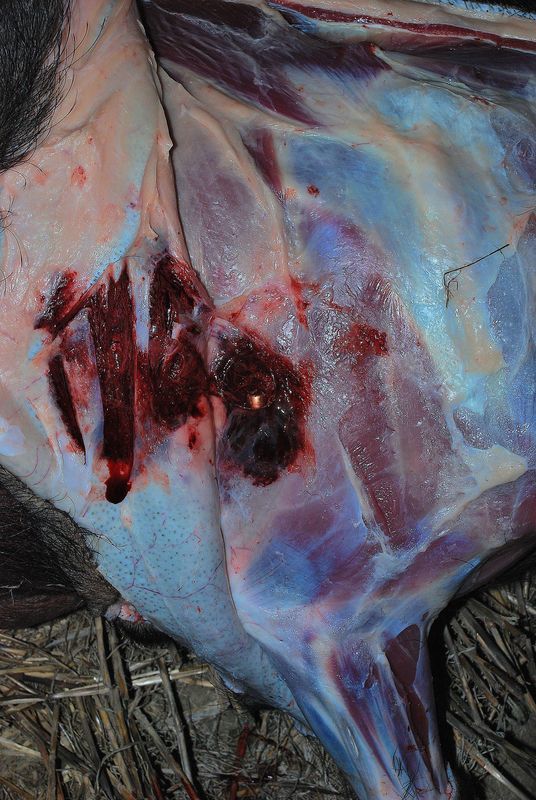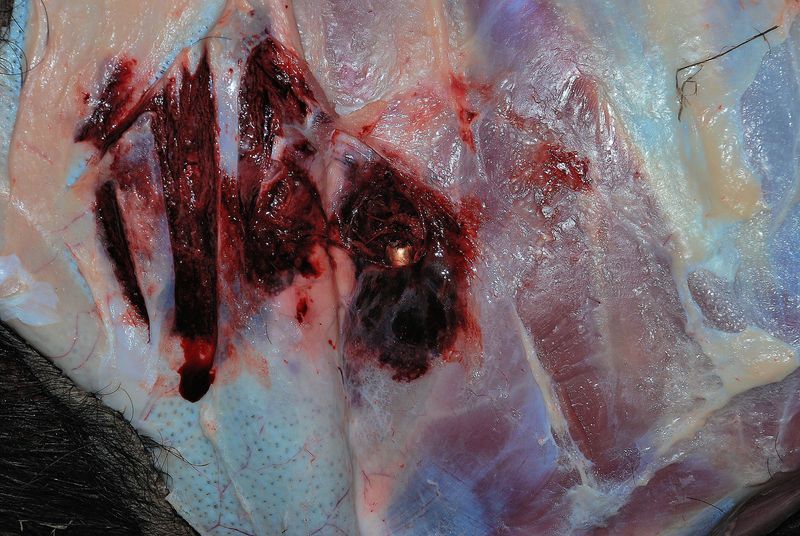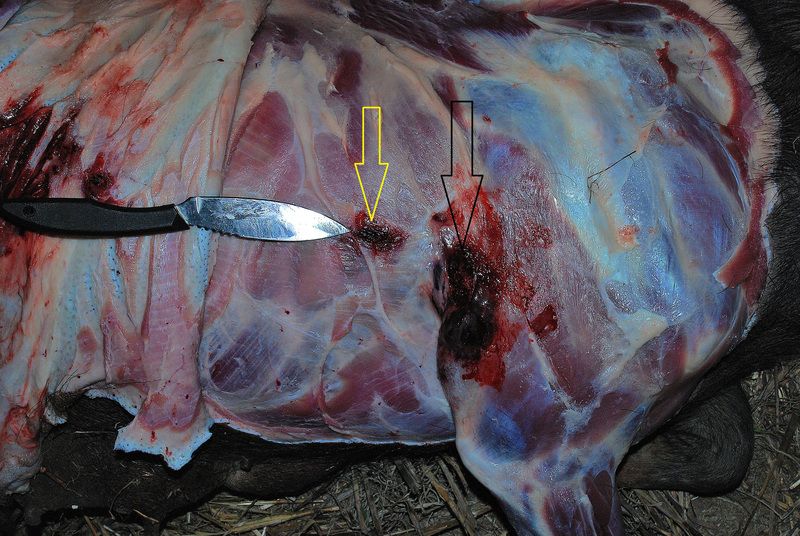 Under Shoulder
Under Ribs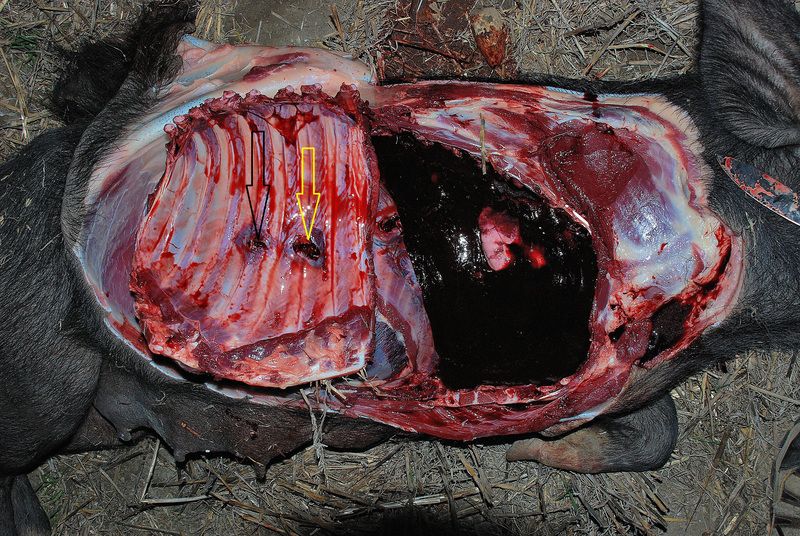 Thoracic Cavity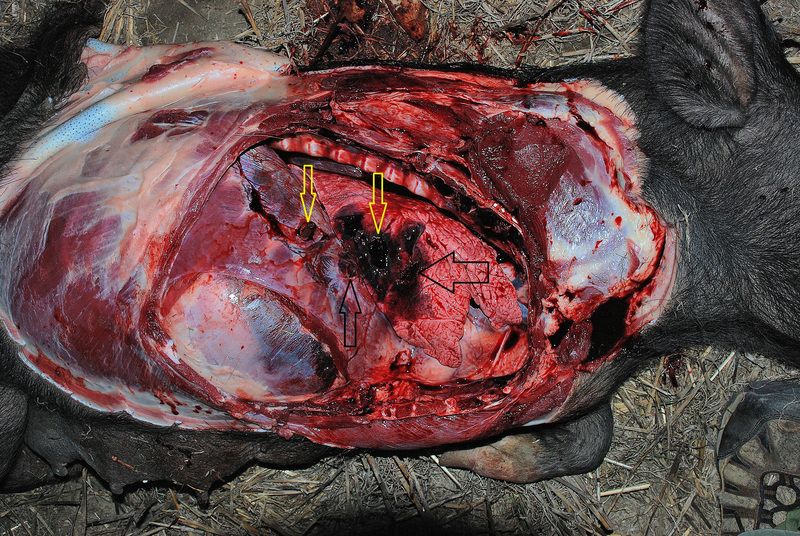 Both rounds struck the right lung.
Path through Liver
Entrance of 2nd shot (after I gutted her and cut her udders off so it appears lower than it actually was)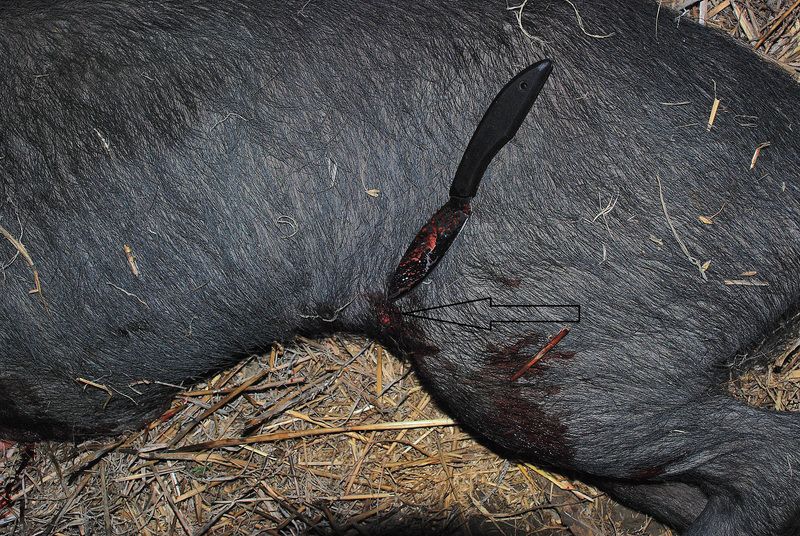 Both rounds passed through the stomach and intestines as well. But, for the life of me, I couldn't find the first bullet. I dug through the stomach and intestines to no avail. I either missed the bullet or it's lodged in the hams somewhere. But, neither shot exited! They just bisected the body shoulder to ham (1st shot) and ham to shoulder (2nd shot).
I do not currently know what the first round looks like, but, the second round and the only recovered bullet had......for all intents and purposes...........no expansion.
"To Hell with efficiency, it's performance we want!" - Elmer Keith