Home
›
Main Category
›
Hunting
The Great NM Speed Goat Pursuit
shotgunshooter3
Senior Member
Posts: 5,420
Senior Member
You want your write up? Here's your write up!
I'll save you all the boring details leading up to the day of the hunt, such as checking into the hotel, the dinner the night before, etc. Suffice it to say the outfitter's owner hosted us at his home and the food was great.
My one comment from the day prior revolves around sighting in. Much to my relief, the outfitter insisted that all clients confirm zero on their firearms and be able to hit an antelope target at 300 yards (albeit from the bench). This is where I got an idea of just how hard it was going to be to estimate the range on the suckers. They pointed to the target and swore up and down to me that it was 300 away. I would have guessed it at around 100, MAYBE 200. I used my 300yd hold over and sure enough, accomplished what would have been a DRT hit.
As a side comment, the difference in quality between a Redfield Revolution and a Leopold VX-3i is being able to tell apart an antelope from the red dirt behind it at 300. Using my Leopold topped 7mm08 I could clearly make out the entire target, when I confirmed zero on my Redfield topped .243 I was searching for the white of the target. Worth another $150 in my book from hereon out.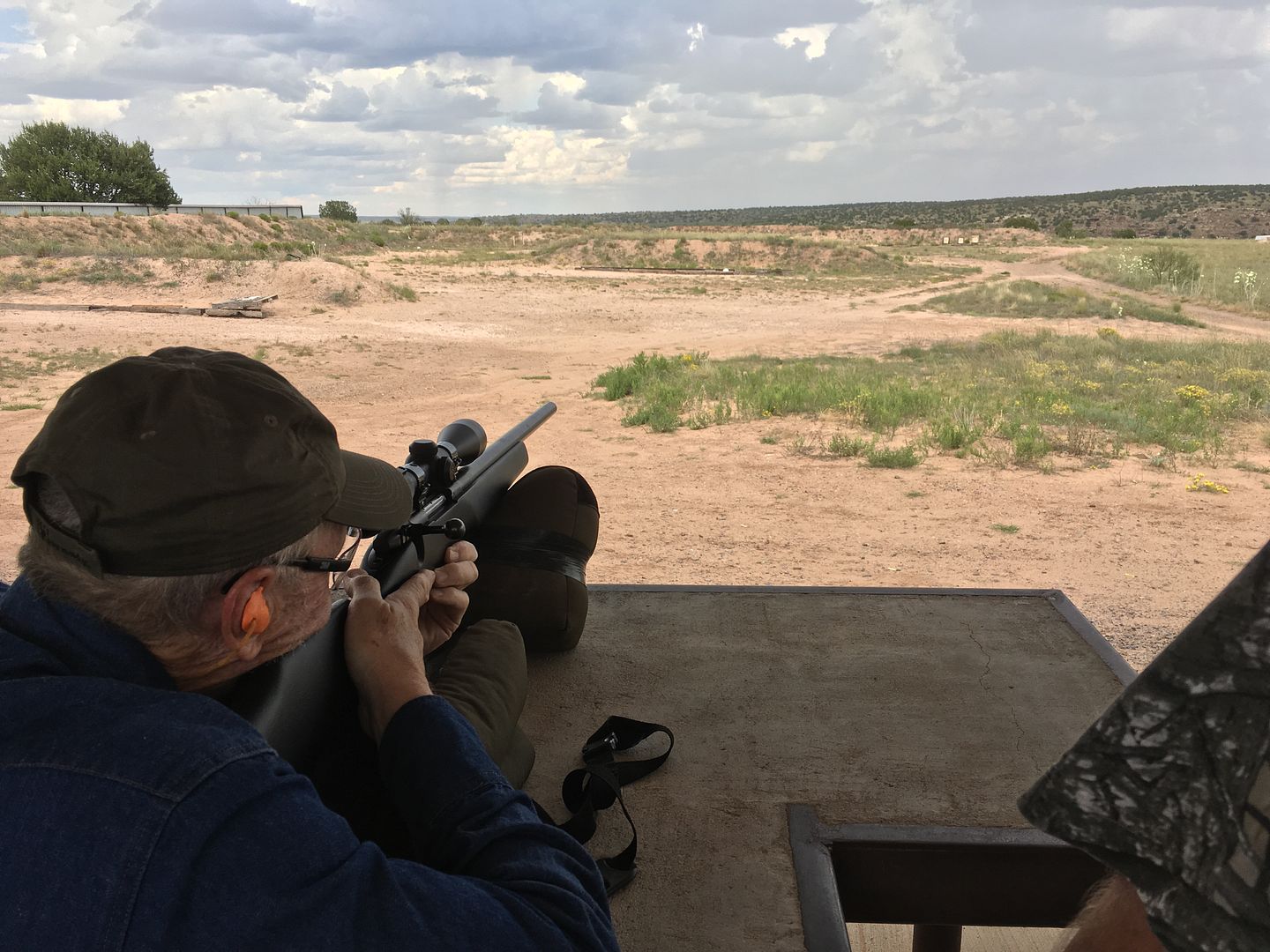 41magnut sighting his Weatherby TRR .308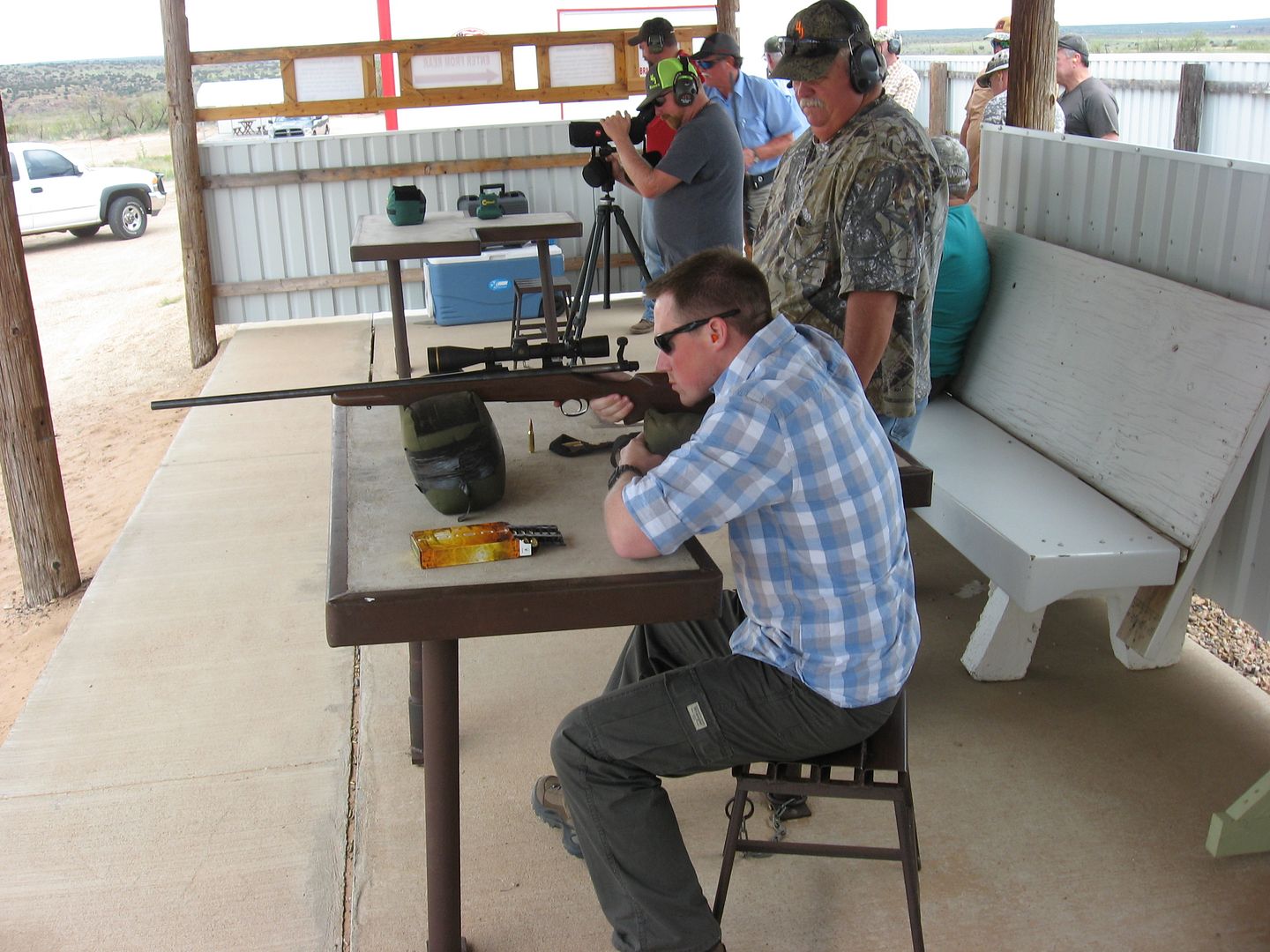 Myself trying to look cool with my Remington 700 7mm08.
Anyway, the morning of we met up with our guide in the hotel lobby at around 5 AM (after a restless night of about 1 hour of sleep, it seems that being very excited compounds the difficulty that I already have sleeping). The outfitter had sent in a couple that was fixing up standard breakfast fair such as eggs and bacon, which was much appreciated as I am a big breakfast eater. We met up with our guide for a bit and shot the breeze before loading up and getting ready to leave. There was some hold up departing the hotel, why that was I am still not sure.
Despite the hold up, we still got to the spot of land that we were assigned to hunt just as the sun was rising. I was very concerned about arriving after sun up based on my East Texas/SE America hunting habits, but I quickly learned that it was not an inhibitor at all. Long story short: The day consisted of driving around, spotting a goat, and then trying to get closer via truck, walking, crawling, whatever means necessary.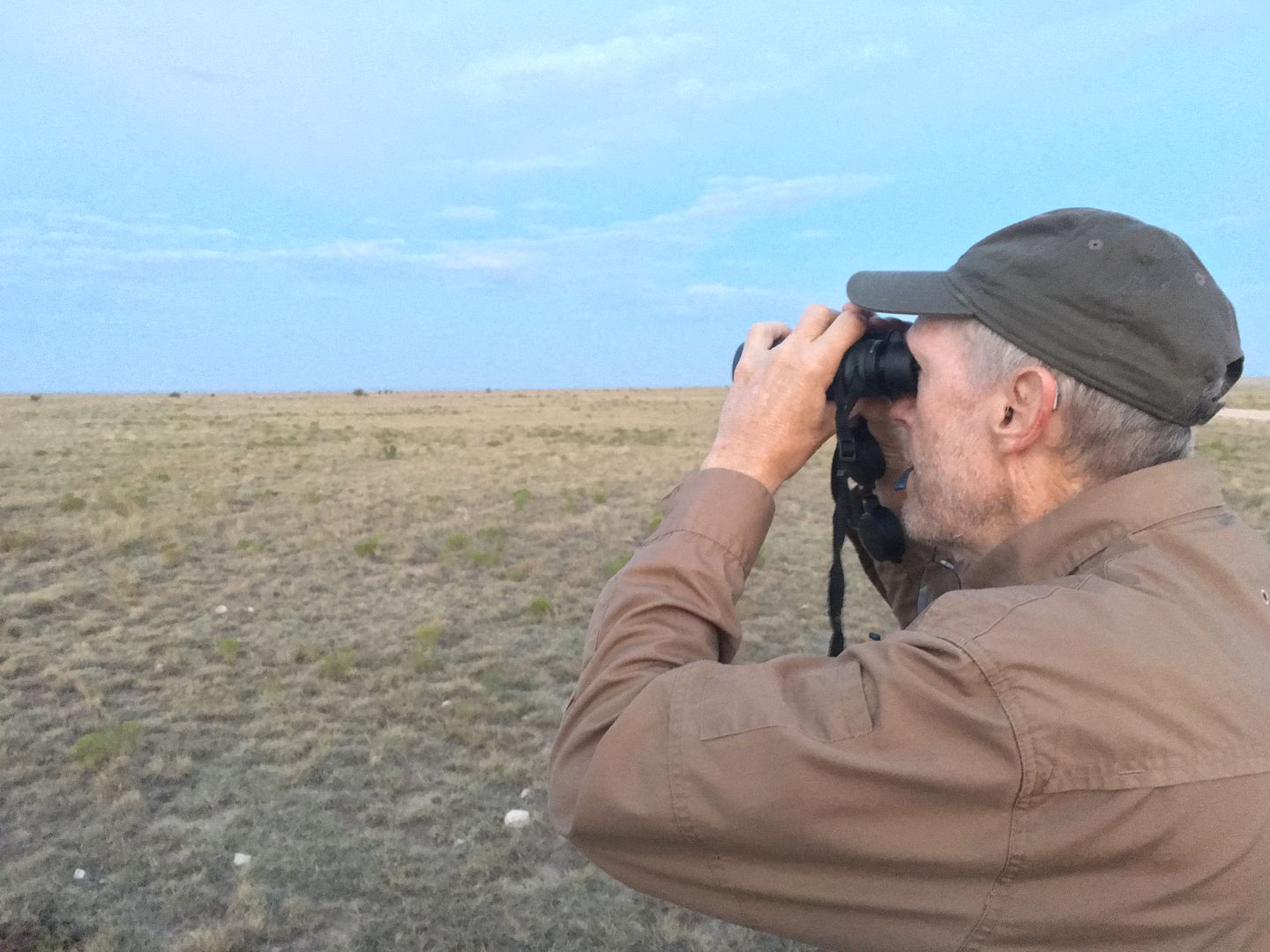 41magnut abiding by Rule #2: "Always look cool." We decided to throw Rule #1 out the window.
Unfortunately I had to depart the hunt early to make a last minute funeral half way across the country, but as such I had the honor of pursuing the first goat. My first (of 6 total) stalks occurred after about 2 hours of driving around when the guide spotted one along a ridge line, across a ravine. "That one is a great shooter, let's go after it."
Which we did. That is when things got interesting.
We snuck up on him from an estimated 1200 yards away, but we had the advantage of a ravine and a hill to conceal our movement. Or so we thought. As it turns out, as we were working our way up on side of a hill, the goat was working his way up the other. As we were nonchalantly trudging along, the goat crested the hill and instantly spotted us. He froze for maybe a second or two and took off along the hillside at a moderate lope. This was the one time during the hunt I did something I'm not proud of, but I attempted an offhand shot from about 100 yards at the animal. Fortunately, I missed entirely and did not wound him.
He scooted off over a hill, and we were in hot pursuit. He paused at a bush, giving me an opportunity to take a kneeling position and attempt to redeem myself. "He's 300 yards away" whispered my guide, so I put the crosshairs above his back to compensate for my 7" drop at that distance and squeezed the trigger.
Missed again. Off went the goat. He stopped about a mile away. Every time we would attempt to move towards him he'd put what seemed like another mile between us. That pursuit was over.
My guide commented that he believed I shot over the animal's back, which would have put his actual distance away from us at under 200 yards. This was the last time that I listened to my guide's advice on how far an animal was, and that would prove to serve me better than either his guestimates or his $100 Simmons range finder.
There were two other stalks that morning, but really nothing of consequence. Both animals spotted us about 500 yards out and when we attempted to get closer because I refused to take the shot (much to the chagrin of my guide), they bolted. As it would turn out, my turning down what I felt were unwise shots was kind of a thorn in the side for my guide.
We then hit a lull in spotting animals. From noon to about 2 PM we didn't see a single one. Our guide was beginning to look uncomfortable, I get the feeling that he was under a lot of pressure from his outfitter to get an animal sooner rather than later for his clients. I'm not sure why, we had all day and reports of other groups getting animals lead me to believe there were plenty around. A few times he made the comment "I don't know what to do, we'll just keep looking." Naturally, I refrained from stating my immediate thought of "What am I paying you for, then?"
We made two additional stalks that afternoon. One lead us to a fence line about 400 yards away from the animal, when the guide simply stated "Now that I see him, I wouldn't bother shooting him." Easy enough.
The second to last stalk of the day is where things got interesting. We spotted a single buck with a few doe along a fence line about a mile away. We got within 1000 yards of the animal in the truck and then set out. As we crested a hill we caught him looking at us, and dropped to the dirt. The rest of the stalk consisted of a low crawl towards the animal with us peeking up every now and then to make sure he was still there. Did I mention it was raining? This stalk got us about 200 yards away from the animal, but unfortunately he was behind a bush and wouldn't offer a clear shot. Naturally, he then saw us and bolted.
We received word that a field nearby usually got good antelope activity around 4 PM (it was 3). This offered us two advantages: Known activity and known distances. After some discussion we decided that 41magnut (who proved to be the wiser of the two of us in this case) would remain in the field while the guide and I set off to a nearby valley to pursue a small herd that another guide had called in about.
I'll let 41magnut come in and tell his story. For the guide and I, however, things got interesting. We spotted the herd, to include a good, shootable buck, from a little over a mile away, and set off after them. As luck would have it, the herd was very interested in a pickup truck sitting on the road to our left, and paid no attention as we quickly closed the 1 mile gap to about 400 yards. At that point (I believed it to be 300, my guide had left his rangefinder in the truck and said he wasn't sure but that sounded right) I set up on shooting sticks, got my heart rate under control, and took a bead on the animal.
My shot broke low and to the left. The impact told me three things: We were actually 400 yards or so away, the wind had picked up to about 15 mph, and the goat had no clue what that noise had just been.
I adjusted my POA for the now roughly known distance and wind, settled in, and broke a second shot. Unfortunately, I hit his back leg. Between user error or the wind dropping off, it could have been either, but I'll blame the wind dropping off out of foolish pride. On the plus side, the animal decided to bed down at this point and afforded us the opportunity to close the gap. As we drew closer the now wounded animal attempted to run, but was clearly slowed down. The guide whistled, the animal froze, and I sent a second 140gr Fusion round through his boiler room from 200 yards away. A complete pass through, and DRT.
Handshakes were exchanged, photos were taken, and the animal was quickly field dressed. We then waited a bit, and worked our way back to 41magnut's area, where we found him waving in the middle of the field. That, however, is not my story to tell.
- I am a rifleman with a poorly chosen screen name. -
"It's far easier to start out learning to be precise and then speeding up, than it is having never "mastered" the weapon, and trying to be precise." - Dan C