Home
›
Main Category
›
General Firearms
What's your favorite .22
Jeff in TX
Senior Member
Posts: 2,117
Senior Member
It's a lazy rainy Sunday morning out at the ranch. Was sitting on the front porch enjoying the light rain and cool temps. Decided to do some plinking before the Cowboys come on. It's always a no brainer or me as to which .22 I'm going to grab. I have a 10/22 with a fixed 6X on it and I bet I've shot 5 rounds through it in the last 15 years. Then there's my Savage Model 23 .22 Hornet which is my second all time favorite .22. This was my buddies dad's rifle and every time we'd go shooting I'd always manage to snag and just so happened to have a new box of ammo for it. It's just great fun to shoot. It has a fixed 1960's something Weaver 4X and incredibility holds its zero each time I shoot it. His dad left it to me when he passed. But number one by a land slide is the "Queen B" as I call her. My 1960 Belgium made Browning SA .22. My pops got it for me to celebrate my birth that year. It was a few years before I big enough to shoot it, but it love at first sight!
Folks IMHO this is the sexiest .22 ever made! It's just a dream to shoot. She still shoots and feeds as well today as she did when I was a kid! This was a great light weight rifle to carry in the field squirrel and rabbit hunting and did I mention it's just fun to shoot!
So when it's time to go into your gun safe and pick one, which one is your favorite .22 for plinking and hunting.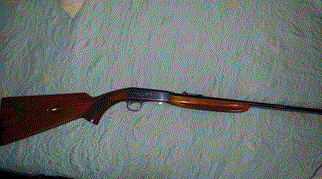 Distance is not an issue, but the wind can make it interesting!

John 3: 1-21