Home
›
Main Category
›
Personal Defense
.40 S&W Terminal Performance - Graphic!
Zee
Posts: 28,451
Senior Member
Warning:
The following thread contains pictures and a link to a video that are graphic in nature. VERY Graphic! A pig dies on video. Do not click on the link if you don't want to see him die. This is in the PD Forum because it is NOT hunting!!! I kill a pig with a defensive gun and defensive ammo for the express purpose of testing them as such.

Friend called me this morning and said he had a boar in his hog trap. Asked if I wanted it. Alive of dead, I asked. Alive was the response. Hell yeah I wanted it!!
Grabbed my stuff and headed over to perform a proper terminal performance test. I chose to use the ammo that I carry on a daily basis. It would give me assurance that what I trust my life with will actually work.
I set up the camera and placed a 3/4" thick piece of plywood behind the cage to attempt to stop a bullet in the event of a pass through. The pig was very aggressive in nature which was beneficial to the test in simulating and adrenaline pumped adversary with ill intent on his mind. He was ramming the cage, popping his jaws, and biting the wire. Perfect.
Gun & Ammo
Perdition - .40 S&W w/ 4.25" Barrel
180gr Federal HST @ 1,030 fps Muzzle Velocity
Test
Terminal Performance on live tissue at 7 yards.
Assessment of physical reactions and time to incapacitory milestones.
Autopsy to assess internal damage caused by bullet.
Video
(Graphic! Do not open unless you want to see a pig die.)
http://vid26.photobucket.com/albums/c106/lovinmycaitlynn/Hunting/.40%20SampW%20with%20180gr%20HST%20%207yrds%20amp%201030%20fps%20mv%202_zpsaaeykjkx.mp4
Results
4 Seconds from Impact to Blood Pouring out of Mouth
8 Seconds to Blood Spray Exiting the Entry Wound
14 Seconds to Animal Falling to the Ground
57 Seconds to Complete Incapacitation / Death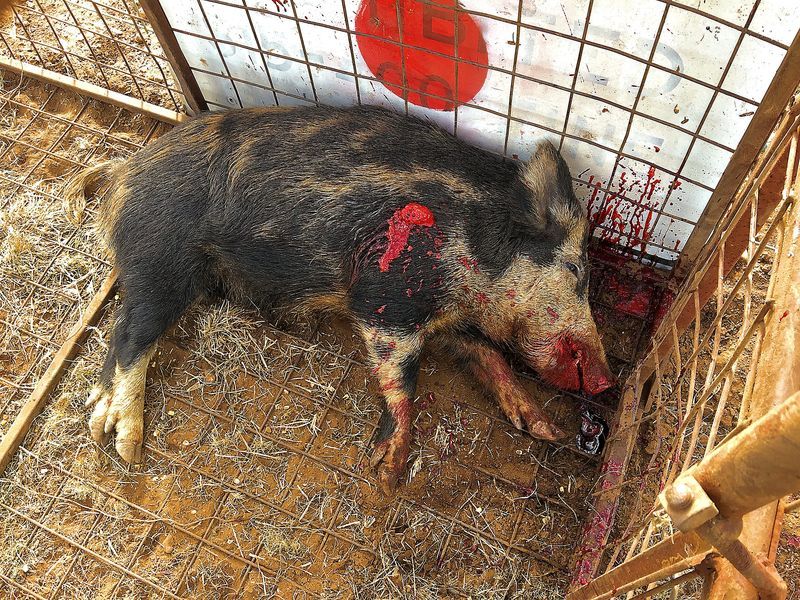 I has a 4" square to thread the bullet through and hit the exact point on the boar as I was intending. Initially, he kept facing me. So, I had the rancher walk towards the cage and then to the left to encourage him to turn broadside. Once he did, I reached over, started the video, aimed, and fired.
Autopsy to follow.
"To Hell with efficiency, it's performance we want!" - Elmer Keith