Home
›
Main Category
›
Hunting
Goat trip. Part II
Okay, Here are a few more pics.
This was the 3rd day ( I think)
We decided to head down to the beach again as the weather up high was still cloudy and wet. I did mention that there were 2 'climates' within a mile of each other in the other thread and you will see the contrast in the following pics.
This is the view as we parked the quad and loaded up our packs...............
Saw these on the edge of the forest. The beach is made up of boulders........no sand........ What happens is that little rocks end up being washed up by the surf and sometimes they balance on top of bigger rocks. The wave action moves the little ones back and forth and they slowly grind themselves a hole in the bigger rocks until they look like this........
Negotiating the beach can be difficult as the rocks move under your feet so you have to be careful. You also have to watch the tide as you can be trapped if its rising......and if the surf is running you have to keep an eye out for waves. Luckily for us it was calm............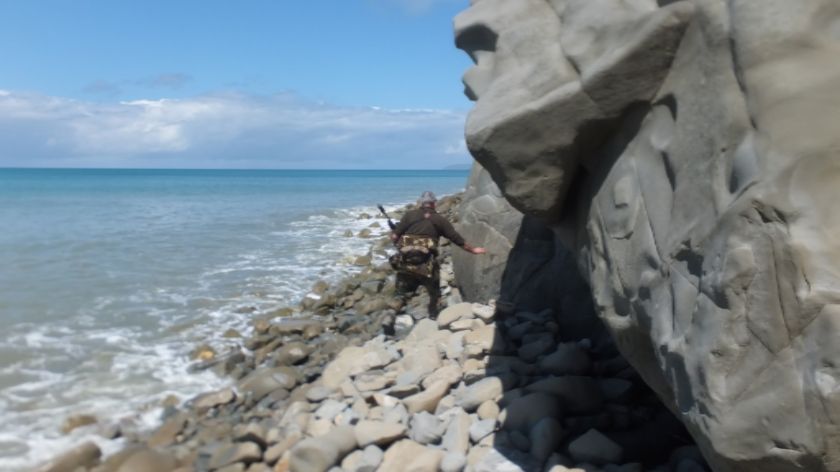 We ended up at the base of this gully and saw a mob of goats at the head of it walking across the top. The ppic doesnt really give a true idea of the steepness btw........
Range to the goats was between 300-400 m depending on which side of the gully they were on. We set up on the rubble near the beach and I opened up with the 22-250. BH had his 222 Sako.
We were hoping that any goats shot would come down the slip towards us but that was not to be. Where the grass starts at the head of the gully it flattens off and the ones we shot simply ran/tumbled onto the flat and stayed there. I think we ended up with about 7-8 kills with both of us taking turns with the 22-250.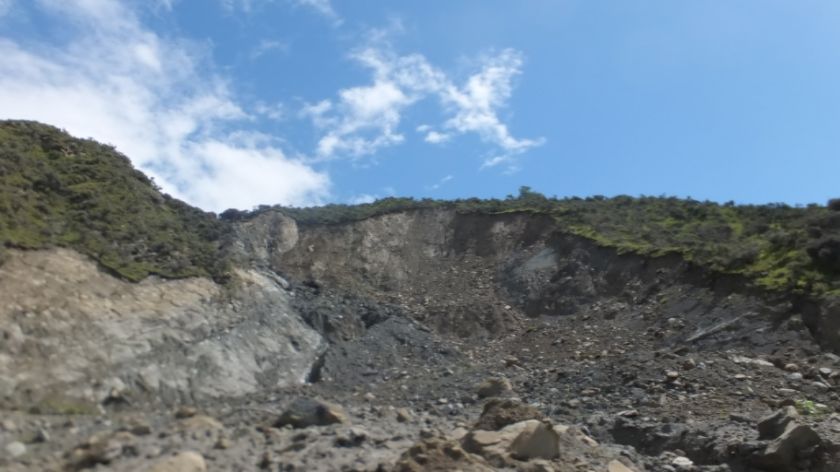 I fell over twice, looking uphill at a 45deg angle through the binos was disorientating and a couple of times I felt myself starting to fall backwards!! Bh had the same problem.
We headed back to the bike rode back to the house and had lunch. We then headed to another place along the top boundary of the property and set up with the 204's. Having the quad was great as we could carry enough gear to make our setups comfortable.
Took a couple of pics on our way..............
Top of the ridge looking down to the beach.............
Looking back along the ridge towards the house.....when we left it was raining there but the further we moved away the better the weather got...........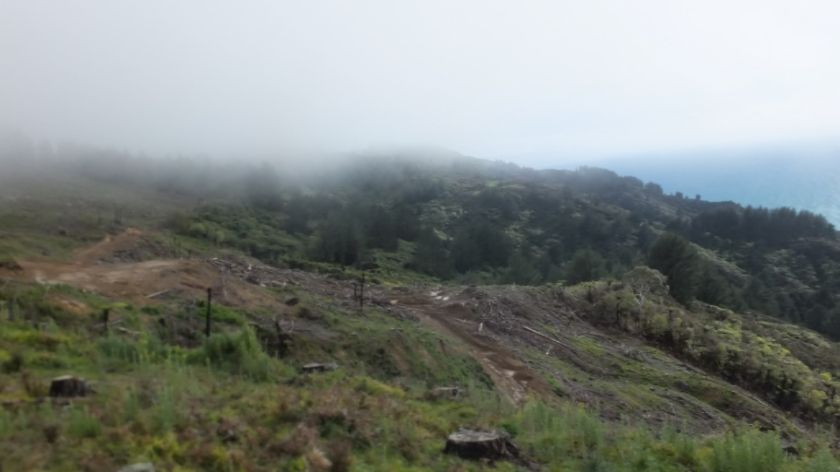 Still enjoying the trip of a lifetime and making the best of what I have.....