Home
›
Main Category
›
Hunting
Cleaning up the gene pool.
Farm Boy Deuce
Senior Member
Posts: 6,083
Senior Member
Today is rifle season opener in OK. I have had a GOOD day so far, I got another scrub out of the herd.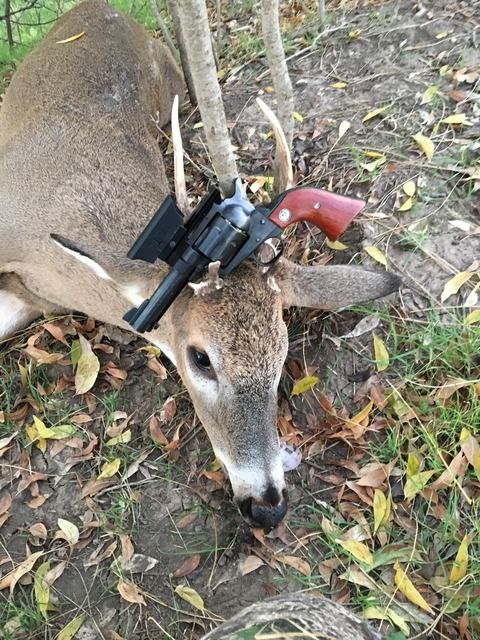 This nasty little creature was my first handgun AND first hand load kill.
My cousin and I have the place to ourselves and we each have a favorite stand. My stand is a home made 12' ladder stand in a cedar tree looking east over a busted pond that is a favorite bedroom. I got in my stand about 20 minutes before legal light with my Type 53 bubba Scout and Blackhawk.
I heard one distant shot about 30 seconds after legal light. Fairly quite morning so far. About ten minutes into light I look over my right shoulder and see a deer in the wheat a couple hundred yards away. This is about my five o'clock and j can't find the reticle with my left eye (I will work on this with the Scout scope) so I don't worry much about it.
I check on the deer every couple of minutes and it is slowly meandering my way. All the while behind me on my right. When it got within a hundred yards I could see small head gear so I was to let it walk. About this time I realized the deer was going to come parallel to my own path about 40 yards apart. The wind was very light out of the north.
When he finally comes even with me at maybe 15 yards I noticed the one side spike, we have killed at least four of his brothers. Now I am trying to unsnap my holster knowing this little buck is going to wind me any second. I was able to draw my pistol behind the cover of a big branch and it feels like ages as I am trying to get my gun hand over the branch and pointed at him.
When I get the gun up he looks right at me and I can't find the dot. After the longest two seconds ever I get the dot on his chest and bang. He humps up and makes two jumps I am trying to get the gun back on him but I have to bring my arm back over the branch and around the front. In this time my little scrub has went 14 yards and laid down. That was all. I was honestly stunned.
He was standing right on top of that little rise left of the cedar.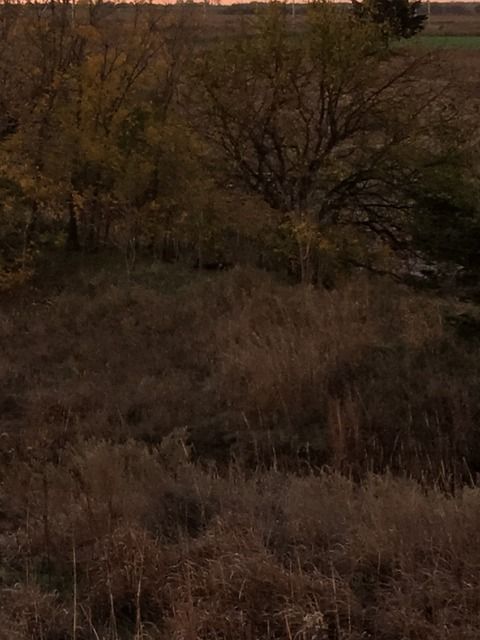 There is a dark spot straight left of the big hedge tree, that is where he fell.
The farthest pink dot is about where I spotted him and the line is his path more or less. Just out of frame left of the cedar tree is where I shot him.
The time frame was maybe 15 minutes it just felt longer.
I am afraid we forget sometime that the basic and simple things brings us the most pleasure.
Dad 5-31-13