Home
›
Main Category
›
Hunting
I am thankful on this day. My boy's first deer!!!!
On this Thanksgiving Day, I am thankful for many things. Especially my family and friends.
My Rancher friend called me yesterday and said he had identified a cull buck my boy could shoot as his first deer. He had mentioned to me last month that my boy would be able to shoot a deer on his place this year so, we had been practicing. At the range, he'd been shooting my .223 Heavy with scary accuracy from field positions.
That's 10 rounds in the center circle from 100 yards off a sitting rest!
At the call that a buck had been located, we ran to the range for one last session. He fired 2 rounds with the .223 on paper that were about 1/4" apart so I put him behind the .243 Medium that he would be using and let him fire a round. Right in the middle of the paster!!! We were ready!!!!
We headed to the ranch in the afternoon and met up with my friend. We drove to the hunting spot in his ATV. It was a little draw with a gravel road passing through the middle. On one side was a tall, brush covered hill where the deer bedded down. On the other side was a "grassy knoll" with some persimmon trees and sparse vegetation. We set up on the knoll next to a persimmon tree with the Spec Rest in front of him for a sitting position and a veil draped around us for a blind. We had set the blind back enough to where we were just peeking over the ridge and our bodies were mostly obscured. My boy sitting next to me and my friend behind us, we waited.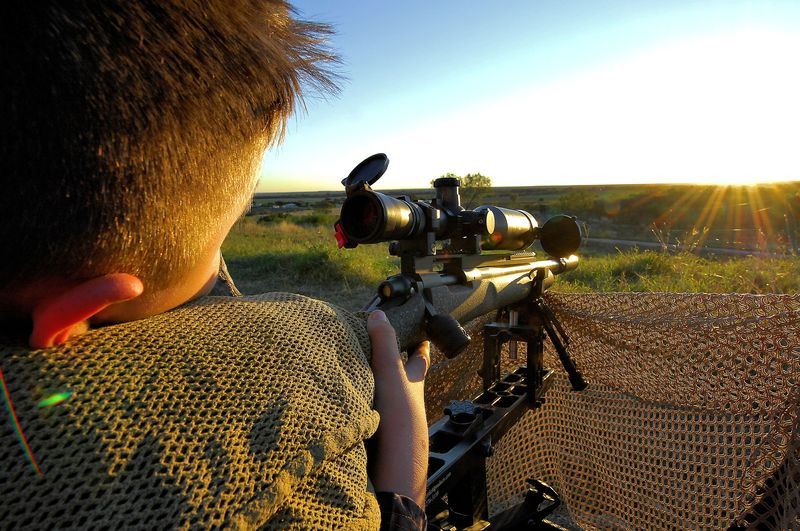 We had scattered corn along the road to hold the deer in place long enough for a shot should they arrive as planned and after a little while, they began coming out of the brush like ants!!!
Does, yearlings, spikes, small bucks..........all began to move. Some staying to eat corn, others crossing the draw and heading to other parts. Finally, after about an hour and a half, bigger bucks began to materialize. My friend studied them and finally said, "Take the one on the left." Really? I asked if he was sure. There was nothing wrong with that deer that I could tell. "Take the one on the left", he repeated. Ok!
I told my boy which one and he aimed in. My boy had been practicing dry fire on some of the does and small bucks while we waited. Walking through the sequence and aiming point, we had practiced our communication. Now that it was go time, he got settled on the buck and was about to shoot when he turned away from us. We waited. Finally broadside............aimed in........and he turns towards us! He stayed in this position for several minutes. The stress and excitement was beginning to get to my boy. I talked him through the excitement and kept him focused on the task. After an eternity, the buck turned to our right and we talked through the shot.
Video
http://vid26.photobucket.com/albums/c106/lovinmycaitlynn/Hunting/Cayden%20Buck%2011-23-16%20Short%20Front%20Half_zpsies3cdtx.mp4
At 57 yards, my boy let fly with a 105gr A-Max from the .243 Winchester. The sun was at a perfect angle to reflect off the bullet like a tracer round! Streaking across the draw, you can see the bullet enter the buck's chest. A perfect heart shot!!!!
The buck jumped and took off to our right. I quickly grabbed my back-up rifle and stood up to see over the brush. Ready to shoot as I didn't know exactly where he'd hit the buck at the moment. But, almost immediately I see the buck doing the forward lean, getting lower and lower to the ground as he sprinted down hill. My boy asked what was happening and I told him the buck was going down. Then, he fell over and I threw both arms in the air in celebration! Yes!!! The world was spinning! We were hugging and celebrating, the I was a happy father. I leaned over to my friend and said, "Thank you for making my boy the happiest little man at this moment in time."
We gathered our gear and headed over to the buck. My boy had made a PERFECT heart shot! But, even with his heart blown out and only living about 8-10 seconds after the shot, the buck was able to make a mad rush down hill and cover 137 yards before falling.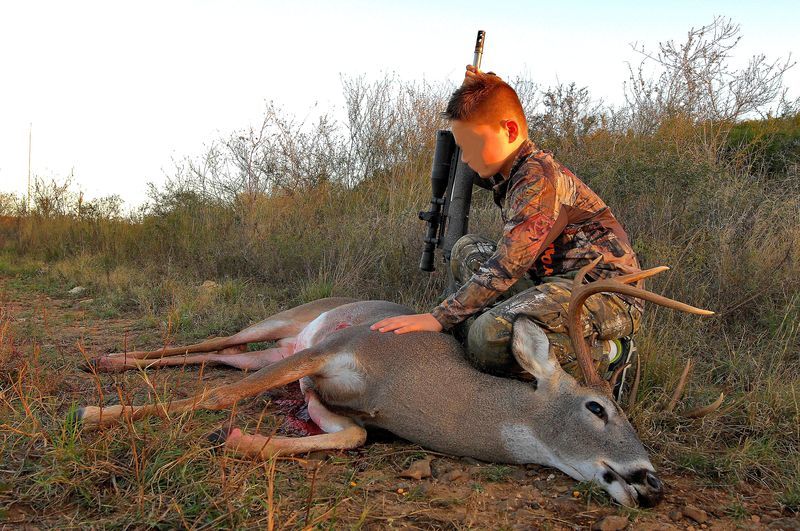 Did I mention we were celebrating?
As the sun set in the west, we took our pictures and thanked God for the man that provided the opportunity and the deer he had given us. A moment that will never be forgotten.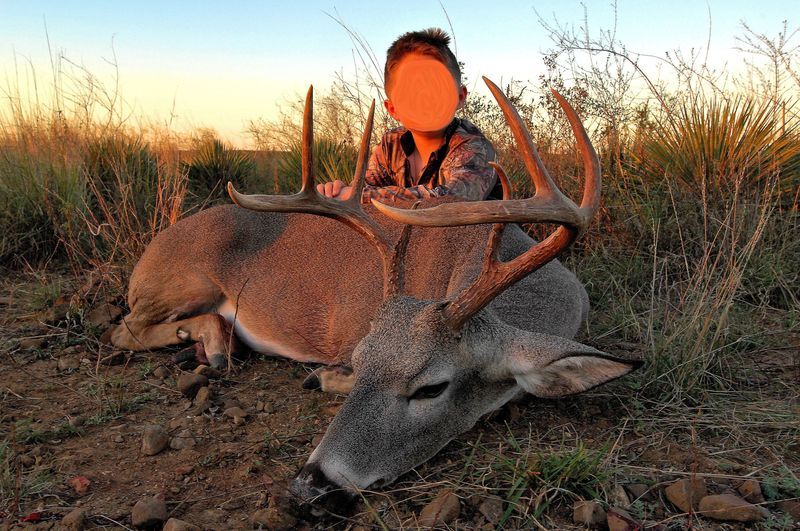 We loaded the buck and headed to the barn.
At the barn, I handed my boy a knife and said that a good friend of mine had sent it to him. Now was a good time for him to have it. To gut his first deer. And the crowning cut?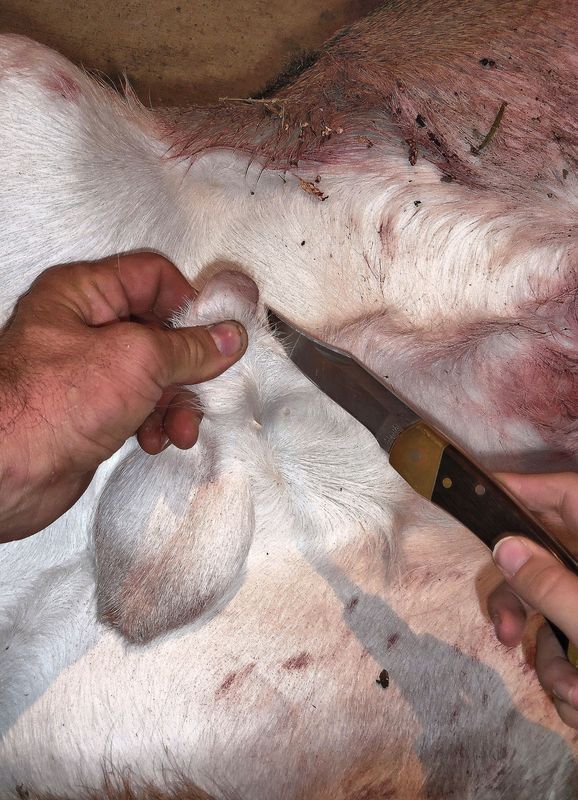 Thank you, CPJ. I hope we adequately christened the knife in a fitting manner that you approve of.
There is no science in this thread as I was too busy with the experience. But, I just want you to take a quick look at the damage done by the .243 and 105gr A-Max.
Not much left of the heart!
The skull is all ready for a European Mount.
While cleaning the buck, I asked my friend, "Why this deer? Why is he a cull?"
"He wasn't a big enough 8 point."
"There isn't anything WRONG with him!", I said. "This isn't a cull!"
After a pause, my friend said........"I wanted your boy to have a nice first deer."
Well, he did. There are wonderfully giving people in this world and I am blessed to know some of them.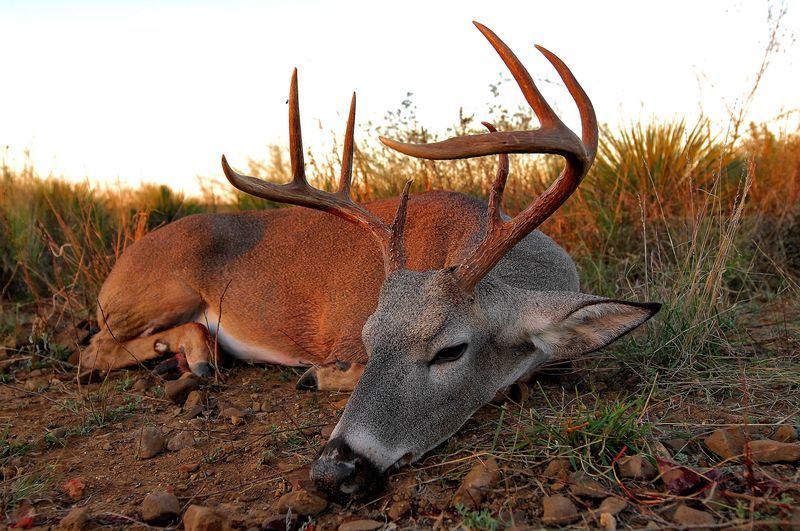 "To Hell with efficiency, it's performance we want!" - Elmer Keith