Home
›
Main Category
›
Hunting
Another .40cal Hog!!!
Some buddies and I went out to my friends ranch for a couple days of long range shooting during the day and getting rid of some pigs at night. My friends ranch has several right-of-ways cut through the place that extend for great distances. We set up on one and strung steel micro IPSC Targets from 300 to 1,000 yards and spent the day pinging steel and playing with the wind. I think the greatest wind call of the day was 2.8 Mils at the 1,000 yard target or roughly 8.4 feet hold-off.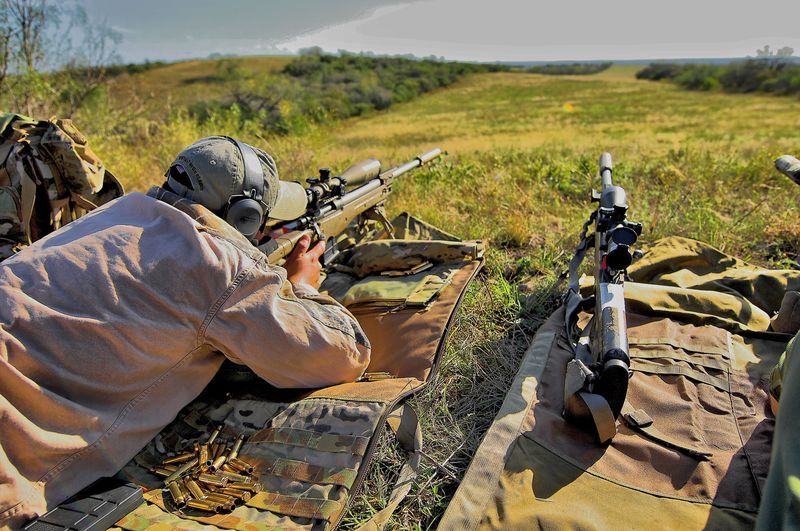 The 1,000 yard target is at the red arrow.
After a dinner of Axis and Whitetail steaks and hearts, plus Pepper Poppers (Jalapenos stuffed with cream cheese and wrapped in bacon) we were sitting around the fire when my friend spotted a hog walking the tree line at 888 yards away. We grabbed the guns and took off after him once he dropped into a low ditch. A mad dash, stalk, crawl, and running target later........we had the first pig as the sun set.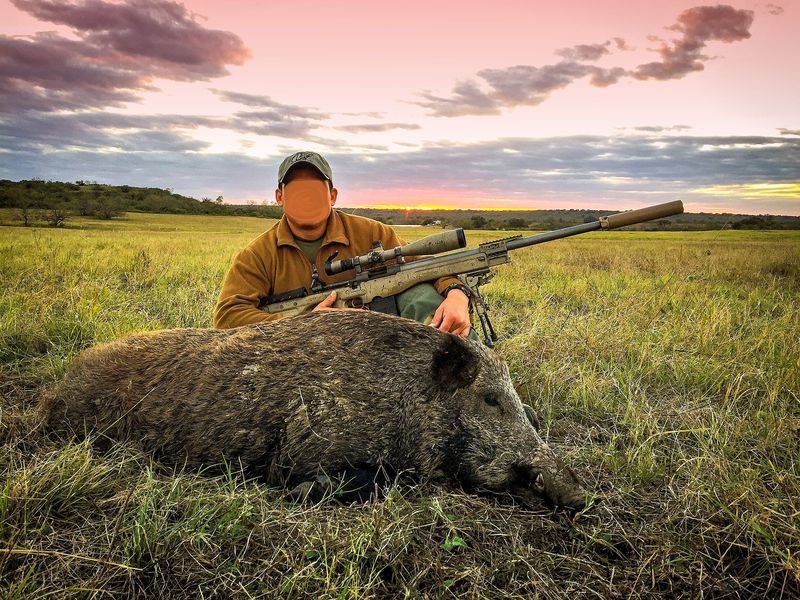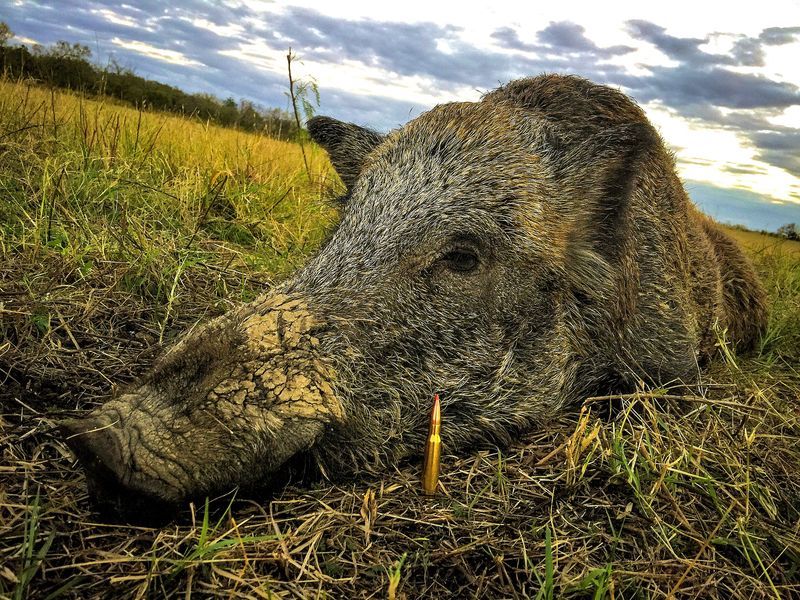 Back at camp, we waited for dark and headed out. I've had plenty of opportunities to play with pigs at night, so after a long day of shooting out to 1,000 yards, I let my buddies do most of the shooting while I spotted and assisted with target detection. By midnight, we'd gathered 5 more pigs of various sizes.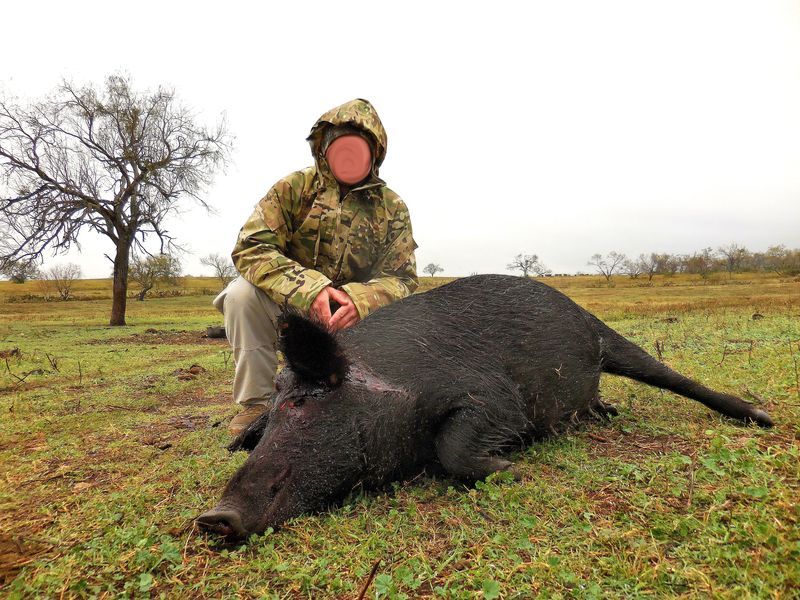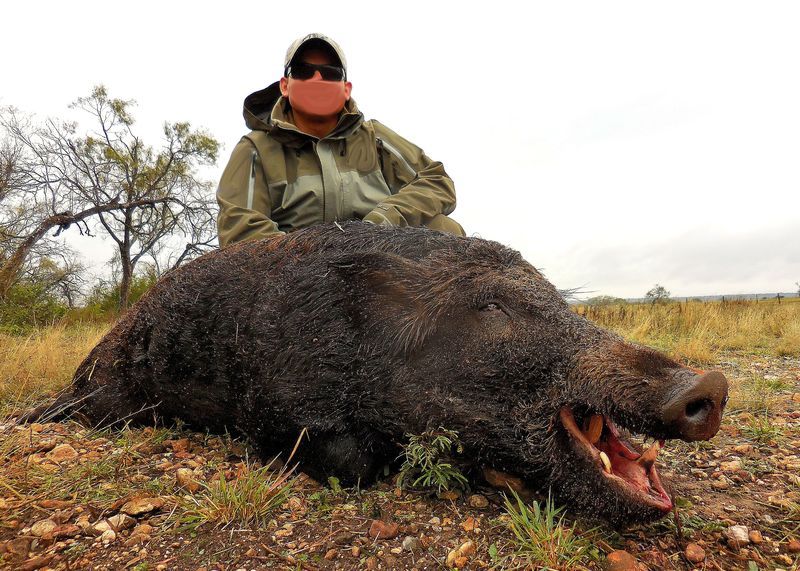 (for example)
And came back to camp for a break and midnight snack on some more food. Sitting around the fire again, I spotted a lone boar on a ridge overlooking camp. I asked the guys if they minded me taking this one with my handgun. No worries.
I had brought my Glock Model 40 with the intent to take a pig with the 10mm and 180gr XTP bullets. But, I'd brought it with the .40 S&W barrel in the gun with the 10mm barrel and ammo in the case with it. Well, after spotting the pig, I grabbed the gun and took off after the boar. A good ways into the stalk, I remembered............I still had the .40 S&W barrel and ammo in the gun!!!! Crap. Too late now. I was already committed. I would just have to get closer.
I played sneak on the boar for about 45 minutes. The conditions were difficult the last 100 yards as the grass and brush was dry and crunchy. So, it was a step and wait affair. Step and wait..........step and wait. I had finally worked my way to about 20 yards and figured I was close enough. Now, I just needed to wait until he presented an acceptable angle. Which, finally came at a slightly quartering towards presentation. I placed the CT Laser just behind the point of his right shoulder and sent a 155gr Federal HST on it's way through the dark. On impact, the boar dipped, spun and took off through the tall grass. But, his mad dash only lasted a few seconds and he rolled to a stop in a heap after about 50 yards. D-E-A-D
(photo the following morning)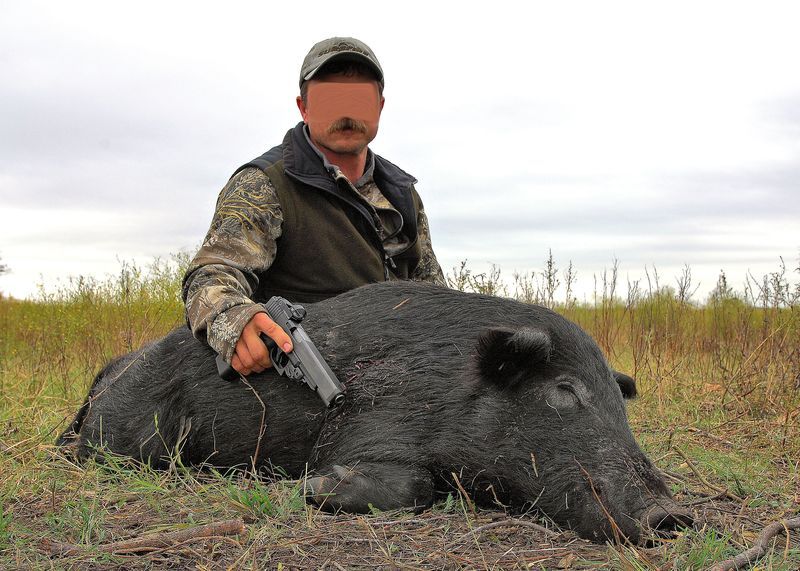 I was feeling somewhat skeptical with the distance and the fact I was using the 155gr bullet this time as opposed to the 180gr bullet I had previously tested on a pig. But, I had no cause for concern. The bullet dispatched the pig with rapid results. This builds GREAT confidence in my defensive ammo loaded in many of my guns. I have NO reservations with the .40 S&W when loaded with either 155gr or 180gr Federal HST. That stuff just flat works!!!
I'm not saying this is my new hunting rig/ammo. I still would prefer to have a 10mm. But, due to an oversight, I made due with what I had and it flat out worked. Very pleased.
We finished out the night getting 3 more pigs. Slept for about 3 hours and got back to shooting in the morning. A really good time.
All in all, we got some excellent range time and accounted for 10 pigs in one night. I have new confidence in my equipment and buddies. That'll do.
"To Hell with efficiency, it's performance we want!" - Elmer Keith