Home
›
Main Category
›
Hunting
52gr HP - 1 / Deer - 0
At my rancher friend's house this afternoon helping him get dope out to 750 yards for a new .308 Win load we'd worked up the other day. It was stupid warm for this time of year. 72 freaking degrees!
When we finished, he mentioned that he'd told a mutual highway patrol friend of ours that he would get him a deer. But, it was so warm, he didn't really want to mess with it.
I told him if he let me video the shot, I would take care of the deer for him. Of course.
So, we drove down the road and poured some corn on the ground. Climbed up on the grassy knoll and waited.
About 5 minutes went buy and 3 deer came out. He aimed in on her and I told him to let me know when he was going to shoot.
He just barely gave me enough time to hit record.
http://s26.photobucket.com/user/lovinmycaitlynn/media/Hunting/D2D76B92-413F-48FB-90AA-53A389C73D78_zpsxw8ckjnn.mp4.html
And that was that.
52gr Hollow Point out of a Savage .223 Remington did the job.
Bullet entered just in front of the right ear, disintegrated, scrambled the brains, shattered the skull, and never touched the other side of the head.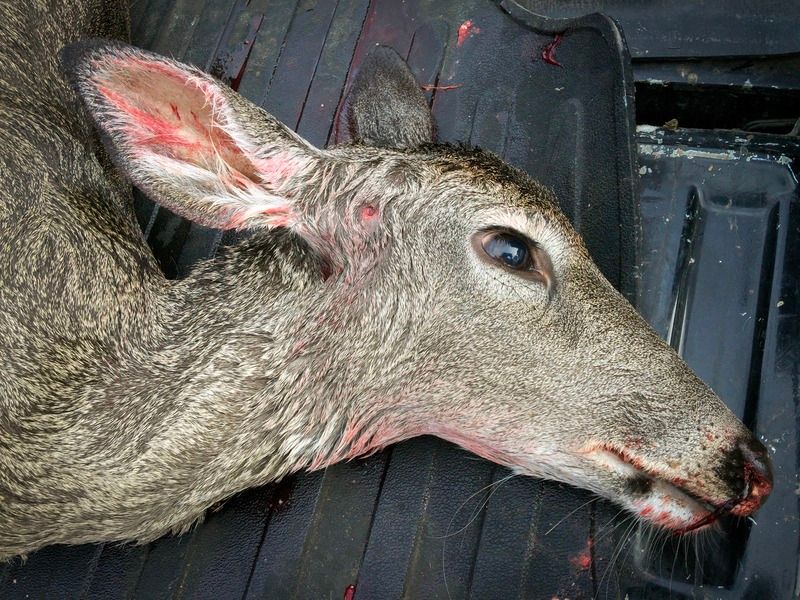 He said that he used this combination for that very reason. The it stays in the head and he doesn't have to worry about hitting another deer.
Makes sense.
"To Hell with efficiency, it's performance we want!" - Elmer Keith