Home
›
Main Category
›
Hunting
Hell of a Hunt!
We finally had a cold snap (for my area anyway) and it dipped into the 30s! So, it was time to go hunting! So, went out yesterday evening to a place I'd hunted last Friday evening. It was much warmer then and I'd seen 12 does and a small 8 point. Just didn't feel like shooting anything that evening. But, now that it was cool............game on!
When I arrived at 3:45, there were already 5 deer in the field. 3 does, a spike, and a 4 pointer. Of course, when I got out of the truck and walked into the field, they jetted into the brush. Hopefully they would be back and bring some friends. I was sitting on a cement slab that was the pivot point of an irrigation system. The grass was grown up around it and provided good cover. On the south side of the slab was a fence corner where I set up a little blind (
A
). The previous hunt had resulted in most of the deer being on the south section of the field, so that was my primary field of fire. Of course, nothing happened until about 5:30 when a doe and her two yearlings came out with a bigger spike..........on the EAST side of the field. So, I crawled over to the other side of the slab, about 5 yards, and hid behind a big pivot tire (
B
) to get a better look at them.
With me this evening, I had a trio of guns. Since CPJ was kind enough to send me some 80gr A-Max for the .223 Remington some time back...............and has been nagging me like a HAG to shoot something with them ever since...........I figured it was time to give them a go. I had them loaded in my 13" MGM barrel for my Contender with a 4.5-14x Leupold scope on top. Next up, if given the chance, would be the CVA Scout Pistol in .243 Winchester running 85gr Sierra HPBT-GameKing bullets and a Vortex 2-7x Scout Scope. Strictly as back-up and because I don't go anywhere without a defensive gun, I had my 4" Ruger Redhawk in .45 Colt with 250gr XTP handloads.
Well, the doe, yearlings, and spike were too far for the .223 Remington. They were feeding around 250 yards and I'd set a personal limit of 150 yards for the 80gr A-Max out of this gun. Just because I didn't know it's terminal performance as of yet. They weren't cooperating and never came any closer than 200 yards and I didn't want to use the CVA first, so I waited.
Finally, looking to my right and back to the south, I saw some deer entering the field and one looked like she would come within range!! Crawling on my hands and knees back to (
A
) I set the Contender back on the Spec-Rest and set up the camera to record. She slowly fed towards me at an angle a broke the magic range line. I aimed in and, at 140 yards, sent an 80gr A-Max on it's way towards the quartering away doe. On impact, she jumped about 8 feet in the air and took off! I could see through the scope that her off side leg wasn't working. She made it approximately 75-80 yards and fell over. SCORE!!!!
Here is the video.
http://vid26.photobucket.com/albums/c106/lovinmycaitlynn/Hunting/DSCN4189%203_zpsytub3zib.mp4
And here is the set-up with the arrow pointing at her POI location.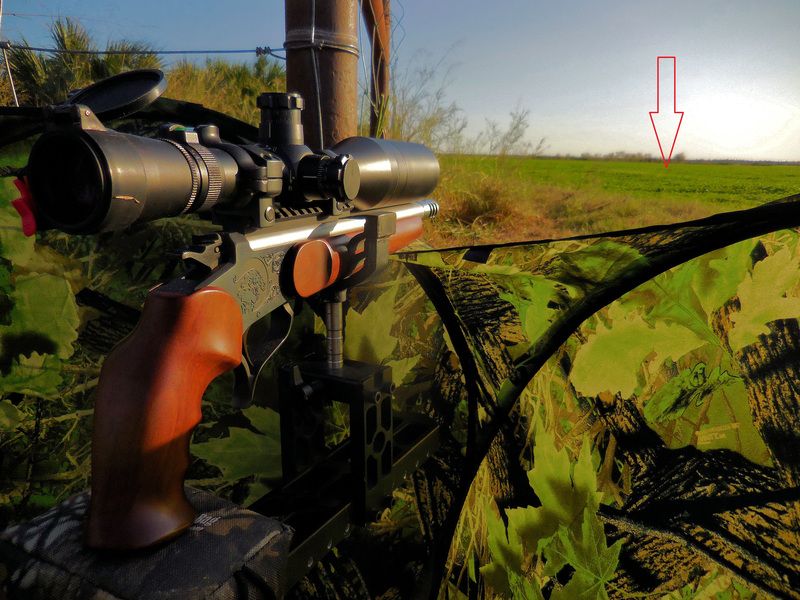 To say I was impressed with the little .223 is an understatement. It did pretty well, I think.
So, I'm sitting there enjoying the moment and look to my left towards the east side of the field. Hmmm, there are more deer out there now. Hey, there is a buck coming my way!! I grab the Scout Pistol and crawl back over to (
B
). Set up the Spec-Rest and lean against the pivot tire. He just keeps coming closer and closer. Then, starts moving to my left. I pan the rest and realize, if he keeps going, I'm going to run out of left motion when I hit the tire. But, he ain't stopping! So, I pan with him and at the last moment, send an 85gr Sierra HPBT-GameKing into his quartering towards chest. On impact, he sits back on his butt and falls over on his right side........done. A few kicks and it's over. The shot was 56 yards with the arrow pointing at the buck.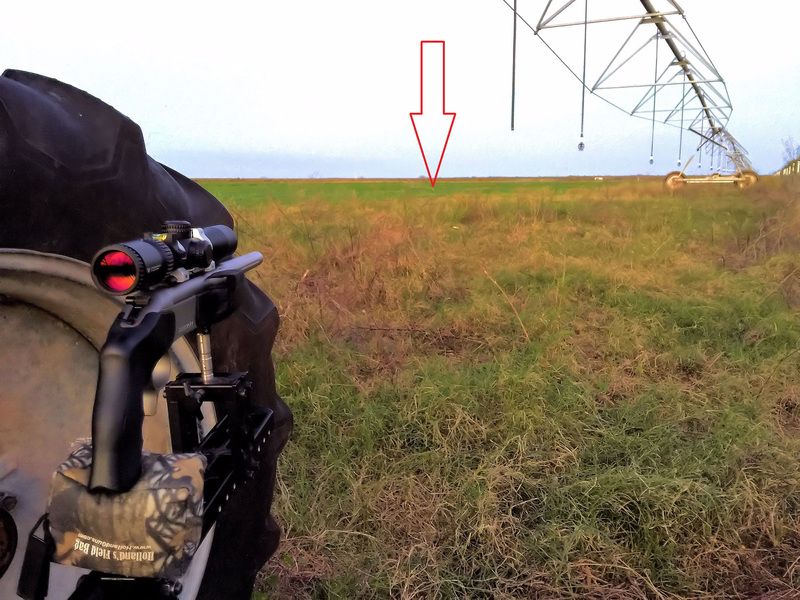 Allrightythen! Two down!
I look to my right and see more deer entering the south side of the field. in the binos, I see a pretty good buck walking my way! Crawling back to (
A
), I set up the CVA again and start digging for a round in my ruck. Keeping an eye on the buck........he's getting CLOSER! Get a round.....load the CVA.......sucker ain't stopping! At "danger close", I say screw it and draw the Ruger from behind the blind. As I bring it over the blind, he sees me and stops dead. Cock the hammer and "BOOM"!!! He leaps in the air and runs.......right AT me! Banzai!!!! About 10 yards away, he turns to my right, makes it about 5 more yards and his head goes down. Ramming his antlers in the dirt, he flips end over end and lands in a heap.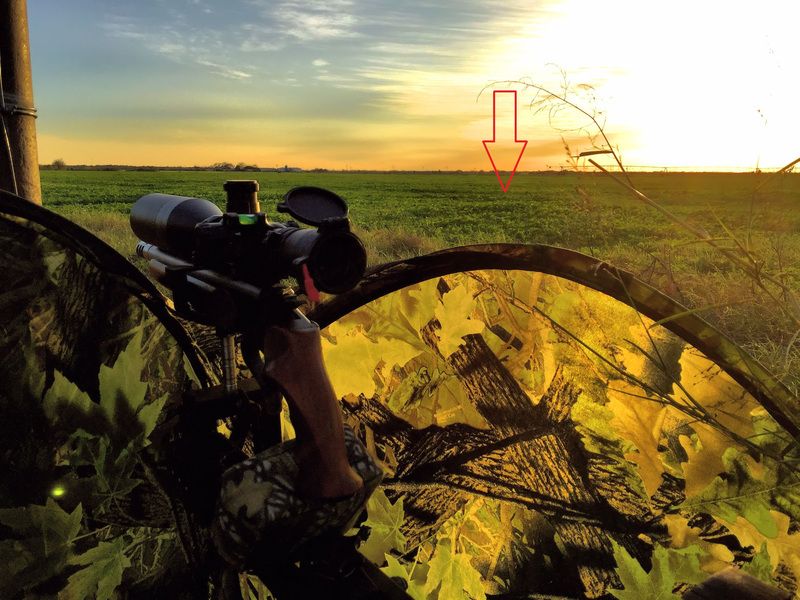 Well, there ya go.
3 Deer
3 Guns
15 Minutes
That's a first for me. And .............the work began.
.223 Remington w/ 80gr A-Max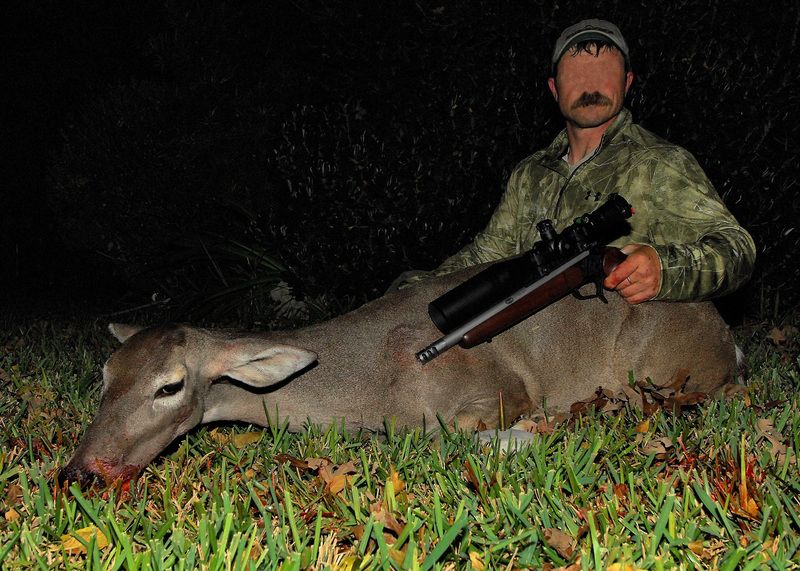 .243 Winchester w/ 85gr Sierra HPBT-GameKing
.45 Colt w/ 250gr XTP
The bucks ain't huge, but they are all good size bodies. For straight up handgun hunting.............I'm a happy camper.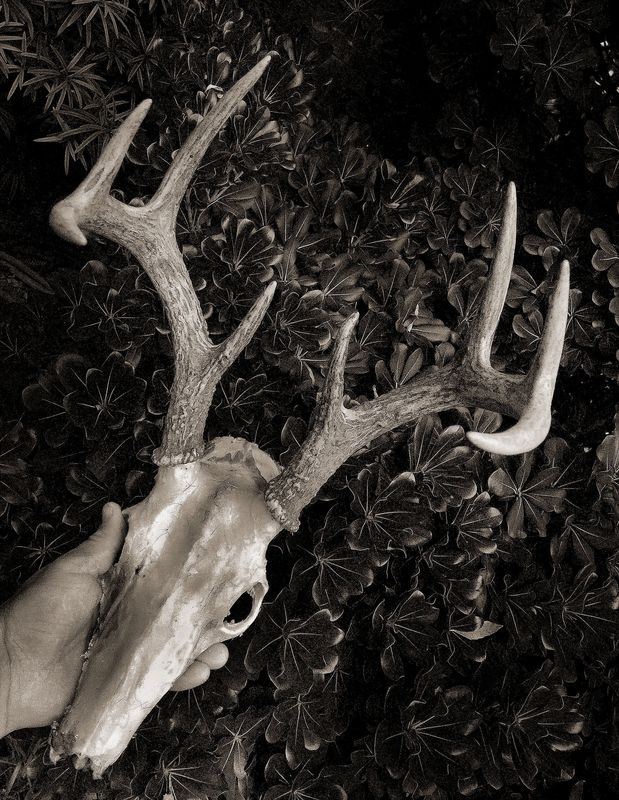 Science post later this evening. I got's stuff to do.
Here is an overhead view of the field and my blind location.
Doe - 1
Eight Point - 2
Six Point - 3
"To Hell with efficiency, it's performance we want!" - Elmer Keith