Home
›
Main Category
›
Hunting
.35 Remington Doe
My friend called me this morning and matter of factly said, "Here is the game plan. I'm gonna help a guy with load work on his .22-250 at 2:30 this afternoon. I'm gonna get it done as quickly as possible. Then, I'm gonna call you and you're gonna come over and shoot another deer."
My response? "Ok."
So, 2:45 rolls around and my phone rings. "Come on."
"Let me put my shoes on and grab my stuff. Be right there."
"You hunt barefoot. You don't need shoes."
Which is sometimes true. But, I threw on some shoes just in case.
I arrived at his place in a little warmer temps than we've had the past few days. Yuck! But, I'd rather be outside than in........so let's get it on.
We corned the road and climbed up on the knoll. Today I'd brought my TC G2 with 14" MGM .35 Remington barrel shooting 180gr Hornady XTP handloads.
With the warmer temp, things were kinda slow at first. Eventually, so younger deer made an appearance.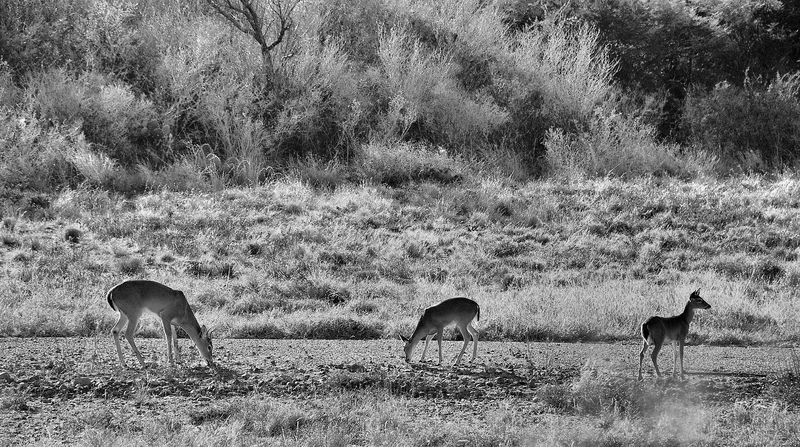 Then, a herd of axis bucks showed up and started pushing the deer around.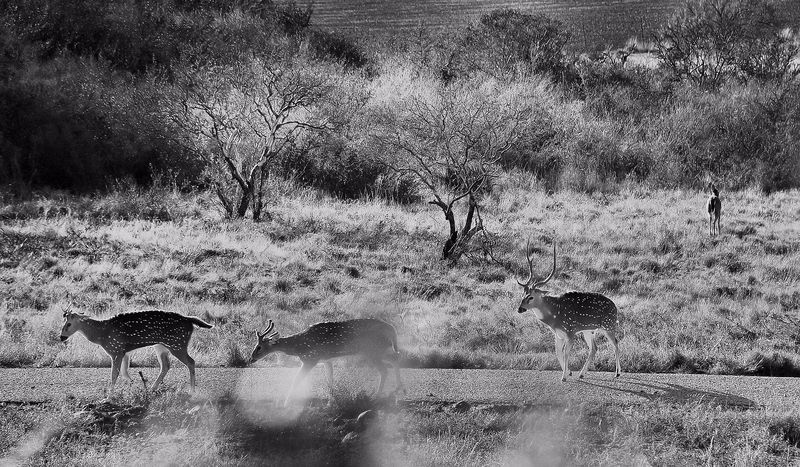 It's interesting that axis bucks lose their horns at different times of the year. So, you can have some with horns and some without any given month.
This boy, though not huge, had some serious daggers on top!
Between the band of axis and a herd of cattle that came through the draw, it wasn't looking good for the deer.
My friend was not happy.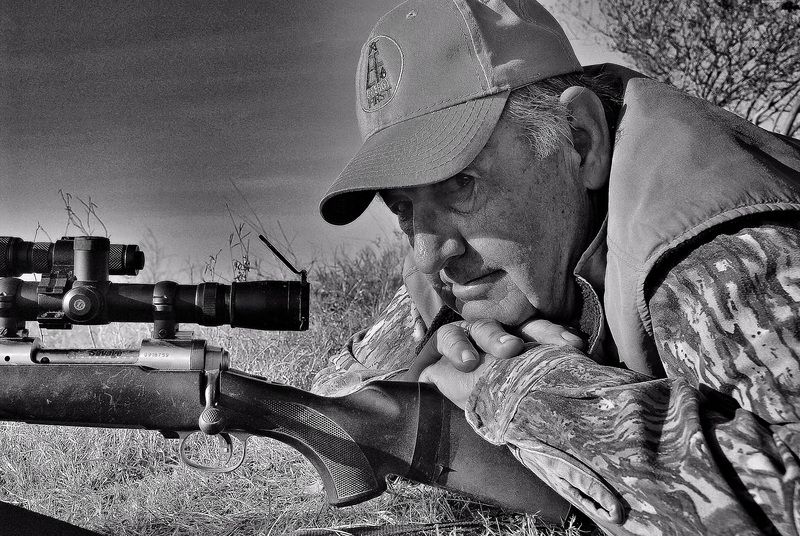 So, we backed out and crawled along a stone retaining wall to the other side of the knoll and a view of the flats.
Here, I set up next to a persimmon bush and leaned over the top of the retaining wall. for cover and support. Actually rather comfortable. And, we waited.
The temps began to slowly fall as the sun got lower in the sky, and the deer began to move. Coming from the opposite hill and crossing the flats, the numbers began to increase until we had a pretty good group below us. Young does with yearlings, small bucks, and a couple good sized suckers. We whispered and glassed over those below us and he finally picked out a doe he wanted me to shoot. But, she was currently obscured by some brush and I waited. While doing so, I see another doe come around the corner of the knoll and immediately see that she is somewhat emaciated. Her ribs and backbone are prominent and protruding from under her skin. I slowly look over my shoulder at my friend and he mouths, "Shoot THAT one!"
Right on.
And then she goes behind some brush. Figures.
The next 10 minutes are spent waiting for a clear shot. She moves around feeding, but always obscured by brush, another deer, or facing the wrong way. Then, I notice the deer getting antsy. Looking left, I see the axis approaching. Crap! My doe takes a couple steps forward towards them as if trying to decide what to do. There is my chance!
Quartering slightly towards me at 50 yards, I place the reticle low in her chest and right behind the shoulder. "BOOM!"
The gun goes off and I see her hunch slightly. Then, she begins to walk forward. Not run..........walk. I look behind me at my friend who has been watching her with binos. "She's hit", he says. Looking back, I see her briskly walking away in a half circle down into the grass. She stops, splays her legs, and immediately falls over...........dead. She traveled a total of 31 yards after impact.
A very peculiar and anti-climactic reaction. But, definitive. Arriving at the POI, I begin to pace off her route of travel to determine how far she'd gone. In the process, I'm looking at the blood trail to see how well the bullet had performed. There is a fair amount of blood on the ground. Starting at the POI. Then, about halfway to her final resting place, I find a chunk of lung on the ground.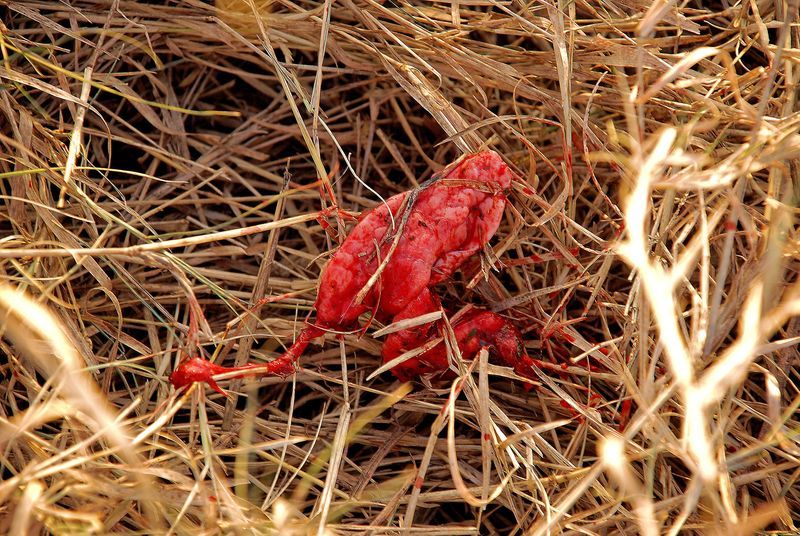 Interesting.
And her final place on earth. Entrance side up.
Here was my firing position. "A" is where she was standing when I shot. The red path shows her half moon path to where she fell at "B". She didn't go far.
Another fine doe and another fun experience with my friend. By the way, watching an old guy crawls and duck-walk is a jovial sight.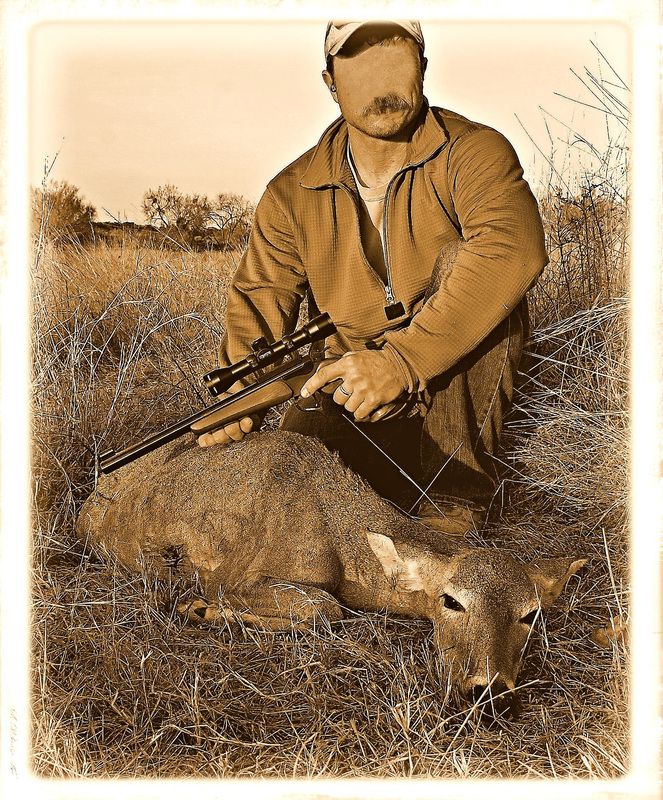 "To Hell with efficiency, it's performance we want!" - Elmer Keith