Home
›
Main Category
›
Hunting
My Son and his SECOND buck!
It was crazy windy this morning when my son and I went over to my friend's ranch to visit and hang out. After a little bit, I needed to run some errands in town. But, before we left, my friend said that if the wind died down.........my boy could come out and shoot another deer! Woohoo!
About 2 o'clock, he called and said to come on out when we could. Still running around, we didn't get out there until just before 4 o'clock. So, we hurriedly drove out to the brush, built a quick blind, and threw out some corn.
The shot would be somewhere between 50 and 115 yards, depending on where they came out. The wind was still whipping, but it was in our faces and figured we'd be ok. After about 20 minutes, a yearling came out and began to feed. So, we watched and practiced on her. Then, a spike (trying to be a 3-Pointer) came out and my friend said he could shoot him. I asked if he was sure and he said that he needed to take out some small bucks this season as well. That's all I needed to hear. So, I got my boy behind the rifle and started coaching him for the shot. Due to where the buck came out, my boy was up on his knees trying to aim in. I saw that he was not steady in that position. I asked if he wanted to sit in my lap and he said, "Yeah. I'm a little excited and can't get still."
I hope that excitement never goes away.
Anyway, he got set up in my lap and I started the video. Unfortunately, the entire video is too long to download. But, in it you hear us go through the coaching sequence. He's in my lap, the camera is rolling, I'm looking through binos over his head at the deer..........he's ready.........I tell him to squeeze the trigger..............and my little man sends a 105gr A-Max out of the .243 Winchester across 87 yards and into the buck's heart.
If you've never experienced such a joy..........to have your boy in your lap while he shoots a deer............I can't express the pride, honor, and exhilaration. It's enough to bring a tear to your eye.
At the shot, the buck leaps in the air and does a 180 in the process. Covering about 6 yards with that single bound, he lands and runs about 6 more yards, just out of view of the camera. Stopping in front of a mesquite tree and behind a bush, my boy can't see him. I'm looking through the binos and burning through the bush at the deer. My boy asks in an excited voice, "What happened? Where did he go?!?"
"He stopped right there behind the bush." I tell him. And a second later, the buck falls over. "He's down!"
"Yes!" Exclaimed my boy.
My friend smiles and punches my boy in the shoulder. "You're a Hell of a shot, young man! I've seen grown men come out here and miss or wound deer no further than yours. You're two for two!"
I was a proud dad.
We gathered our things, walked down to the buck, and thanked God for the gift of friends, and the outdoors.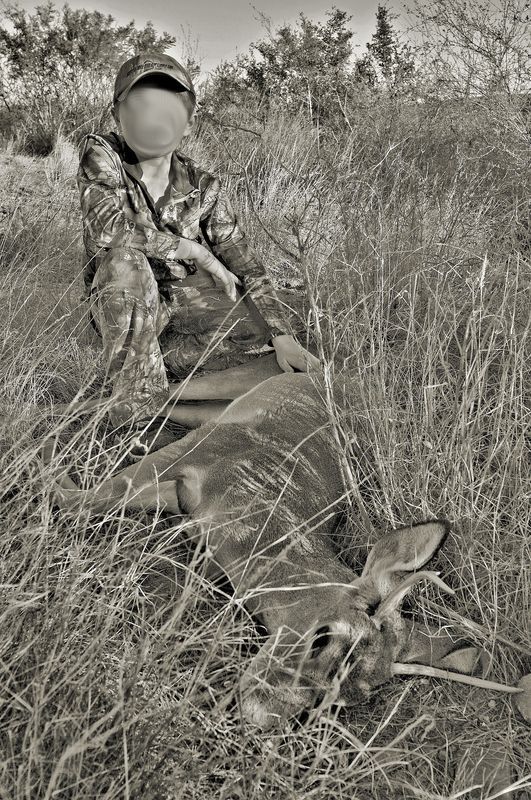 My boy is becoming a young man before my eyes.
"To Hell with efficiency, it's performance we want!" - Elmer Keith