Home
›
Main Category
›
General Firearms
Subsonic vs. Hi-Vel - A fun test.
Zee
Senior Member
Posts: 28,069
Senior Member
My friend had a big buck with a wound on the front of his chest from fighting. It had become infected and grown to a Volley Ball size gelatinous growth that causing him to limp badly while the rest of his health deteriorated. He had spoken with a vet on the many options available. Darting to inject medication required a bunch of paperwork and regs and there was no other reliable method to administer meds. So, he asked if puncturing the abscess in some way might help. She said that if he could drain the wound without causing more damage, that there was a chance it would heal.
Break out the guns!!!
We worked up a subsonic load with his .223 Remington using 65gr Soft Point bullets. Not knowing what would happen if he shot the abscess, we needed to properly test the hydrostatic results. Science!!!
We lined up several water jugs at 20 yards to see how many it would penetrate and what the hydrolic properties would be. Turning the first jug on angle, to mimic a grazing shot on the very edge of the abscess, we readied to record.
Here is the video.
http://vid26.photobucket.com/albums/c106/lovinmycaitlynn/Shooting/65gr%20Sub%201_zpsc3efrrs2.mp4
The bullet penetrated through the corner of the first, passed through the second and third, and dented the front of the fourth, falling to rest on the board.
Then, just for laughs, we decided to line up the jugs and compare the results to a 52gr Hollow Point at high velocity and let my boy have at them.
http://vid26.photobucket.com/albums/c106/lovinmycaitlynn/Shooting/52gr%20HP%20HV_zpsoj9moe0x.mp4
The bullet penetrated 2 jugs and the rear of the jacket was recovered.
Quite a dramatic difference between the jugs and the recovered bullets.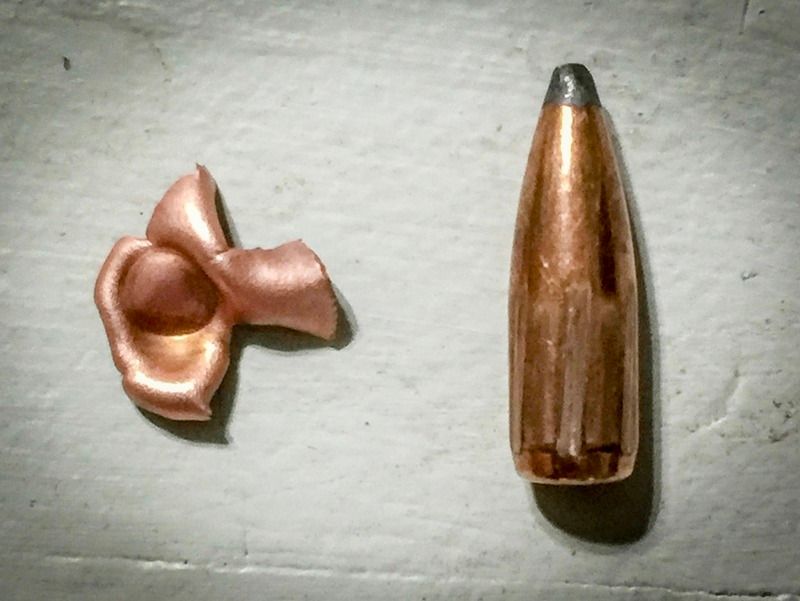 Wednesday evening, he got a shot at the buck and said there seemed to be no result. Unsure as to whether he hit the abscess or not, he tried again on Thursday evening. Stating that the result was almost identical to the sub load water jug result. Yellow **** blew out the back of the wound in a large torrent. Not the vaporized spray of the higher velocity bullet. He then ran off leaving a trail of **** on the ground as he went. Following it for a distance, my friend said he found no blood on the ground.
I am waiting to hear how the buck looks now.
"To Hell with efficiency, it's performance we want!" - Elmer Keith