Home
›
Main Category
›
Hunting
Cull Buck with the .243 Winchester
General season has closed and it's doe/spike season until Sunday. But, on my friends place, his management tags run through the end of February and he decides what they are used on. So, he wanted me to come over this evening and try for an Axis doe/spike or another whitetail.
We checked out a few spots for Axis, but were unable to locate any moving around. In one spot, we saw several yearling whitetail and Axis but, nothing to shoot. While we waited, I saw a Grey Fox come out of the brush about 15 yards in front of us. I whispered "Fox" to my friend and as it walked behind a tree, he raised his Ruger 10/22 rifle. When it came out from behind the tree, my friend squeaked at the fox. It stopped and looked our way.......only to catch a .22 bullet between the eyes for his curiosity.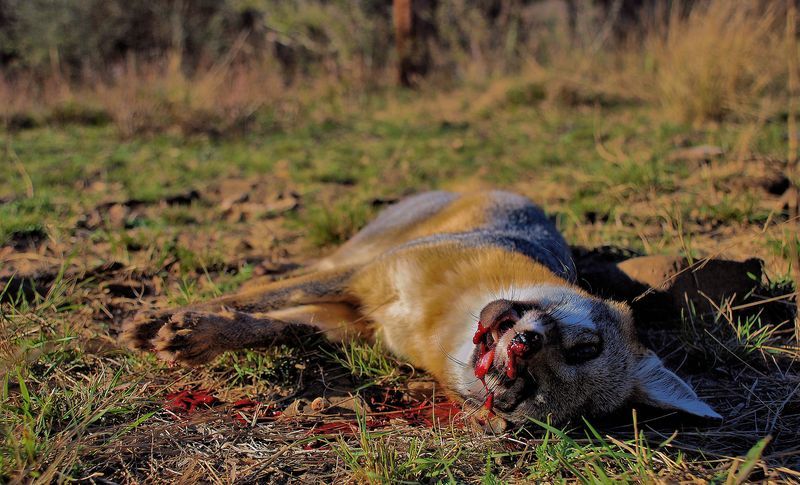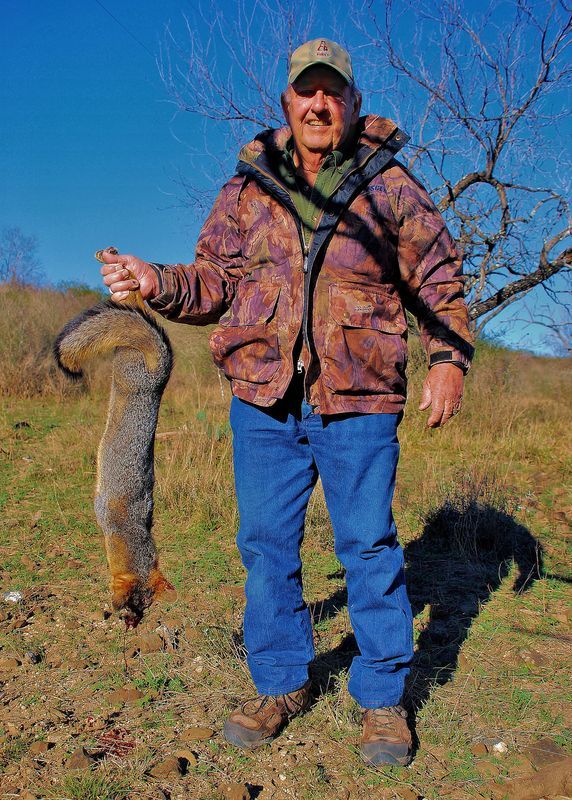 With that disturbance, we packed up and headed to our usual hilltop knoll and waited. Eventually, an Axis doe, and 3 yearlings came out there as well. But, none were shootable and we continued to wait.
The sun was setting in our eyes and time trickled by with nothing else appearing. The temp was dropping and the cool breeze was kicking in. A great time to hunt.
With nothing moving, I crawled to the back side of the knoll to glass the far hillside. I saw a bunch of deer crossing the fence and entering the flats. Among them I saw what appeared to be a huge 6 point heading our way! Moving back over to my friend, I told him about the buck and that I wanted him to see him. To decide if he thought he was a cull or not. We held our position, figuring he would make his way around the knoll from our right. But, time went by and he never came. The Axis doe and yearlings were still out and some other whitetail had appeared. Two of which were a rear big 8 and a real old 10 pointer. Otherwise, just some young does and bucks.
The sun set and we had about 30 minutes left. I figured we were lost on our chance to see the 6 pointer again. Then, he suddenly came running out of the brush from our left! That sucker had circled around BEHIND us and our hill to enter the brush and come out on our left! I told my friend, "That's him!"
We both glasse him and realized he was actually a 7 point with 3 on the right and 4 on the left. Plus a kicker on the left base. Either way, he had a lopsided rack and should have been better for his age of 4 plus years. My friend said, "Take that ugly bastard." Roger that!!
I aimed in and waited for him to turn broadside. He eventually turned and placed both legs forward.............and I sent a 105gr A-Max from my .243 Winchester through his heart at 76 yards.
The impact echoed back at us, the buck hunched up and took off the way he'd come. Plowing through the brush and over the ridge, I heard a crash and figured he'd fallen. We gathered our stuff and headed over to where he had stood. No immediate blood on the ground, but I followed his path and as I entered the brush, I began to see blood on the ground. The blood increased until I topped the ridge and saw him laying on the trail. Dead as could be after a 45 yard run.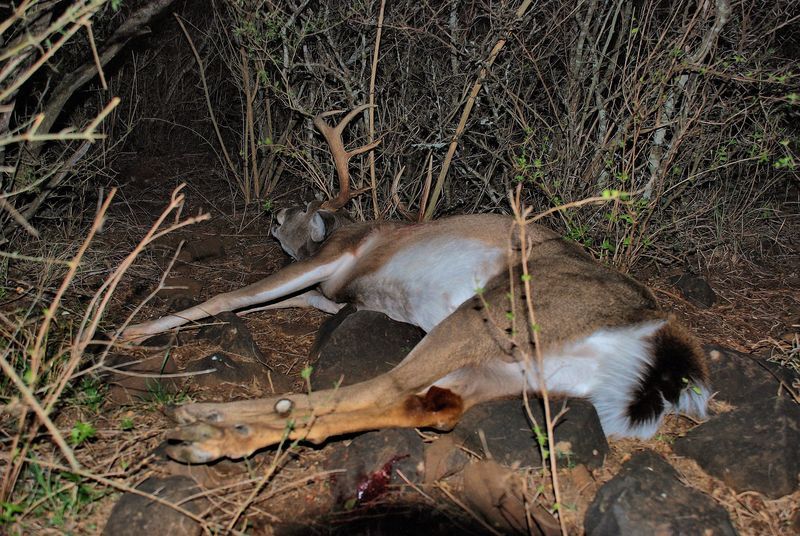 My friend didn't like having him in the herd, but I was one happy camper to have been able to take him. He's my biggest buck in the past couple years and I am MORE than proud of him!!!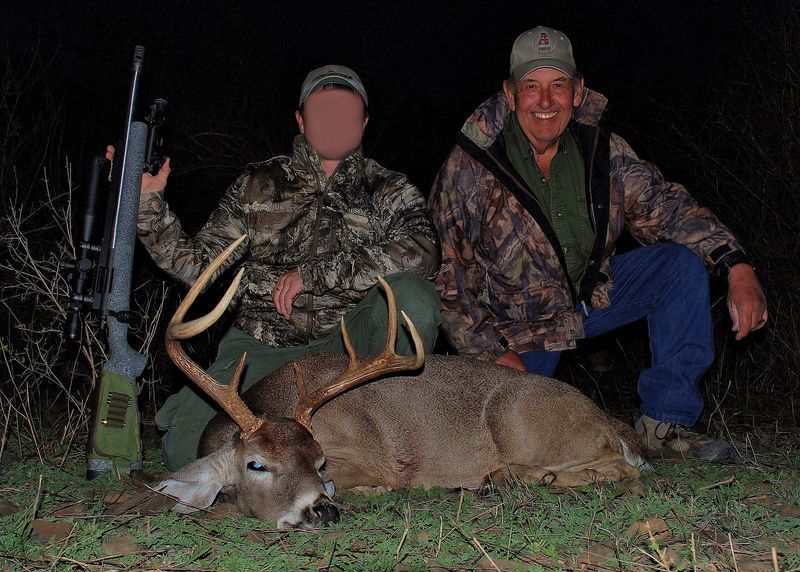 Back at the barn, I quartered and cleaned him. Sparing you the autopsy as you've already seen plenty with the 105gr A-Max. The bullet split his heart in two pieces and thrashed the lungs. Doing considerable damage to the thoracic cavity as usual. I know there are bigger and badder cartridges out there........but........I'm here to tell you that the .243 Winchester is a damn fine deer cartridge and probably one of my favorites. The numbers keep adding up and I may well exceed my .308 Winchester total here soon. This little cartridge just keeps dropping them like flies!!! A damned adequate deer cartridge, I might say.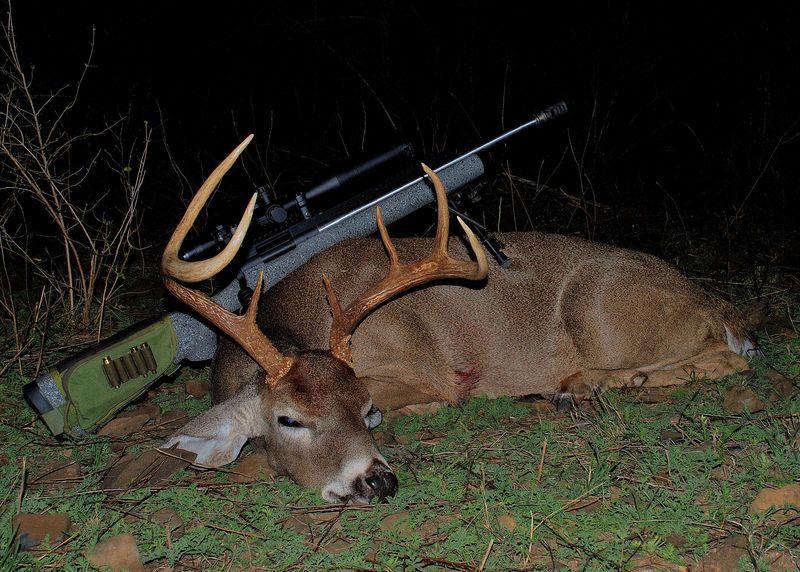 Another wonderful evening with a great friend in God's country.
"To Hell with efficiency, it's performance we want!" - Elmer Keith