Home
›
Main Category
›
Personal Defense
Beretta Nano - Personal Report
NCShooter
New Member
Posts: 21
New Member
My ship came in just before Thanksgiving and I received one of the first 9mm Nanos shipped. Did not get the opportunity to test it out until recently. Thought I'd share my findings. Fired 50 TulAmmo, 4 of my reloads and 4 Hornady Critical Defense rounds. No issues. Smooth and accurate.
The gun is pretty small, kind of the size of a Ruger LC9 or Glock 26, which is what I wanted for CCW. Fits comfortably in a thin holster in my jeans front pocket or IWB. Most comfortable IWB carry gun I have owned. There is no room for the little finger on the grip but the gun feels good in my hands and the recoil is not troublesome at all. I have a problem with my strong side eye that causes my sights to be a bit fuzzy, but at 30 feet freehand all shots were on target, although slightly right and slightly low. Sights are easily adjustable, but I am going to wait until I have more rounds fired before moving them around. As is I have no hesitation to carry it.
It looks and feels a lot like a Glock 26, but is thinner and with rounded edges. Goes into my IWB holster easier and flatter than did my 26. I was impressed with the quality of the components. Metal rails for the slide to ride. Heavy duty recoil springs, but it is not at all difficult to rack the slide. Trigger and striker springs also look strong. All in all I am very pleased. I suspect the price will drop as the supply increases but I was happy to pay the $474 to get it now.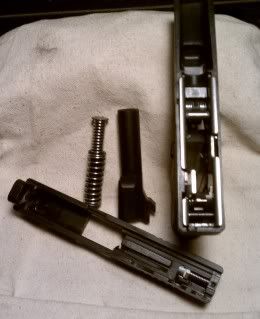 Split trigger like a Glock but I did not notice it when shooting. The only Glock I have now is a model 34. That has a light pull from the factory and relatively short length of pull. This is heavier and longer, but no where as heavy as my S&W Chief's Special. I'd say that it is comparable to Para's LDA setup. Traditional length of pull for a DAO gun and maybe set to 10 - 12 pounds. Slight takeup at the start and fairly smooth till break. I'm sure it will get smoother with a couple hundred rounds fired. One of the things I look for when dry firing is to see if the gun jumps as the striker releases. This does not. All in all, not bad. Not like a 1911, but pretty good for DAO.
Takedown. After clearing the gun, you can push a small pin on the side to de-cock it or you can dry-fire in a safe direction. Either works. Rotate the catch slot to the rear, from vertical to horizontal, and push the slide off the gun. Simple. Slightly rotate the catch slot back towards vertical and it snaps into place when you slide the slide back onto the frame. Overall, the gun is well designed to be simple and straightforward, but rugged. The side rails seem to have a sharp edge, which did not effect function and I assume will smooth with time or a stone, but will last a lot longer than plastic. Full length to give the slide plenty of support. I am really impressed with what they put into this "entry priced" carry gun.
Works for me!