Home
›
Main Category
›
Hunting
The Boy Strikes Yet Again!!!
The Little Man is on a roll. Went hunting yesterday evening as it was nice and cool with a bit of a breeze. Set up in the blind was really a two man deal, so I sat on the stairway platform outside the door.
While we waited, my boy introduced our friend to the intricacies of all things Angry Bird.
Eventually, several does and some yearlings showed up. Followed by a 7 point and a 9 point. But, the bucks were a little spooky with the wind and didn't hang around long. We picked out a big lone doe and got set up for a shot.
The target doe was covered up by another one so my boy held his fire until she turned back the other way. Slightly quartering towards us at 120 yards, he put a 105gr A-Max perfectly behind her shoulder. On impact, she jumped and ran across the sendaro and into the brush. It looked and sounded like a good hit, so we packed up our gear and gave her a few minutes.
The doe he shot was standing at the big red big red arrow and ran to the left of the picture into the brush.
When we arrived at the location, there was a good blood trail. So, we started teaching my boy how to track. Finding a big chunk of lung along the way. Evidence of a good hit and the effectiveness of the A-Max.
The big doe only ran 21 yards after the hit. A short run with a good blood trail. The result of a well placed shot.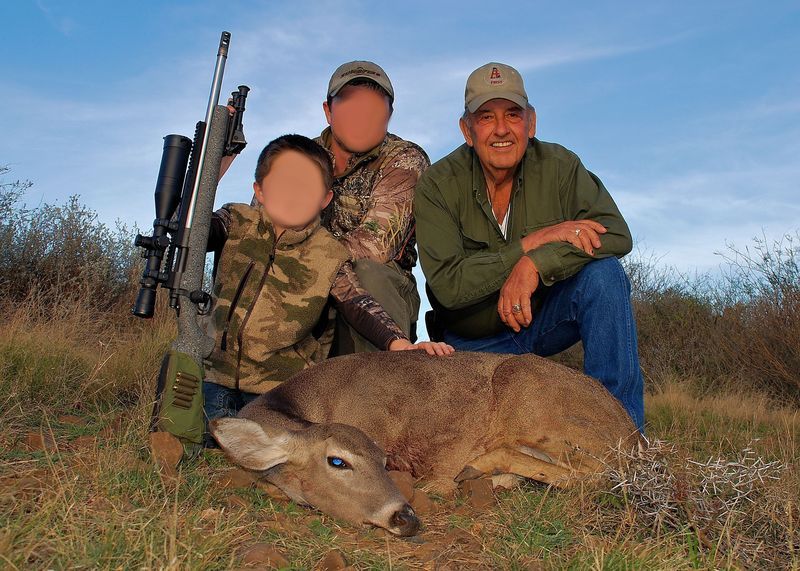 Entrance:
Exit:
The bullet struck the heart, yet again! Shredded the off side lung and minced the liver. At least this time, the heart was salvageable! As he didn't blow it up for once.
Yet again, I'm proud of my boy. He is getting faster at getting on target and this time, I didn't coach him at all on the shot. I heard him talking himself through it.
"Follow the back of the front leg to the chest. Halfway up."
"Boom!" Nailed her.
"To Hell with efficiency, it's performance we want!" - Elmer Keith