Home
›
Main Category
›
Personal Defense
AAR: Talon Defense. Handgun Manipulations and Defensive Handgun.
Eli
Senior Member
Attalla, Alabama.
Posts: 3,074
Senior Member
This past weekend I attended the Handgun Manipulations and Defensive Handgun class (beginner and intermediate level classes). The class was put on by Talon Defense/Chase Jenkins at the Double Tap Training Grounds in Calera, Alabama. The intent of these classes are to get shooters familiar (or re-familiarized) with the basic fundamentals of running a handgun safely in your daily environment.
The equipment list for the class is a quality handgun, at least 2 spare mags (or speedloaders), a quality gunbelt, a holster and mag-pouch, eye and ear protection and hydration. You're also advised that the class does a "working lunch" and that you should bring food/snacks to eat during down time throughout the day.
I've taken both of these classes before, but it's always good for me to go back to re-evaluate the basics. Another reason that I wanted to take these classes was to test out a couple of guns that I've been carrying lately. I'd already put several hundred rounds through each, so I was confident that they were reliable, but I wanted to run each of them in a semi-stressful environment. The guns that I wanted to test were my Springfield MCO and my Rol-ish Special (Gen4 19 with a SilencerCo barrel and a TBRC comp). Both of these were wearing Surefire X300Us (this is my EDC light on my 17A) and both were run IWB. The 1911 was carried in a JM Custom Kydex IWB and the 19 was in an Alpha Concealment rig. Both holsters worked perfectly. If you're looking for a traditional IWB (especially a light-bearing IWB) I recommend either of these wholeheartedly. I ended up putting about 300 rounds (of crappy practice ammo) through each one. Neither handgun experienced any non-intentionally induced malfunctions. I was already confident enough in the pistols to carry them, but now I'm even more so.
Day one of the class (Handgun Manipulations) starts with a classroom portion, going over the basic fundamentals of handgun operation and a VERY in depth review of safe tactics. Chase doesn't like to use the term "range rules" because of the sub-conscious connotation that they only apply while you're at the range, which makes sense to me. It is stressed extensively that in a violent confrontation, you have to be aware of everything downrange and that "downrange" is very situation dependent. For example, you're involved in a gunfight in a crowded mall/restaurant/shop, everything in between you and the bad-guy, as well as everything behind BOTH of you is technically downrange. Part of what is covered in this portion is how you interact with friendlies in these situation. If you have non-fighters with you, your instinct is to put yourself between them and the bad-guy, or you tell them to run, their first instinct is probably to run directly away from the bad-guy. If the bad-guy starts shooting at you, then the people you care about most in this situation are now downrange.
Some various scenarios that one might find themselves in nowadays is also covered. The fact that gunfights are occurring at longer distances and are taking place over a longer period of time now is also covered. Chase reviews several recent shootings or gunfights and points out the differences to "traditional" gunfights. Especially considered are the new "active killers" that seem to be popping up with an alarming regularity.
For the most part, these classes are limited to less than a dozen students. This particular class was different from most others in that, Chase made the offer that if you were a TD alumni and brought a new student, your class was free. As a result there were about 20 students, but all the alumni were semi-tasked with keeping an eye on the first timers to insure that everything was kept safe.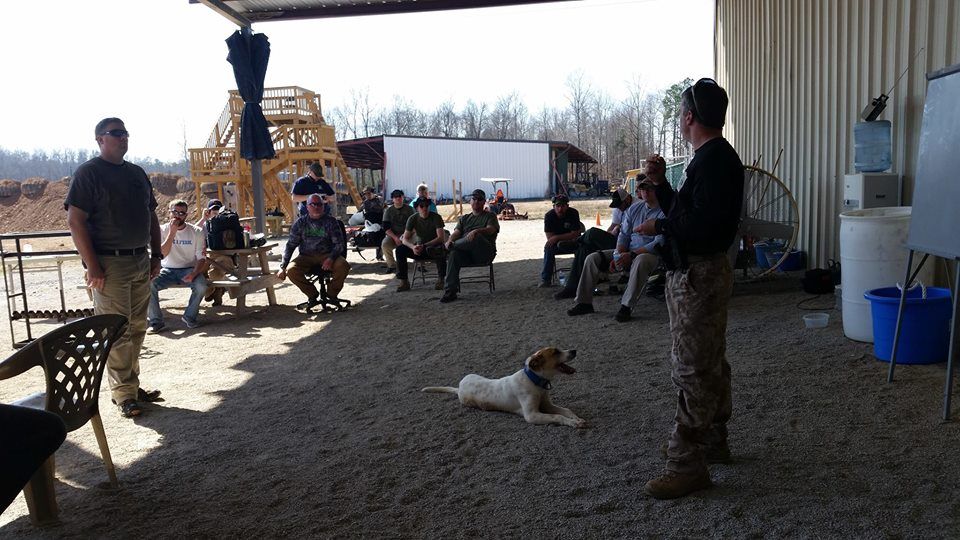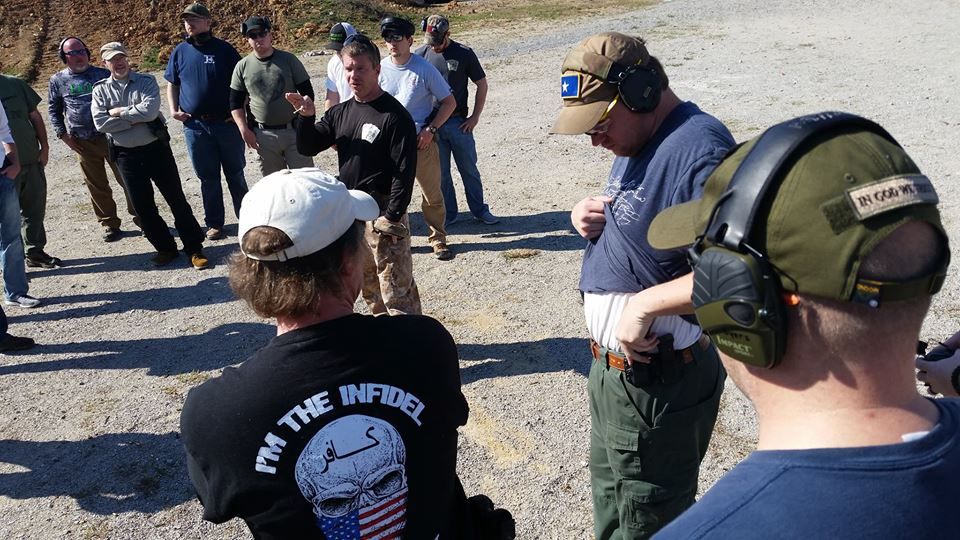 Once out on the range we did several short drills to establish everyone's baseline. During this period Chase watches each student and reviews their targets, addressing any issues that the students may have. Any issues that are present, Chase takes the time to work with the student to fix any issues the students may have.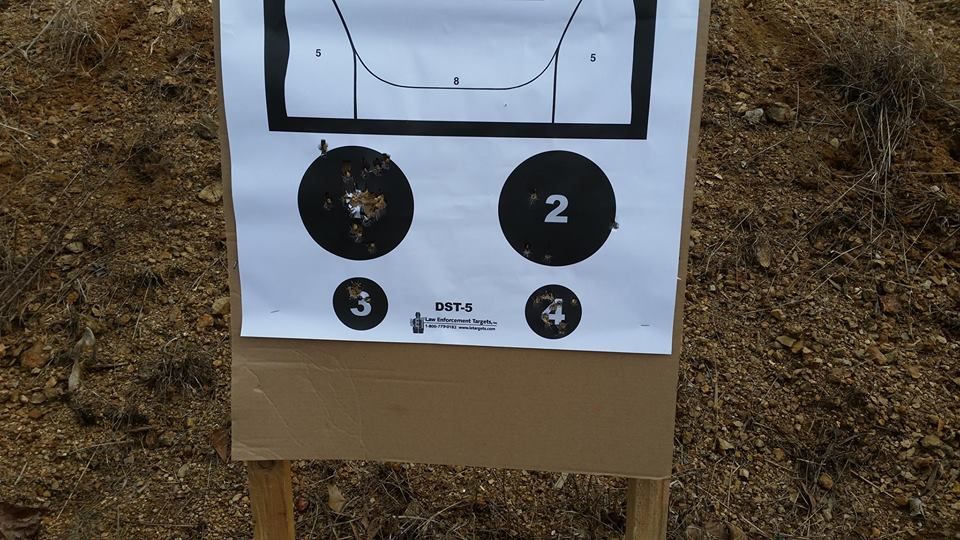 After working out any issues that the students may have with holstering/unholstering safely, the draw stroke, and simply putting the rounds where they are supposed to go (which is done until all of the students are comfortable performing each of the drills), the class then moves on to manipulation of the handgun during reloads, and finally the class wraps up with malfunction reductions. Chase explains what each type of malfunction is, demos each type of malfunction reduction several times, and then walks each student through malfunction reductions. One of the final drills has each student grounding their gun and walking about 20 yards away from the line. Chase then goes and sets up some kind of malfunction in each of the guns on the line. Once all of the malfs are set up, the students have to sprint to a gun that is NOT their own, clear the malfunction, and get rounds on steel.
Day two (Defensive Handgun) starts in the classroom again. Once again there is a very in depth safety brief. Chase goes over a review of safe tactics, manipulations of weapons in crowded areas, and situations that you may find themselves in. Day two is almost exclusively about fighting in situations that you don't want to be in (no sh!+, right). After a short ballistic refresher where the students are run through several high-round-count drills and some distance work, the students are moved to ground fighting. Chase demos fighting from the ground, from standing, and all positions in between and how to work from position to position. Students are also walked through reloads and malfunction reductions while in each of these positions (on you back, sitting, kneeling, standing), and how to not put unwanted holes in yourself while performing these tasks.
After several reps of the groundwork portion, the class moves on to fighting from an awkward seated position (such as in a car or in a booth...this is simulated with a picnic table). The student has to be very conscious of their drawstroke, being sure to not flag themselves, their partner, or to whack their blaster on the environment. At this point we also had to search for the proper target. There were three different target bays and each bay had four different colored targets. Chase would call out a number and color or multiple numbers and colors and the student had to put several rounds on the swinging steel plates. Since he's a bit of a d!ck, Chase sometimes calls out numbers and colors that aren't there...which does a really good job of reinforcing that not every situation that requires a drawn gun will also require a launched projectile. During lulls in the action, the student and their partner have to work their way to standing, and then extricate themselves from the situation...new numbers or colors can be called during anytime of this process. Also during this entire process, Chase keeps poking his damned stick in places it doesn't belong...namely, the slide of you pistol...which generously gives the students more opportunities to practice malfunction reduction. Hey, value added!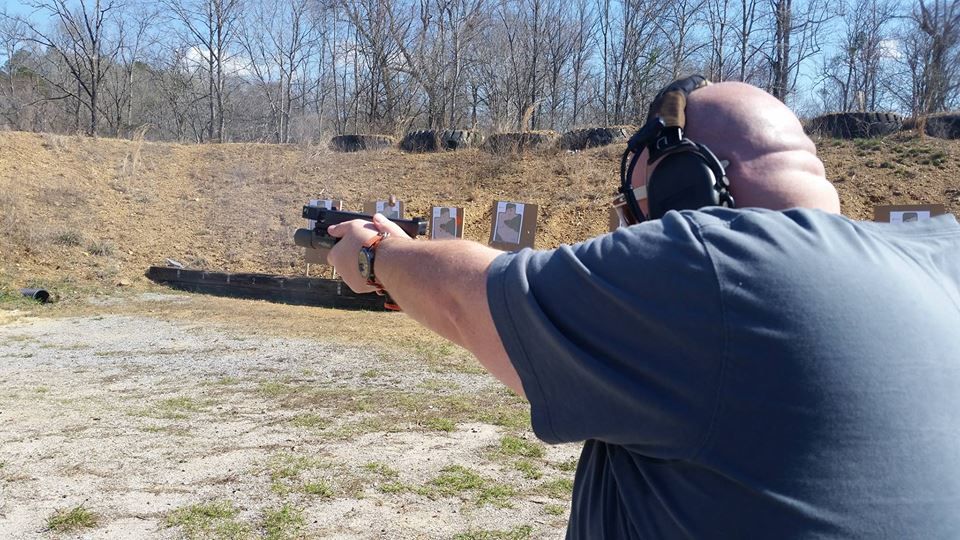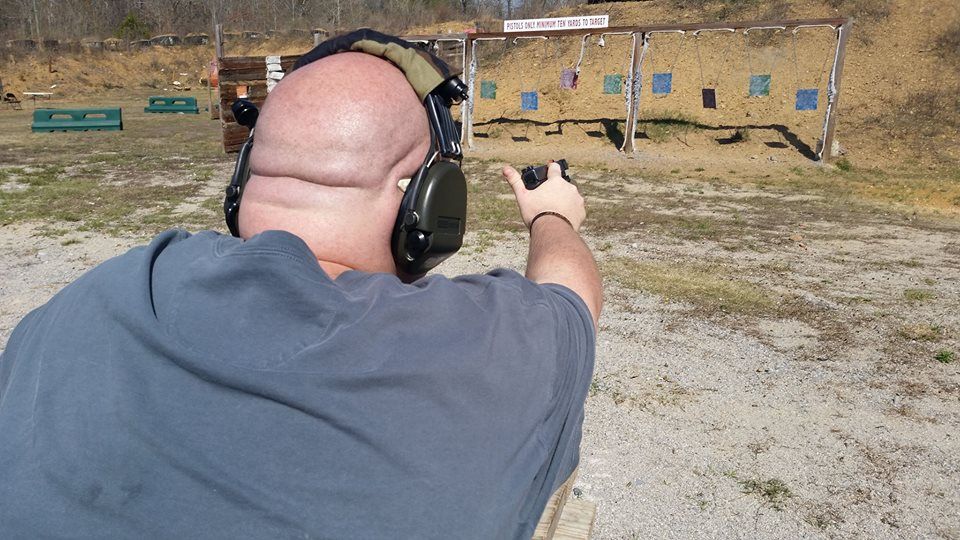 Day two is wrapped up with an absolute beast of a drill. You are still in the the same situation, but there are about 20 no-shoots/innocents placed in between you and the bad-guys. You have to engage the bad-guys, fix malfunctions (of which Chase induces several), do multiple reloads, and extricate yourself from the situation...all while not flagging the innocents. The drill is run several times, because quite honestly, the first run is a bit of a soup sandwich. At first, when the numbers and colors are called out, you might not even notice that you are flagging the good guys. You are quickly reminded that you are screwing up, by Chase malffing your gun. After you run the drill a couple times, you get to be much more cognizant of your muzzle, while transitioning from target to target. Incredibly helpful drill.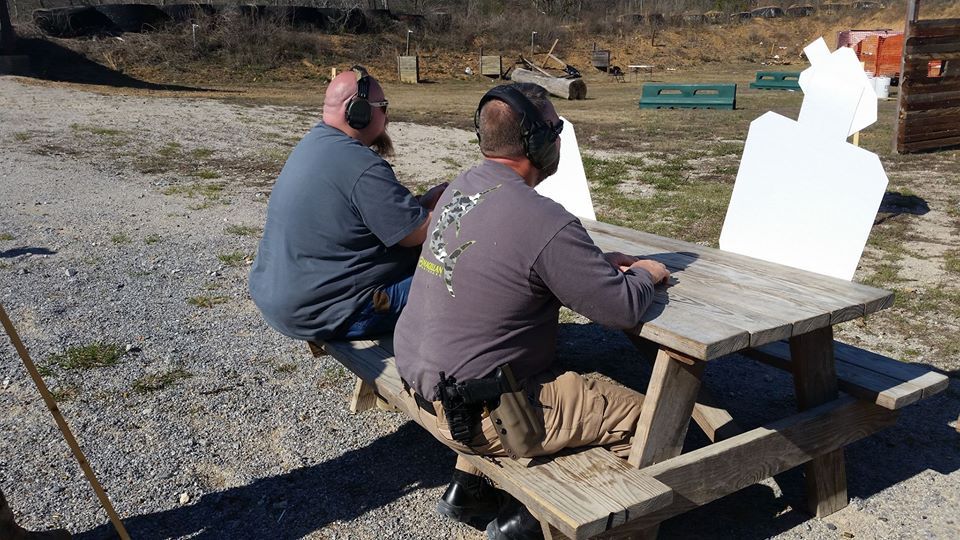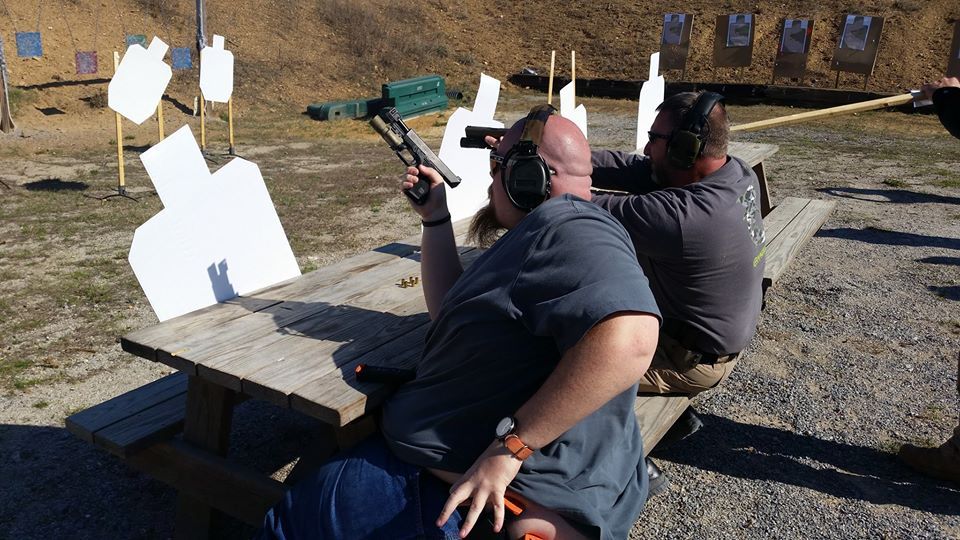 All in all, it was a fantastic weekend. The weather was perfect, the company was fantastic, and even though I've taken both of the classes before, I still learned or was reminded of several things. As I've said on multiple occasions if you have a chance to train with Chase/Talon Defense, take it. The knowledge shared is always top notch, the classes are very inexpensive, the company is great, and the classes are always loads of fun. Also, as much of an anti-social a$$h0le as I am, Chase is one of the few people in this world that I actually consider to be a friend. I've taken several TD classes over the years, and will definitely be taking more.