Home
›
Main Category
›
Hunting
Two shots two kills 10 min apart
Jeff in TX
Posts: 2,641
Senior Member
I'm in the middle of a conference call when Cousin Brucie sitting on top of the sofa and starts to bark. I look out and here trots a young coyote. I excuse myself from my call by saying I'll be right back. Grab the .243 and slip out the back door. I circle around to the front and slip around to the back of my truck. I ease the rifle over the bed of the truck. The coyote about 75 yards out catches my movement and starts to run. I swing on him put the crosshairs about just in front of his nose and squeezed the trigger. The coyote folded in stride and never kicked.
I went back to my call and someone said we heard a gunshot. Must have been the TV I said. Ten minutes later Cousin Brucie starts barking again. Look out and there's a big coyote checking out the one I shot a few minutes earlier. Again, excuse myself from the call and slip out the back door and around to the truck. Easy standing shot, he dropped where he stood, right next to the previous one.
Come back to my call and someone said we heard another gunshot on your TV at which time someone said what were you shooting at. I sent the pic and they chuckled.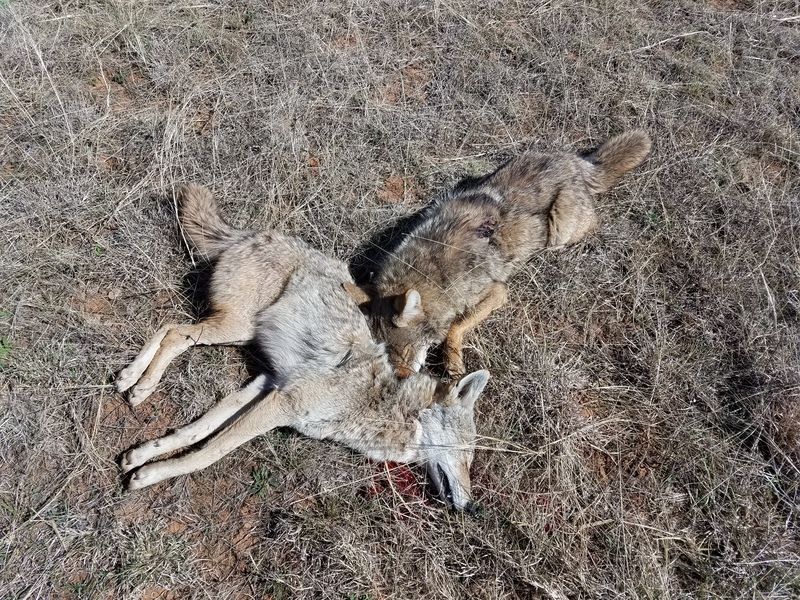 Distance is not an issue, but the wind can make it interesting!

John 3: 1-21