Home
›
Main Category
›
Hunting
Meat hunt with a bonus.........
Bloodhound and I have been meaning to upgrade the suppressor at the range so it is more user friendly. ( this is the quad bike tyre suppressor attached to the range bench).
Accordingly, we headed up to his range............and took our Sako 222's so we could have a 'meat hunt' after the work was done as both our freezers are getting low on venison.
After finishing 'work' we had sat back , relaxed with a cold drink ( non alcoholic) and at about 5.30pm we 'loaded' up and went for a stalk. On the list of targets were yearlings,spikers and bucks ......does were off limits as they could have fawns in toe.
The first hour we saw about 15 animals but non were 'shooters'. We met up a couple of times as we were hunting in close proximity in an attempt to bust animals out of some of the thick bush and we both took turns at being 'beaters'.
As the sun sunk low on the horizon, we met up again and discussed where we would do our final stalk. BH wanted to head up a steep gully we hadnt yet covered while I wanted to retrace my steps and hunt over some ground that we had been over.
We split up and went our separate ways. 15mins later I heard the suppressed 'bark' of his Sako and knew he had scored. ( He very very rarely misses) It transpired that he had stalked up on a group of does who were basking in the setting sun. They had no clue he was there and he took a headshot on a yearling at over 100m, dropping it on the spot.
When he fired his shot I was watching what I thought were 2 does and a yearling about 250 m away and was trying to figure out how I could stalk in closer to take the yearling. At his shot, the 3 animals moved around the side of a steep pine covered hillside and it wasnt till the last animal stopped on the brow of the hill that I could see it was a buck. After they had disappeared I moved briskly around the bottom of the hill to try and get into a position to ambush them.
Just as I entered the bottom of the next gully I could see them near the head acting a bit uneasy........no doubt due to the scent left from us when we had walked around the top of the same gully. They then reversed their direction and headed back the way they had come.......about 150 metres away and quite some distance above me. As I watched between the pines I saw the doe cross through a gap, then a second animal walked through quickly without slowing enough for me to see if he had 'sticks'. It then stopped with its head and shoulders obscured by a pine tree slightly facing with his left side towards me. Looking through the scope I couldnt tell if he was the buck .......and I didnt want to shoot unless I had positive ID on his sex.
I held on his front leg for about 20 seconds...........then he moved slightly and I could see his pistle hanging down under his body. Bingo, he was the buck!!!
I slowly took up the slack and the Sako 'barked'. I knew it was a good hit.......but saw the animal start running around in circles. After 3 or 4 small circles I lost sight of him..........then about 15 metres below where he was standing at the shot, I saw a ginger body tumbling down the hill towards me. I lost sight of it a couple of times but was confident he was down for good. After making my way up the hill, (talk about steep!) and climbing up a 30 foot sheer bank I finally found him.........dead.
Ranged the shot at 144metres up about a 45degree slope. Projectile was a Sierra 50gr Spitzer pushed by Varget.
Entry point was just behind his front leg, low on his body. The bullet passed through the buck and exited high on the offside about halfway down his body.
When I gutted him I found that the bullet had passed through the front lower left lung, entered his heart, exited into his right lung at the top rear and then passed just under his spine before passing out the off side.
This pic was taken where I found him. You can see the exit hole next to the sling.......
I dragged him down the hill to a flatter spot as I didnt want to dress him out on such a steep slope.........and took this pic. The entry point was low just behind his left leg.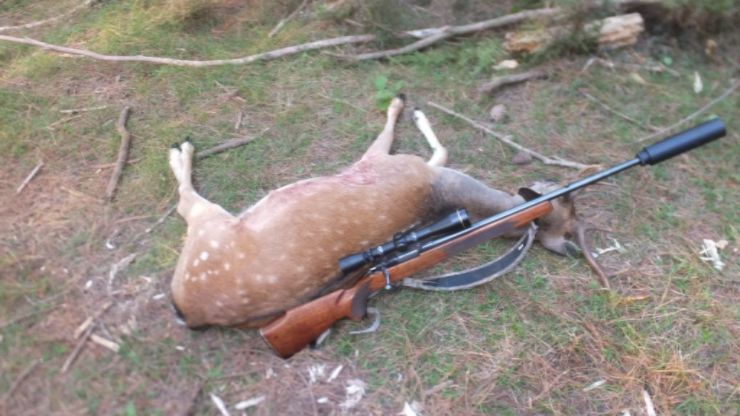 After opening my pack I found that the only knife I had was my benchmade.........had been rabbit shooting last week and must have taken my gutting knife etc out of my pack :bang: ............and the edge on the benchmade wasnt exactly sharp as I had been using it all week cutting plastic watering sytems etc. However Bloodhound kindly loaned me his knife which was razor sharp. ( Note to self: put a couple of fixed blades on my shopping list when I come over in May and keep one in each pack)
Bloodhound was kind enough to go get the quad while I field dressed it out and after loading it up, we headed back to the jeep.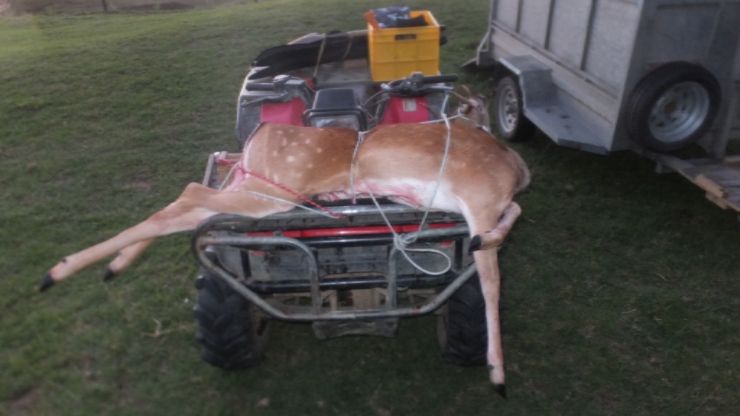 We ended up driving to Marks to put both animals in his chiller till next saturday as the temps over here are too hot to hang them in the meat safe for more than 12hrs. When we got to Marks, BH asked me if I wanted to keep the head........and I said yes. ( Not sure why as I normally dont keep the heads)
This morning I got a phone call from a Thai lady friend of mine and she asked me if I could keep the next buck head for a friend of hers. I asked her what her friend wanted it for and she told me her friend was married to a much older guy and he was having 'function' problems of the manhood........Her friend wanted antlers to grind up and make an old recipe which is supposed to 'improve performance. I told her that I had been hunting yesterday and sent her a pic of the antlers..........then got a reply back shortly afterwards to say that her friend would give me $100 for the head...........:yikes:
Rang Bh and told him and his reply was "You have got to be crapping me!!!!" ( that wasnt the word he used btw)
I think I will use the money to buy the knives..............
Still enjoying the trip of a lifetime and making the best of what I have.....