Home
›
Main Category
›
Hunting
62gr Barnes TSX Field Report!!
So, a certain Californian requested that I try out some .224cal Barnes bullets in my pig killing escapades. Seeing as he lives in a stupid state that is about to go all lead free bullets...........I told him.......Hell no!!! Well, actually, he asked if I'd be willing to work up some handloads with some Barnes bullets and I said no to that. I had no interest in working up loads for a bullet I wasn't interested in. BUT...........I'd be willing to test some ammo with whatever bullet he wanted.
So, a box of Barnes 62gr TSX showed up at my door last week compliments of Midway and some California dude.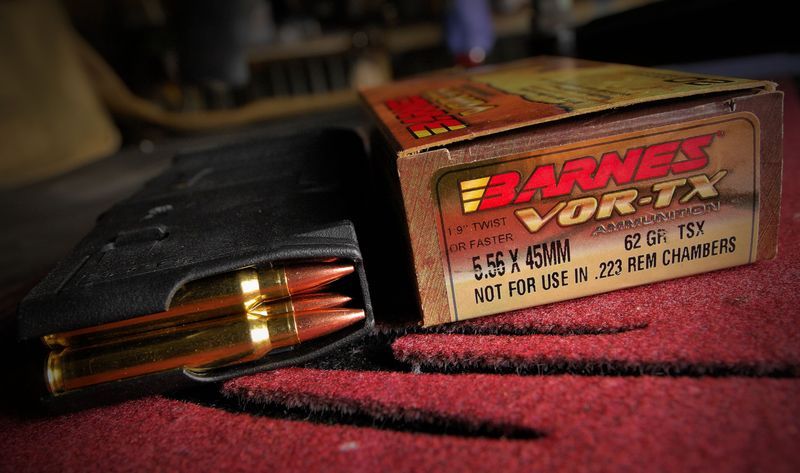 Saturday morning, I sighted in my recently rebarreled AR-15 with the new ammo. It shot alright. Not very impressed with the accuracy, but it clocked 3,157 fps.
But, trying to sight in, get an acceptable group, and conserve ammo for hunting still took up 8 rounds of my 20 available. 12 left to shoot pigs with.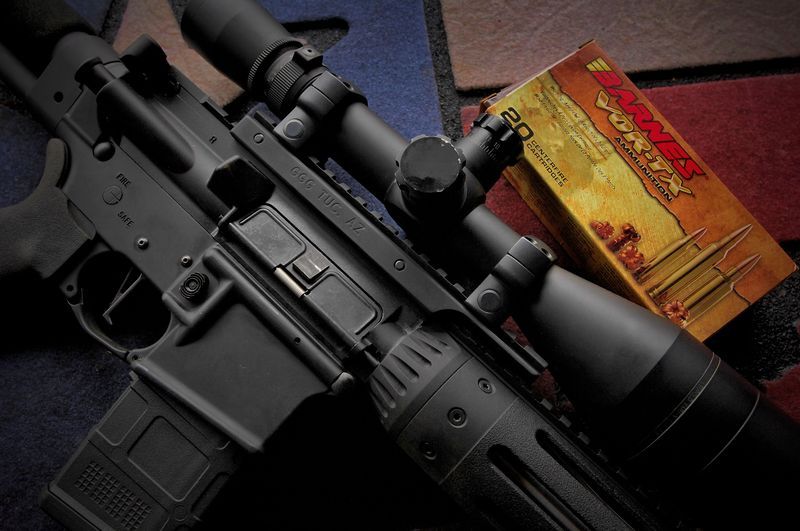 So, a buddy and I went out Saturday night to a new field shown to me Saturday afternoon. When we arrived and parked at the farm house, I looked out in the field in the moonlight and saw a band of hogs about 350 yards out. Gathered our gear and it was game on.
Sneaking up to about 100 yards. We proned out and aimed in. I told him I'd take the biggest boar in the bunch and he could shoot any of the sows he had a shot at. When the boar turned broadside and slightly quartering away, I let fly with the little bullet into the hulk of a pig. The bullet hit with a thump and my buddy sent a round after a sow. Don't know if he hit or not, but, the boar I shot took off across the field in a death run that covered approximately 75-85 yards. Digging his nose into the dirt like a snow plow.......he finally flipped end over end on a shower of soil. Done!
I quickly sent a couple rounds after the scattering herd. No impacts. Then, they made it to the edge of the field and into the tall grass. I ran to the edge and found a sow standing still trying to regroup the piglets. Dropped her with a spine shot. Looked to my right and saw another trotting away through the grass. Put a Barnes through her guts quartering away and she stopped. My buddy then sent a round through her shoulder and dropped her.
All was still.
We gathered up the two sows for a pic.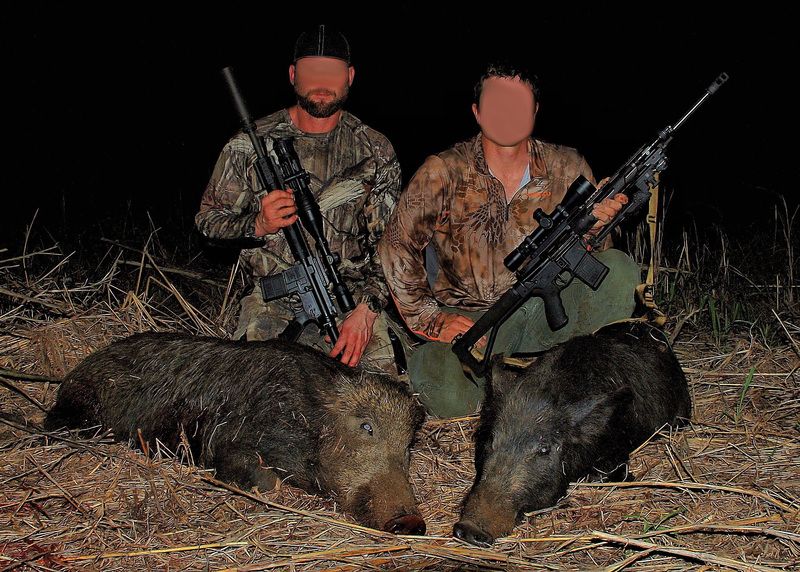 Then loaded mine on the Mule and headed over to the boar.
Good Lord!!!! He was much bigger than I thought. We almost needed a bigger boat!
With my friends help, we loaded him into the Mule and then drove over to my truck. Loaded one of the sows and the boar into the truck and took off in the Mule to check out another part of the field. Finally locating another boar, we dismounted and stalked to within 75 yards. I let my buddy have the honors and he promptly missed a broadside shot. Heading for less hostile pastures......the boar split with lead flying his way and up his backside. Making it to the property line and out of our lives. I looked at my buddy and shook my head. Well..........it's raining..........let's go home.
Dropped my buddy off at his house and went to my rancher friend's barn to use his hoist and boom to unload the beast. Lowered him on my game cart and wheeled him over to a bush to take pics. He weren't small.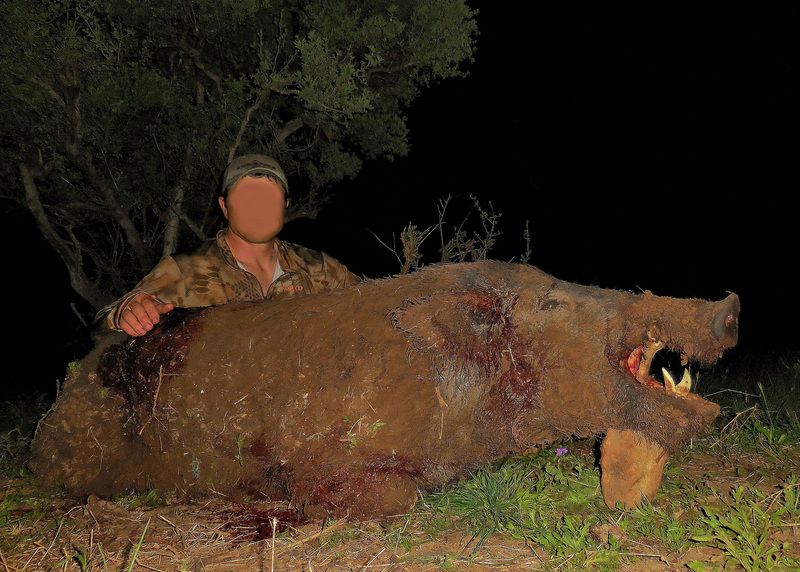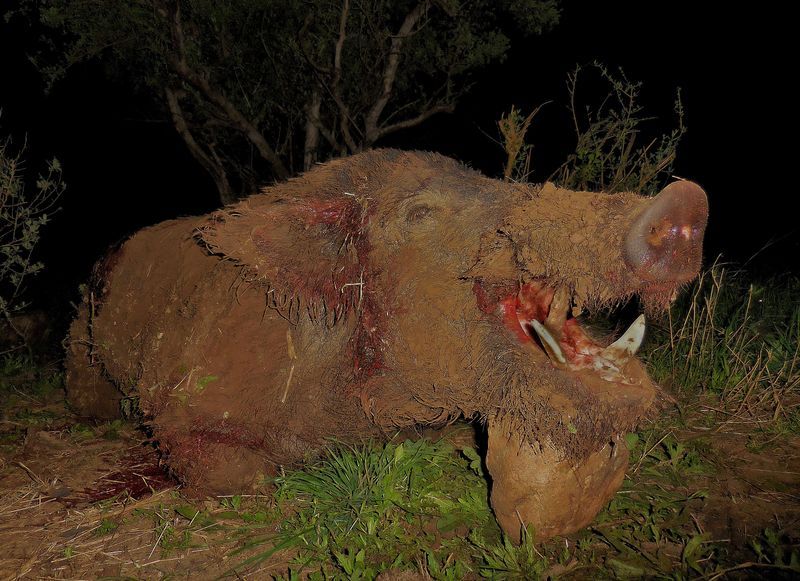 The blood on him is from the sow he road with in the bed of my truck. That is the off side you are seeing. There was none of his blood on his off side.
Entrance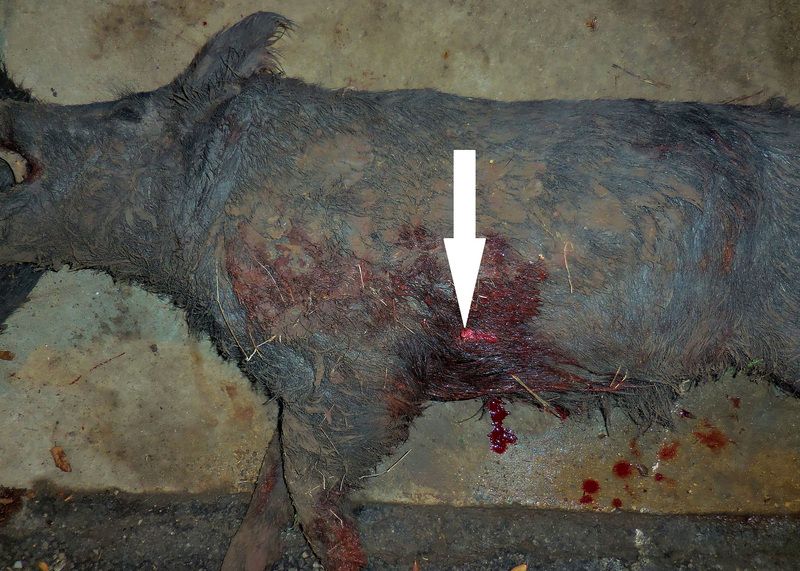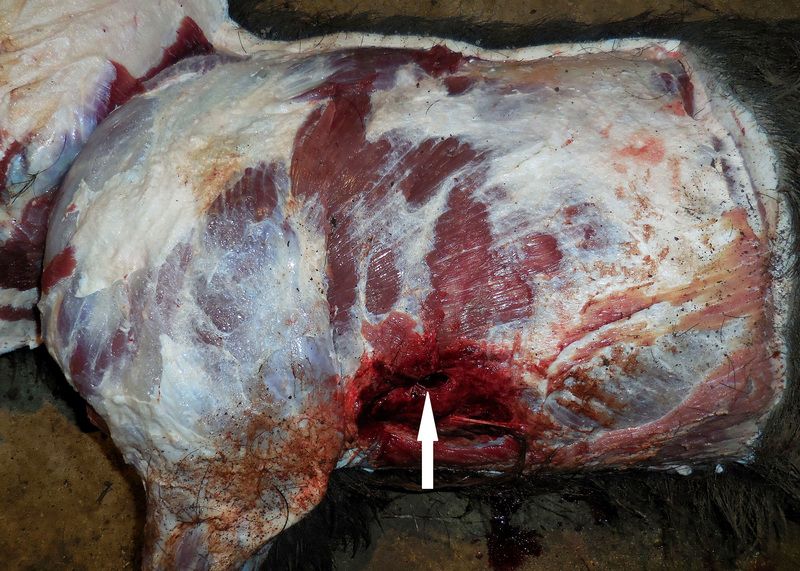 The bullet broke one rib on entrance and passed behind and below the thick shield on his shoulder.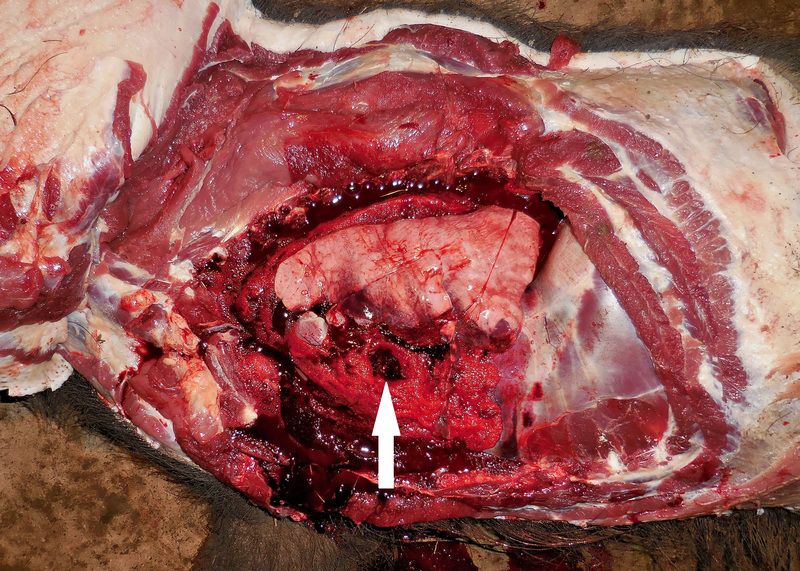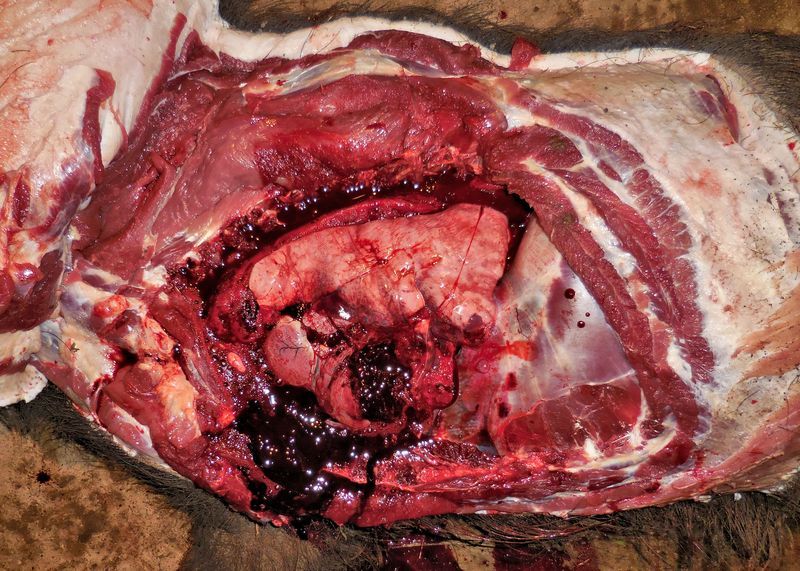 Passed through the back of his heart angling forward.
It canoed the heart!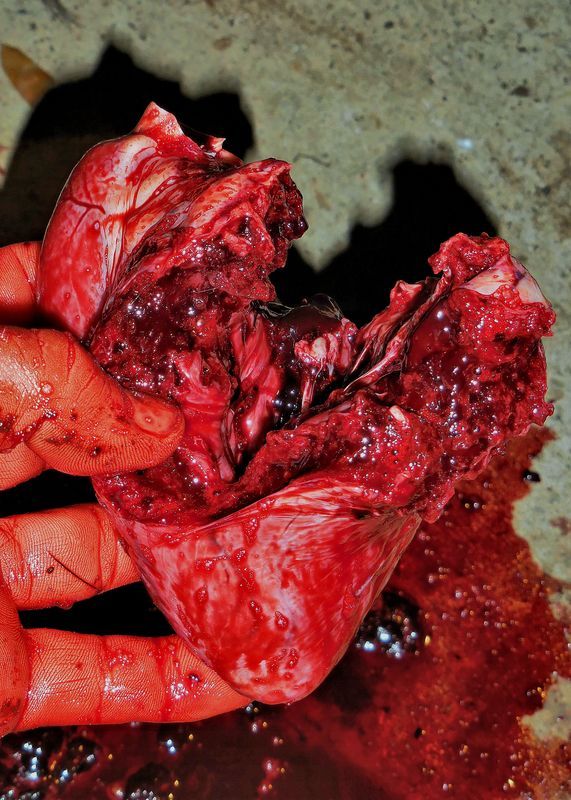 And exited the front lobe of the off side lung.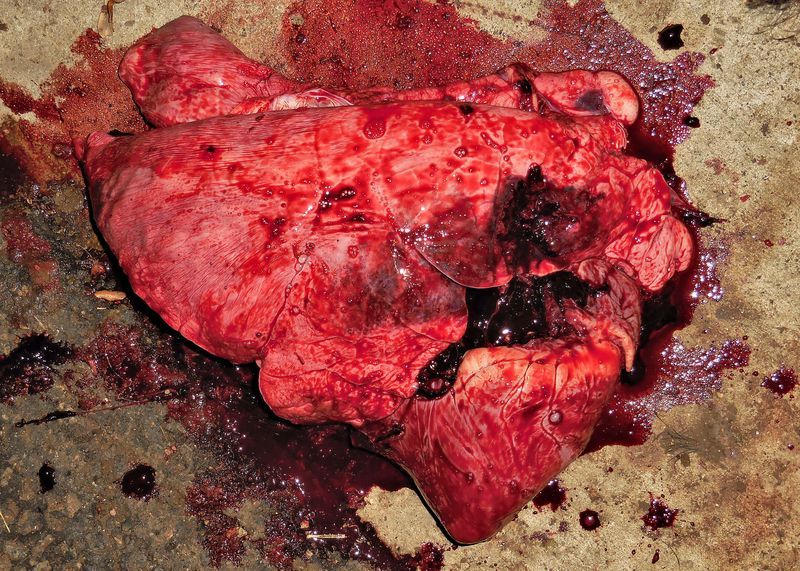 Passing through the off side shoulder.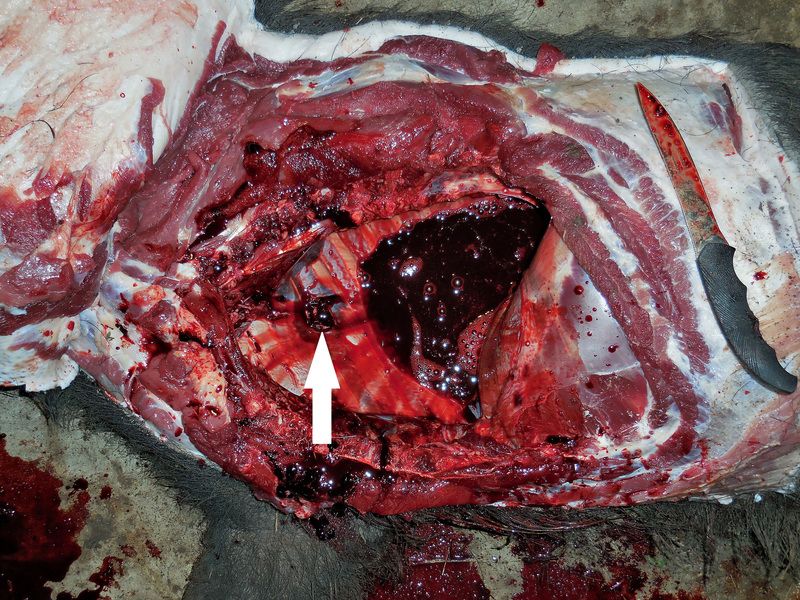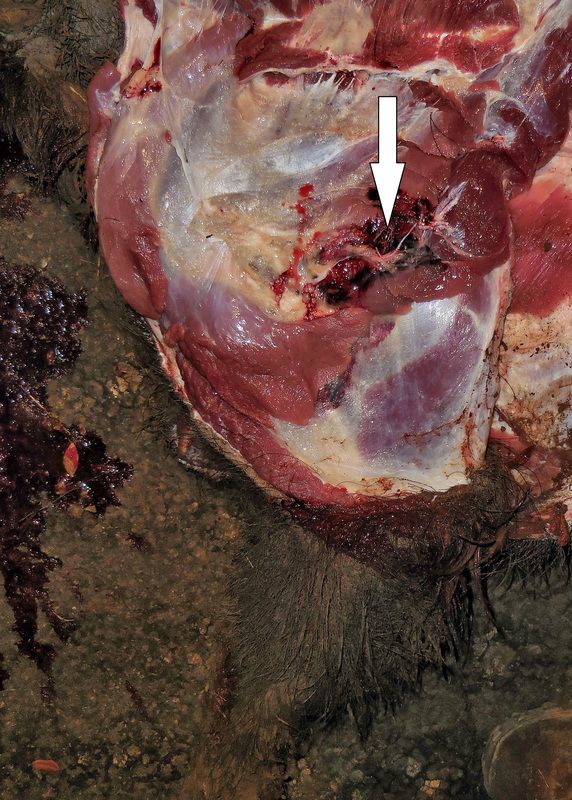 It lodged in the meat, under the hide of the off side.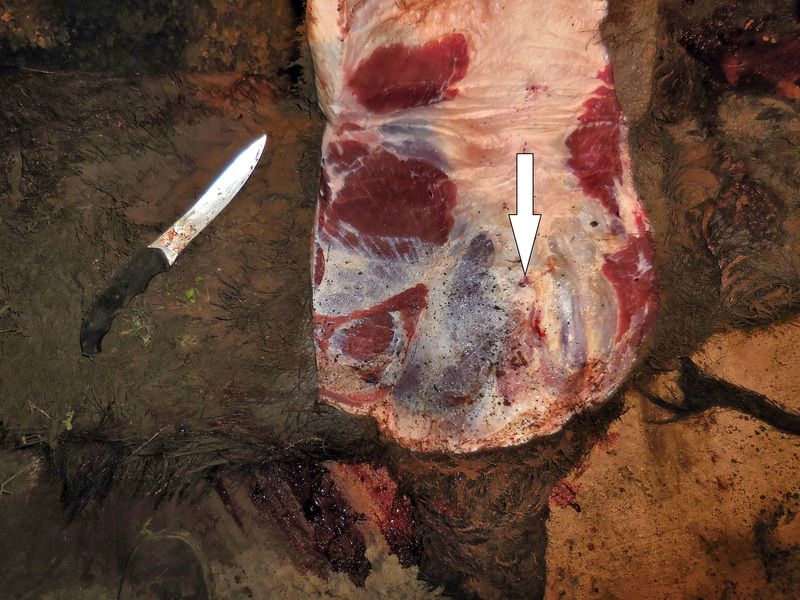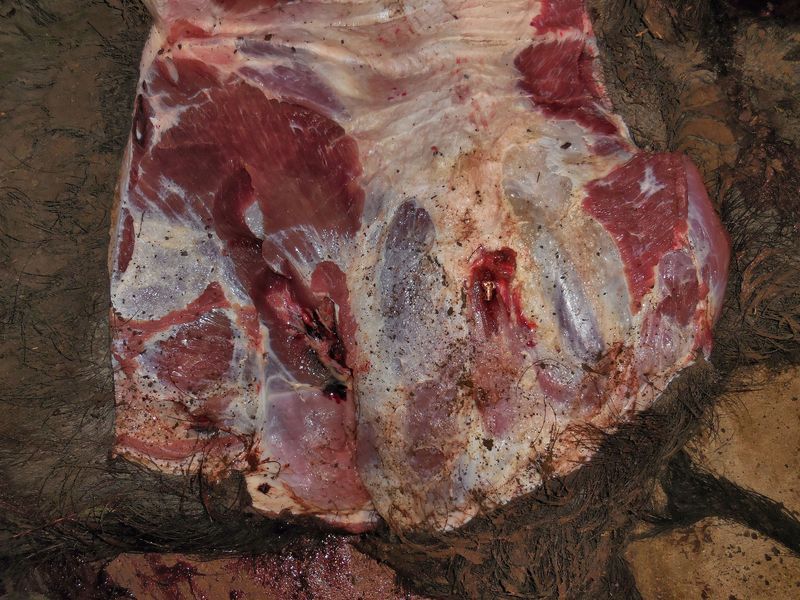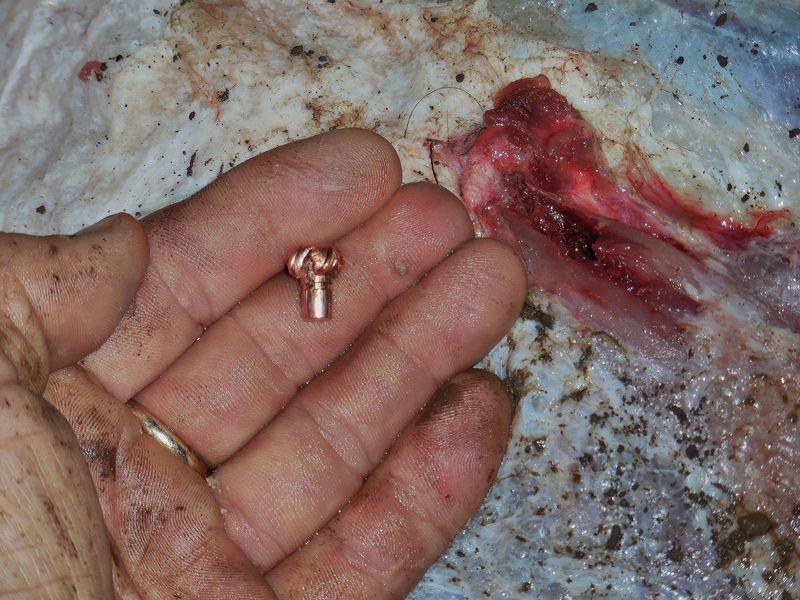 The recovered bullet weighed 61.6gr of it's original listed 62 grains.
"To Hell with efficiency, it's performance we want!" - Elmer Keith