Home
›
Main Category
›
Hunting
Rock Chucks! You shouldn't wait 20 years to go again...
Ernie Bishop
Senior Member
Wyoming
Posts: 8,564
Senior Member
I will give this rundown in journal type form, with 's (My host and spotter) thoughts included in quotation marks.
I haven't been Rockchuck hunting for around 20 years.
I made up for it on Thursday afternoon, killing 23 rock chucks in 4 hours.
Started off with a bang with seven chucks in seven shots.
Three of those were standing using bog-gear, and the other ones were from a double kneeling type position with semi-steady rest.
The two longest first shot connections were at 501 yards and 530 yards. All killing on Thursday was done with the my HSP 6XC.
Friday afternoon around 1:30:
Wind has been blowing around 15 miles an hour today, so we took our time before we went out hoping it would lay down, but it's not going to...
Killed my first chuck today with a little Remington factory 223 Remington XP-100 ('s XP) at 154 yards.
First time of ever pulled the trigger on it, using 40 grain V-MAX's.
The second chuck I killed today was it at 362 yards with the 7mm Dakota.
A 180 grain hybrid right at 2900 hundred feet per second, translates into that chuck had a violent death.
Since he was in front of a rock face, not only did the bullet kill him, but hundreds of shards probably destroyed him as well...as my spotter noted.
I only shot at two different chucks today, they both died, and we didn't see hardly anything, so we're going in for lunch and then going to go back to where we were yesterday.
These guys don't like the wind.
After our Friday late afternoon hunt:
As I posted in the early afternoon yesterday we had a pretty slow morning.
Even after we ate late lunch we weren't seeing that much, but it begin to get a little bit better as we moved to a different location.
I'm guessing we got started around 3 o'clock in the afternoon and I killed around five or six more chucks at this different location, but the wind was still blowing and they were not wanting to come out much.
In this location I finished up the rounds I had left for the 7 Dakota.
It made some extreme kills again.
/six-shot (username) was keeping track of the amount of kills and most of the distances as well. After spending about an hour and a half in that location we moved to a similar place where we were the evening before.
On a side note, I can't tell you how much I enjoyed being with . He is a great person, and he is also very good at describing where the chucks are and is a good spotter as well. When you are shooting with and spotting with an experienced shooter, it just makes everything easier and more enjoyable.
So we got moved to the different location at around 4:30 in the afternoon and still there are not many chucks moving.
At this point, even if I did not kill anymore, it had been a wonderful time.
The winds finally started going down below 10 mph and when they got to around 8 miles an hour they begin to show up, slowly at first.
As the time progressed, the winds got lower, and more and more chucks begin to come out.
Game on!
Up until this time I had been shooting from odd shooting positions that were harder to shoot from, and not completely stable.
In this last set-up I shot from a rest like does when he goes chuck hunting. Basically, a portable solid bench rest.
Before it was all said and done our total for the two days was 50 rock chucks.
Several times I went on fairly long strings without a miss.
My longest string was 10 rock chucks in 10 shots with distances ranging from about 150 yards to 380 yards.
I reserve the right to be wrong on some of the details as is a great at statistics.
I was in shoot mode.
The 6XC did all of the late afternoon killing at the last shooting position.
will probably be able to tell you how many chucks I killed in about an hour and a half but it was a lot.
Other thoughts:
I really didn't know much about rock chuck shooting until these past two days.
I will definitely wear darker colors next time.
I used bungee cords to hold down the counter-top on my four wheeler and it was nice and solid as well.
It didn't take me long to realize that they don't like wind, and they don't like movement, and they have really good eyesight.
I think my spec-rest would also work really good from the sitting (on the ground) position with that kind of shooting we were doing.
Shooting from 's portable BR table made things very easy on the knees, neck, legs and arms.
Shooting from the double knee position for long periods of time or kneeling position or a standing up but squatted down/crouched position tends to make you tired after a while.
At the same time, it's kind of fun to shoot from odd positions or less than perfect positions, and try to find a way to make it stable enough to make a precision shot (on critters it seem to constantly move) that's the fun part!
If we do this again I want to get and I together so that we can shoot at the same animal or you could call it synchronized shooting or shoot at different rock chucks at the same time. To do this consistently and successfully we will both need to be using specialty pistols that are set up so we can spot our own shots.
is a good shooter and I know he's up to the task. He picked up my 6XC and immediately killed a rock-chuck on the first shot with it even though he had never even dry fired it before.
's thoughts:
A post from /Six-Shot:
"The rest Ernie is talking about is a formica counter top cut out from a kitchen sink. This is laid across the back of the 4 wheeler & then sandbags can be used or the short Harris bi-pod.
This makes for a very solid shooting platform & I've used it for years.
We just sit on a folding stool or chair & settle in behind the 4 wheeler & start shooting.
It almost takes a Humvee to hide Ernie, he takes up a little room!
Also his WY-SHOT shirt was a very light color & each time he moved those sharp eyed Chucks would be gone, their eye sight is amazing, switching to a neutral color is much better.
Ernie started off hot right from the jump & ran 7 straight, all from different distances & angles, much different than shooting Prairie Dogs.
Many times you are shooting at part of a Chuck or he's at an odd angle, no problem for Ernie, he was on his "A" game.
Early on I learned not to take my muffs off to talk, the first time I started to say something after a shot he shot again before I could even speak..... LOUD!
I didn't think he could shoot that fast.
He kept passing on the easier, 300 yard shots & taking the longer 400-550 yard shots, sending out lead poisoning at 2750 fps.
I'll cut this short & let him pick up from here when he gets home.
We had a great time & the second day he really put the pressure on them.
There will be Rock Chuck Funerals all day today."
ERNIE:
Salt of the earth folks.
We didn't take hardly any pics on Thursday afternoon, as we were to busy shooting. Here are some pics from Friday.
Also we didn't even try to recover all of the rock chucks....Time that we had we spent shooting for the most part.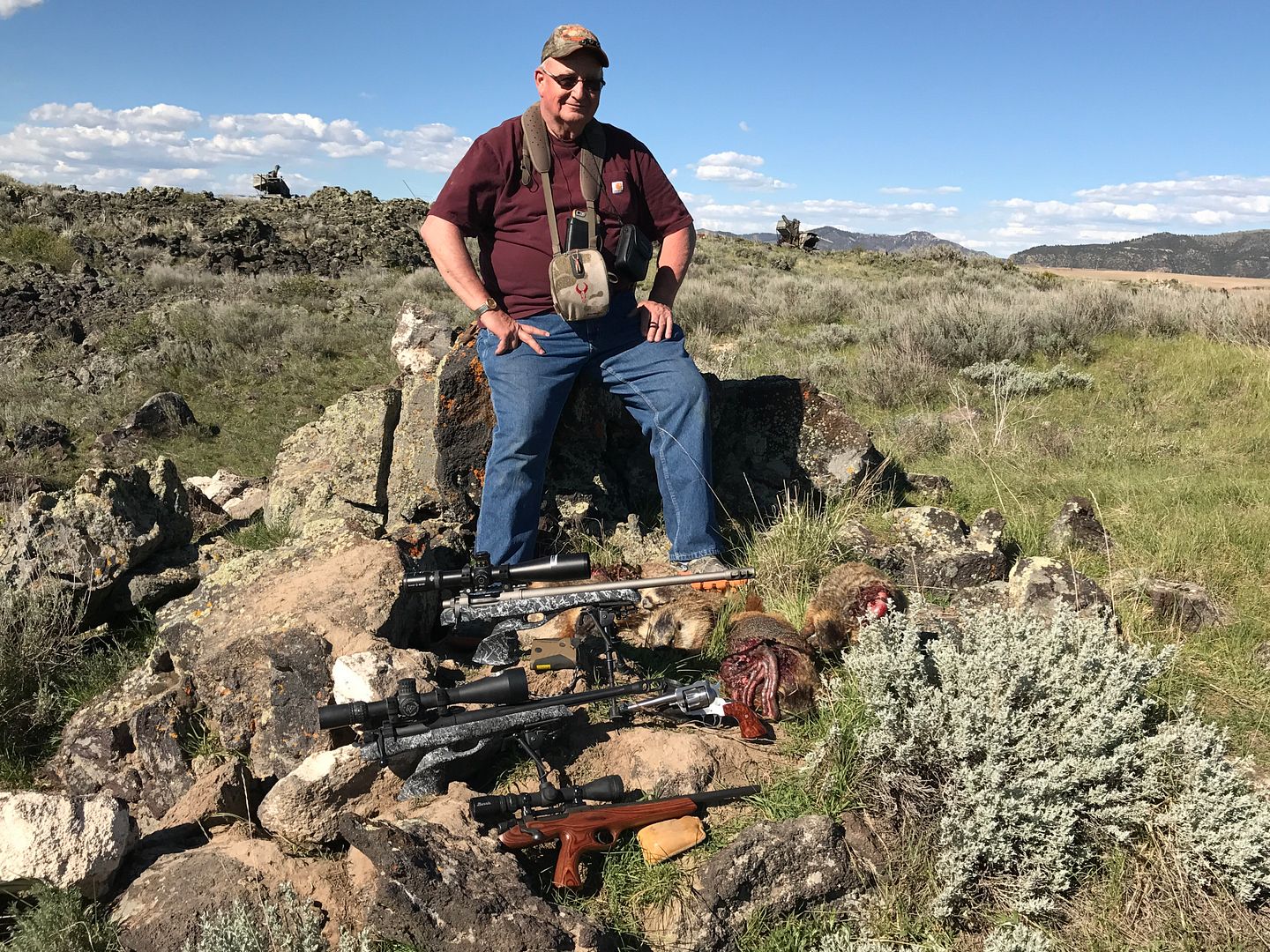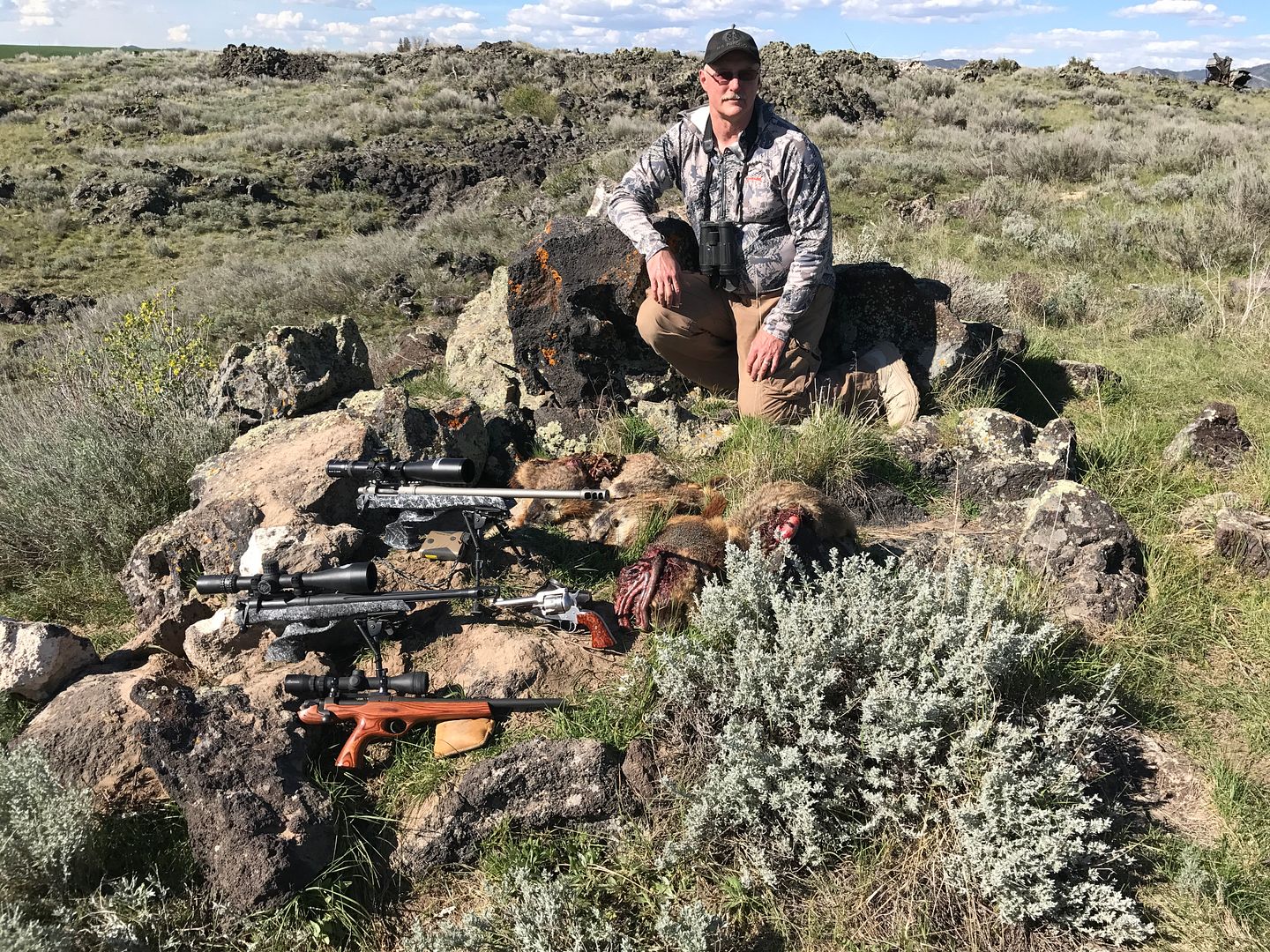 Ernie

"The Un-Tactical"